Russia to close US consulate in St. Petersburg, expel 60 diplomats as Washington did – Lavrov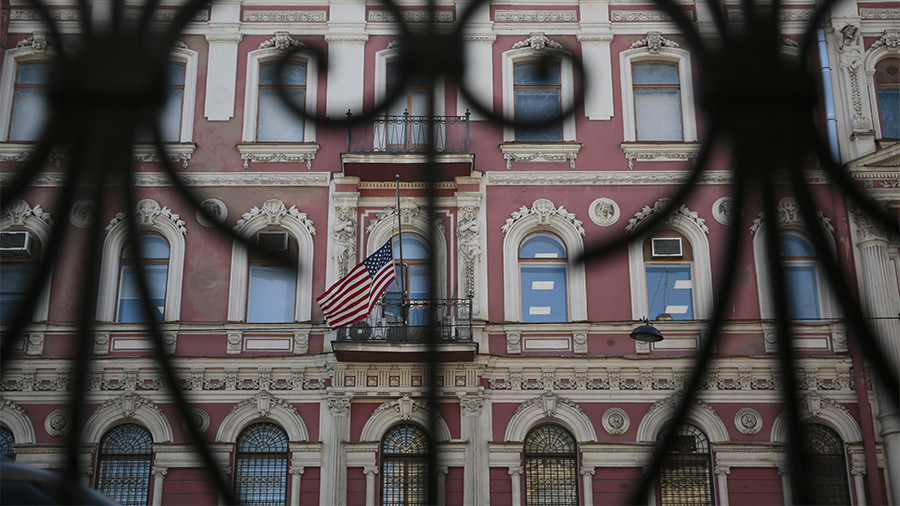 Russia will expel sixty US diplomats and close the US consulate in St. Petersburg, in a response mirroring the mass expulsion of Russian diplomats initiated by the US and UK, Foreign Minister Sergey Lavrov said.
US ambassador to Moscow, Jon Huntsman, has been summoned to the Foreign Ministry and told the news by deputy FM Sergey Ryabkov, Lavrov said at the press conference following a meeting with the special UN envoy for Syria Staffan De Mistura.
US administration

ordered the closure of the Russian Consulate in Seattle
@
GK_Seattle

. What US Consulate General would you close in
@
Russia
, if it was up to you to decide
On Monday, Washington expelled 48 Russian diplomats from the bilateral mission and 12 more from the UN mission, and shut down the Russian consulate in Seattle. Canada, Australia and a number of US allies in Europe have followed up by expelling over 90 Russian diplomats.
In addition to the mirror response to the US, Moscow will expel the equal number of diplomats from those countries, Lavrov said.
Among the US diplomats being expelled are 58 from the US Embassy in Moscow, and two officials from the General Consulate in Yekaterinburg, the Russian Foreign Ministry announced. The diplomats will have until April 5 to leave Russia. The US General Consulate in St. Petersburg is to be shut down by March 31.
"
We invite the US government, which is encouraging and fanning the campaign of slander against our country, to rethink and stop these reckless actions destroying our bilateral relations," the Ministry of Foreign Affairs said in a statement.
The expulsions of Russian diplomats began on March 14, when the UK declared 23 people personae non grata, claiming that Moscow was "highly likely" behind the alleged poisoning of former spy Sergey Skripal and his daughter Yulia with the chemical agent "novichok." Russia has denied the allegations and requested the British government to provide evidence. So far, there has been none.
US State Department spokeswoman Heather Nauert protested Russia's "unwarranted" response against "our entirely justified action."
"
There is no justification for the Russian