O
n 4 May I listened to an interview on RNZ with Christchurch-based yoga teacher, Donna Farhi in which she was allowed to use the "Me Too" trope to campaign against the Iyengar yoga movement in New Zealand by using a 30 - year old case from San Francisco to target Iyengar teachers in this country where there has not, to my knowledge ever been a single case of abuse.
It has taken them 7 weeks to respond to a simple complaint and their disingenuous (I would say Orwellian) response indicates to me they have taken time to get legal advice from a very shonky lawyer.
The language speaks to me of legalese, rather than bureaucrat-ese.
The reponse is no longer for me about the case in question by goes right to the heart of the "free speech" question.
Disingenuous response to a
complaint from RNZ says a
lot about freedom of speech
and media double standards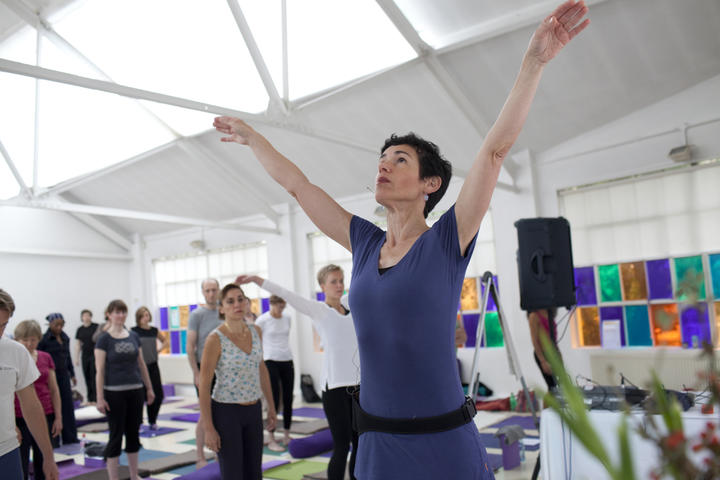 Listen to Kim Hill's interview with Ms. Farhi HERE
This is my letter of complaint from 4 May, 2017
I wish to complain strongly about the interview of yoga teacher, Donna Farhi by Kim Hill.
First some background. I have, in the past, been a

practitioner of yoga (specifically Iyengar yoga) as well as a teacher and left the Iyengar scene for my own personal reasons and have not taught for nearly 20 years. I am aware of the general. Issues Ms.Farhi raised in the inteview. I have also known Ms Farhi personally and can attest that she has been saying the same things for about 20 years.
The interview, in my view, was defamatory ("archaic pedagogy") and attacked a whole group of people in THIS country who have NEVER, to my knowledge ever been implicated in any of the abuse she is referring to. They, however, will face the brunt of this attack.


The issues of abuse, of course, are very real but go right across the yoga community and indeed the whole "New Age" movement and need to be addressed although the cases are historical and relate to another time, to an entire generation of baby boomers whose moral standards in the 1970's and 1980's can only be referred to as "lax".
As an American, Ms Farhi should have addressed these issues in an American context, rather than on New Zealand media.
I also found that it was an attack on others while at the same time being shamelessly self-regarding and self-promoting. It smacked of collusion in an attack on "the opposition". Ms. Farhi is, let's face it, not a disinterested party.
My main concern is not the viewpoints being presented (everyone is entitled to their view) but with the decision of Kim Hill's producers and Radio New Zealand to collude with this.
The broadcasting standards say quite clearly:
"When controversial issues of public importance are discussed in news, current affairs or factual programmes,
broadcasters should make reasonable efforts, or give reasonable opportunities, to present significant points of view either in the same programme
or in other programmes within the period of current interest."
"Broadcasters should make reasonable efforts to ensure that news, current affairs and factual programming:
is accurate in relation to all material points of fact
Given that the claims made were of a defamatory nature the VERY LEAST Radio New Zealand should have done is to have given representatives of the NZ Iyengar Yoga Association the right to response. The very airing of highly biased and defamatory comments on public radio without the right of response is WRONG.
I shall therefore be making a complaint to the Broadcasting Standards Authority.
Robin Westenra
Here is their response,
dated 24 June, 2019.
I write in response to your formal complaint with respect to an interview on Saturday Morning, on May 4, with Donna Farhi. Your complaint suggests that this item was in breach of the accuracy and accuracy standard, so the following provides a full analysis against those standards, and a decision about your complaint is reached.
We appreciate you had concerns about the programme, but that does not necessarily mean they were in breach of the formal standards.
The accuracy standard requires broadcasters to make reasonable efforts to ensure that news, current affairs and factual programming is accurate in relation to all material points of fact and does not mislead.
Guidelines suggest that it is not intended to prevent the publication of material that is clearly distinguishable as analysis, comment or opinion, rather than statements of fact. RNZ notes that Ms Farhi's comments were exactly that, i.e. an expression of her comment, analysis or opinion therefore this aspect of your complaint was not upheld. RNZ observes that while you consider some of her statements as defamatory, the formal standards regime cannot resolve matters of defamation. For the record, RNZ does not believe that anyone was defamed in this interview.
If her statements could be construed as statements of fact, even inaccurate facts, that did not affect the thrust of this part of the item which was an expression of opinion with largely regard to investigations into Manouso Manos, an Iyengar yoga teacher in San Francisco who has been de- certified. Your complaint does not detail which facts, if any, were inaccurate. For all these reasons, this aspect of your complaint was not upheld.
With respect to balance, the key requirement is that when a controversial issue of public importance is discussed, the audience is aware of the significant points of view with regard to the topic. It is doubtful that the issue at hand, while newsworthy, falls in to the same category as truly controversial topics such as euthanasia or c
limate change. A key consideration of the Broadcasting Standards Authority (BSA) when considering balance complaints is to determine whether the topic has excited a public debate. There is no evidence that the topic of abuse in yoga has reached that level of activity in New Zealand so on these grounds alone your complaint could be taken no further and was not upheld.
Other criteria must also be satisfied before the requirement to present significant alternative viewpoints is triggered. The balance standard applies only to news, current affairs and factual programmes which discuss a controversial issue of public importance. Saturday Morning is a magazine style programme rather than one of hard news and current affairs so there is some doubt as to whether the standard applies to this particular interview.
The subject matter must be an issue "of public importance", it must be "controversial", and it must be "discussed". Previously, the BSA has ruled that an interview can examine a single perspective of a topic if that is how the item is introduced. On this occasion that is what happened and a "discussion" did not occur as there were no other parties to the interview besides Ms Farhi and the interviewer. Other views were not sought or expressed.
There is the point too that to censure Ms Farhi would be a breach of the fundamental rights enshrined in the New Zealand Bill of Rights Act 1990, section 14, which states:
"

14. Freedom of expression---Everyone has the right to freedom of expression, including the freedom to seek, receive, and impart information and opinions of any kind in any form."
It has been held that an "uphold" of a formal complaints decision is in and of itself an impingement of the free speech of broadcasters, publishers and those participating in those broadcasts, commonly referred to as a "chilling effect". In the instance of these complaints, RNZ notes that the thrust of the item was about the developments around Manouso Manos and Ms Farhi's personal experiences.
RNZ acknowledges that while there would be a harm to society in breaching the standards you nominated, there can also be a greater harm, in the long term, of unnecessarily restricting individual's freedom of speech. On this occasion, what was expressed was a reasonably high value of free speech, i.e. speech being criticism of other's behaviour that had been found wanting by his peers. Stifling such speech would lead to a greater harm to society than allowing individuals that right to communicate to the wider public.
Previous decisions by the BSA would suggest that a very high threshold needs to be met before a breach of the standards occurs. That, coupled with the analysis above, indicates that a breach of the standard did not occur on this occasion.
In summary then, no aspect of your complaint was upheld. In line with the requirements of the Broadcasting Act, this letter advises you of the reason why your formal complaint was not upheld and of your right, if you wish, to refer this decision for review to the Broadcasting Standards Authority, PO Box 9213, Wellington. A referral must occur within 20 working days.
Again, we appreciate you had concerns about the item and we thank you for your interest in RNZ and giving us the opportunity to respond to you.
George Bignell Complaints Coordinator
This is not my politics and I agree with FAR from all that is being said but it is highly relevant to life in New Zealand today