High temperatures and heatwaves take hold
Parts of Europe, the Middle East, North Africa and the United States of America have seen extremely high May and June temperatures, with a number of records broken. The heatwaves are unusually early and are occurring as the Earth experiences another exceptionally warm year.
Average global surface temperatures over land and sea were the second highest on record for the first five months of 2017, according to analyses by NOAA, NASA-Goddard Institute for Space Studies and the European Centre for Medium Range Weather Forecasting Copernicus Climate Change Service.
Only 2016 saw higher global temperatures due to a combination of a very powerful El Niño event, which has a warming impact, and long-term climate change caused by greenhouse gas emissions. So far in 2017 there has been no El Niño event.
Climate change scenarios predict that heatwaves will become more intense, more frequent and longer. It is also expected that the number of hot days will continue to rise.
The Deutscher Wetterdienst (DWD), which acts as WMO's Regional Climate Centre for Europe's Node on Climate Monitoring, has issued a Climate Watch Advisory valid until at least 25 June. It states that a period with significantly above-normal temperatures and heat waves is expected for most parts of western Mediterranean (from Portugal to western Balkans).
National meteorological and hydrological services are issuing regular forecasts, heat-health advice, as well as information on air quality, UV levels and wildfire risk.
The heatwave originated as a result of very hot air moving up from the Sahara to the Iberian Peninsula and parts of the Mediterranean.
Fire risk in Portugal, 20 June 2017Extremely high temperatures of around 40°C contributed to the severity of the disastrous wildfire in Portugal which has claimed dozens of lives.
An amber alert for heat – the second highest warning level – continues to be in place in the area on 20 June.
The Portuguese national meteorological service, IPMA, said that over the weekend, when the fire broke out, more than one third of its weather stations measured temperatures over 40°C. The meteorological service said that for 20 June, 5 municipalities are at maximum fire risk and 58 at very high risk.
Spring 2017 (from 1 March to 31 May 2017) has been extremely warm, with an average temperature of 15.4 ° C, which is 1.7 ° C above the average of this term (reference period 1981-2010). It has been the warmest spring since 1965, having exceeded by 0.06 ° C the previous highest value, which corresponded to the spring of 2011. It has therefore been also the warmest spring since the beginning of the 21st century.
The marked contrast observed between the maximum temperature anomalies, which were on average 2.5 º C above the normal value of the term, and those of the minimum temperatures, which were only 0.9 ºC higher than the normal ones.
May was extremely warm, with a temperature that surpassed the normal value by 2.4 ° C. As of June, the average temperature is well above normal values.
A number of places broke temperature records for June for both maximum daytime temperatures and minimum overnight ones.
These include Granada airport, 41.5°C, Madrid Retiro 40.3°C and Madrid airport 40.1°C on 17 June. The peak if the minimum temperatures was on the 19th June, when Salamanca and Zamora had record overnight temperatures of 22.1°C and 23.7°C.
AEMET also reported extreme fire hazard for parts of the country on 20 June.
Heat alerts for France, 20 June
Fifty one departments in France have an amber alert for high temperatures on 20 June, according to Meteo France. Temperatures for Monday included 38°C for Bordeaux, 36°C forLimoges, 34°C for Mulhouse and 33°C for Paris, Toulouse, Brest and Lille, according to Meteo France.
A number of stations broke June records, including Cuers at 37.6°C and Toulon 35.3°C. Records for minimum night-time temperatures were also beaten (25.1°C in Montpellier, 25°C in Marseille) on Friday 16 June.
Meteo France said that very high temperatures will continue until Friday 23 June, with temperatures between 32 °C and 38 °C in the afternoon, or more than 10°C above the average for this time of year.
Many other parts of Europe, including the United Kingdom, also witnessed above average temperatures into the low to mid 30°s.
Temperatures in Phoenix, Ariz, 19 June 2017
Near record to record heat has been reported in the desert southwest USA and into California, with highs near 120°F (49°C) in places. More than 29 million Californians were under an excessive heat warning or advisory at the weekend. The US National Weather Service has warned that dangerous heat will continue through at least Friday 23 June in Nevada, Arizona, parts of California and Las Vegas.
Phoenix recorded 118°C (47.8°C) on 19 June. In the 11,059 days since the start of record keeping, 118°C heat has only been recorded 15 times. A number of flights to Phoenix Sky Harbour International Airport were reportedly cancelled because it was too hot to fly.
Death Valley National Park, California, issued warnings to visitors to expect high temperatures of 100°F to over 120°F (38°C to over 49°C). Death Valley holds the world record for the highest temperature, 56.7°C recorded in 1913.
North Africa, Middle East and Asia
The temperature in United Arab Emirates topped 50°C on 17 May, with 50.5°C in Mezaira.
In the center of Iran's Kuzestan province in the south-east of the country, neighboring Iraq, temperatures reached 50°C on 15 June.
The heatwave in Morocco peaked on 17 May, when there was a new reported record of 42.9°C Larach Station in northern Morocco.
The high June temperatures follow above average temperatures in parts of the world at the end of May. The town of Turbat in southwestern Pakistan reported a temperature of 54°C. WMO will set up an international committee of experts to verify the temperature and assess whether it equals a reported 54°C temperature recorded in Kuwait last July.
It's So Hot in Phoenix, Planes Can't Takeoff
An intense heat wave is crippling the West this week, sending the mercury above 120°F in places like Phoenix. In a sign of just how hot things are getting, some airlines have had to cancel flights because of the heat.
American Airlines said it cancelled 50 flights out of Phoenix Sky Harbor aboard Bombardier CRJ aircraft on Tuesday because the planes can't operate above 118°F.
Heat waves are
intimately tied to climate change
as rising background temperatures make them more intense and common. The latest batch of heat will cook an area from northern California to western Texas, a region home to some seven of the 10
fastest-warming cities
in the country.
Temperature records have already fallen across California and heat will build throughout the week. Sacramento, San Jose, Palm Springs, Fresno and Death Valley all set daily highs on Monday. But the hottest temperatures aren't even expected to arrive until Tuesday. They'll last through Thursday, and forecast highs mean the region could set all-time records.
Phoenix, Tucson and Las Vegas are forecast to be within striking distance of all-time records. All eyes will be on Phoenix, which is ground zero for the heat wave. Temperatures are forecast to climb to 120°F on Tuesday, just 2°F shy of its all-time record. When it comes to extreme heat, Arizona is one of the many
states at risk
.
All-time record hot or not, the extreme weather has the potential to be life-threatening. The National Weather Service has issued an excessive heat warning and its Phoenix office has said "heat of this magnitude is rare, dangerous and very possibly deadly."
Perhaps it's no surprise these cities could be in line to set records. Phoenix is the second-fastest warming city in the U.S. over the past 50 years while Las Vegas comes in at third and Tucson at seventh. Climate change is largely responsible for boosting those background temperatures, increasing the odds of setting record highs like the ones currently broiling the region. The
heat island
effect
only compounds the risks of deadly heat in cities.
"
Across the world we're finding that we can link unusually warm weather events to climate change," Andrew King, a climate researcher at Australia's ARC Centre for Excellence,
told Climate Central in March
following February's intensely mild weather. He added climate change is almost certainly playing a role in almost all extreme heat events "for most of the world."
While the heat wave this week in the West has not been specifically attributed to climate change, it's probably safe to say background warming is playing a role and the impacts we're seeing will only become more pronounced in the future.
Take the grounded flights, for example. They're what one group of scientists have dubbed a "hidden cost of climate change." That's because higher temperatures generally translate to thinner air, making it harder for airplanes to take off. The solution is either to ground flights or bump people and packages to make planes lighter.
If carbon pollution keeps going at its current rate, Phoenix could see 20 more days a year by 2100 where flights are restricted to a maximum takeoff weight of 10,000 pounds. That's currently a rare occurrence. Other airports like LaGuardia in New York and Reagan National in Washington, D.C. could see even more days with weight restrictions.
But canceled flights are a climate change inconvenience. There are far more serious impacts that will put more lives at risk if carbon pollution continues unchecked. Research published on Monday showed that half the world's population will face
life-threatening heat waves
by 2100 unless carbon pollution is curbed.
The summer average temperatures in Phoenix could be
more like Kuwait City
by the end of the century, making this currently rare heat routine.
A Government heat alert - one tier below a level 4 national emergency - has been sent to hospitals and emergency services across the country
A heat health warning has been issued as the country continues to bake in a mini-heatwave with temperatures set to climb even HIGHER and fears people could die.
The UK will be hotter than the Bahamas on 'Meltdown Monday', according to the Met Office, as a week-long Spanish roast nudges record 35C highs.
And as more hot air pushes north from France and Spain, an amber level 3 Government heat health warning - one tier below a level 4 national emergency - has been issued.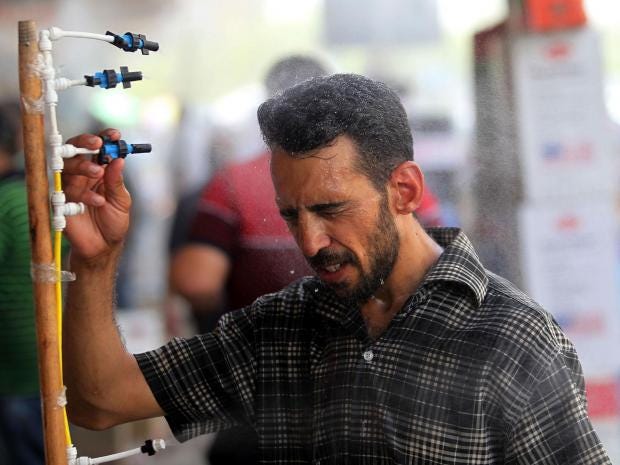 The 'official' record was 56.7C on 10 July 1913 at Furnace Creek Ranch in Death Valley, California, but many doubt that reading was accurate
If you're feeling flustered by the mini-heathwave over parts of the UK and Europe at the moment, then you'll want to avoid the Middle East right now. On Thursday a blistering temperature of 54C (129.3F) was recorded in Kuwait, firmly putting our hot spell into context. It is the highest temperature ever recorded in the eastern hemisphere and almost certainly the highest temperature ever recorded on earth.
A weather station in Mitribah, a remote featureless area of north-west Kuwait, took the temperature last week during an intense heatwave that continues in parts of the Middle East. The mercury in neighbouring Iraq on the same day soared to 53.9C (129F) in the ancient city of Basra.
If verified by the World Meteorological Organisation, they will almost certainly be the two highest temperatures ever recorded on the planet.
Until now the official record for the highest temperature was 56.7C (134.1F) on 10 July 1913 at Furnace Creek Ranch in Death Valley, California. But many modern meteorologists are sceptical of the record, arguing that the equipment used at the time was prone to error and not as reliable as modern recording methods.
Drone footage shows aftermath of deadly Portugal forest fire
Heat Waves to Get Worse, Affect More People: Study
Think global warming is bad now? It is going to get much worse, even if governments act quickly, researchers predicted Monday.
According to a new report, half the world's population will swelter through a month of killer-level heat every year by the year 2100 even if all the world's countries acted aggressively to reverse climate change right now.
And if things just stay the same, nearly three-quarters of the world will endure weeks on end of potentially deadly heat waves, the international team of researchers said.
"
An increasing threat to human life from excess heat now seems almost inevitable, but will be greatly aggravated if greenhouse gases are not considerably reduced," the team, led by Camilo Mora of the University of Hawaii, wrote in the journal Nature Climate Change.
There's no question that the average temperature of the planet is getting warmer, and that human activity is speeding the process. The result is extreme weather — hotter in some places, cooler in others, with more severe storms, flooding and drought.
Mora's team looked at heat waves dating back to 1980, including one in Chicago that killed 740 people in 1995, one in Paris that killed 4,870 people in 2003 and a 2010 heat wave in Moscow that killed 10,860.
How deadly a heat wave gets varies from place to place, but it is a function of temperature plus humidity, combined with how easy it is for people to lower their body temperatures down with air conditioning, shade, fans or other measures.
"
Our attitude towards the environment has been so reckless that we are running out of good choices for the future."
The key temperature is 104 degrees. The human body is designed to function at 98.6 degrees and once body temperature goes above 104 degrees, organ damage starts.
People's body heat can go to 104 when the heat index hits that level, and that's a combination of outside heat plus humidity. The higher the humidity, the harder it is for the body to cool itself with perspiration.
The team looked at temperature trends and overlaid them with where people live.
"
We found that by 2100, even under the most aggressive mitigation scenario around 26.9 percent of the world's land area will be exposed to temperature and humidity conditions exceeding the deadly threshold by more than 20 days per year, exposing around 47.6 percent of the world's human population to deadly climates," they wrote.
"
Our attitude towards the environment has been so reckless that we are running out of good choices for the future," Mora said in a statement.
"
For heat waves, our options are now between bad or terrible. Many people around the world are already paying the ultimate price of heatwaves, and while models suggest that this is likely to continue to be bad, it could be much worse if emissions are not considerably reduced."
President Donald Trump on June 1 pulled the U.S. out of the 2015 Paris climate agreement, a voluntary global pact aimed at reducing human-made emissions that help drive up temperature.
It set a specific goal to keep the Earth from warming by more than 3.6 degrees Fahrenheit — or 2 degrees Celsius.
"
Climate change has put humanity on a dangerous path that will become increasingly dangerous and difficult to reverse if greenhouse gas emissions are not taken much more seriously. Thus, actions like President's Trump recent decision to withdraw from the Paris agreement appear very reckless to me," Mora said.
Heat can kill people directly and indirectly.
Heat can raise blood pressure and worsen cholesterol levels, leading to heart disease deaths.
A 2015 study found that a rise in the average summer temperature of just under 2 degrees F led to a 1 percent higher death rate in New England.
Longer, hotter summers can aid the spread of mosquitoes that carry diseases such as malaria, dengue, Zika and yellow fever — and warmer winters may fail to kill off populations of the insects.
The U.S. is experiencing several scorchers this week.