Queen's Speech could be delivered without majority as Theresa May's DUP talks falter
DUP demands a 'greater focus' to the negotiations on the Conservative side, adding 'The party can't be taken for granted'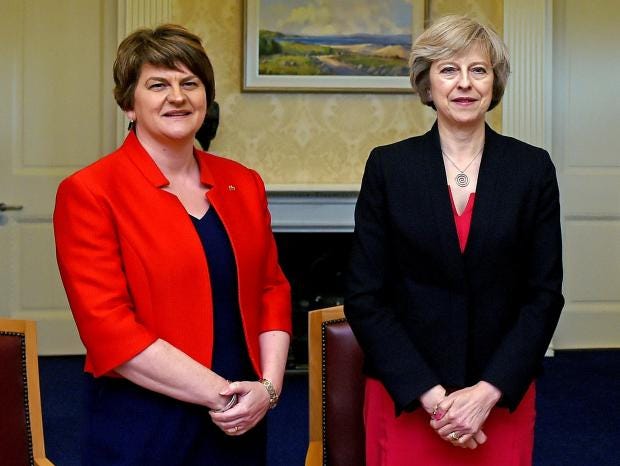 Theresa May and Arlene Foster, the DUP leaderclass="Apple-converted-space"
Reuters
Theresa May faces the embarrassment of her Queen's Speech going ahead without the backing of the Democratic Unionist Party – ten days after she claimed a deal was done.
The right-wing Northern Ireland party warned the Prime Minister it "can't be taken for granted", as the long-running negotiations appeared to run into trouble.
DUP sources also took aim at the lack of "negotiating experience" on the Conservative side – a serious criticism, a day after the separate Brexit talks also got underway.
An agreement appeared unlikely before Wednesday's Queen's Speech, denying Ms May the guaranteed Commons majority she was seeking when she sought the DUP's support.
If the party abstains on the crucial Queen's Speech vote, the Prime Minister will rely on all her MPs voting in order for it to scrape through with a majority of just two.
But the DUP source said agreement before the State Opening of Parliament could not entirely be ruled out, if there was movement in the talks between the parties later today.
The talks are attempting to secure a "confidence and supply" arrangement, rather than a full-blown coalition, after the Tories lost their Commons majority.
Why the DUP is so controversial
It would mean the DUP backing the Government on its Budget and other key votes and – crucially – preventing it being brought down by motions of no confidence.
Ten days ago, Downing Street claimed an outline agreement had been reached, but was forced to backtrack after a DUP spokesman denied it.
Now, with the Queen's Speech just hours away, the DUP has made known that it wants the Government to give "greater focus" to the negotiations, adding: "The party can't be taken for granted.
"
The negotiations haven't proceeded in a way that DUP would have expected," the source also told Sky News
The delay is believed to have been caused by the DUP's big financial demands, for both higher public spending in Northern Ireland and lucrative tax breaks.
On Monday, the Prime Minister was forced to bow to pressure to publish the full details of any agreement, amid rising concern about the potential cost.
John McDonnell, Labour's shadow Chancellor, wrote to the Treasury over reports that the DUP is seeking an exemption from air passenger duty levied at airports in Northern Ireland
If granted, that demand would cost at least £90m a year, Mr McDonnell said - enough to pay for "2,000 firefighters".
Meanwhile, Sinn Fein and the SDLP, as well as the cross-community Alliance Party, warned that a deal would undermine attempts to restore the power-sharing executive at Stormont.
Asked about the continuing delay, a Number 10 spokesman would say only that talks were "ongoing".
The DUP also opposes axing the "triple lock" guarantee on pension increases and means-testing winter fuel payments – Tory manifesto pledges likely to be dropped from the Queen's Speech.
Tom Brake, the Liberal Democrat Brexit spokesman, said: "After one week of talks, we are no closer to finding out what the DUP have asked for and what concessions are being made.
"
This is the first time in decades that a Prime Minister will propose a Queen's Speech without a Commons majority.
"
Her failure to reach a deal in time with the DUP doesn't bode well for the tough Brexit talks head."
Grenfell victims are sleeping in cars and parks, says Kensington MP
Victims of the Grenfell Tower disaster have resorted to living in cars and parks, the local MP has claimed.
Emma Dent Coad, the newly-elected Labour MP for Kensington, described the "total chaos" in the borough at a Justice for Grenfell march on Monday night.
"People have been sleeping in cars and in parks because they don't know where to go and they aren't being looked after," she told Sky News.
"Secondly they need to be re-housed permanently and thirdly they need a long-term care package... people who'll always be there for them."
At the Grenfell Tower operations site. If you wish to donate to families who have lost everything please dig deep:
It has been confirmed that at least some victims of the blaze have been rehomed in hotels.
The government said 126 hotel places have been given to families while 78 were due to be homed in properties locally or in a neighbouring borough by Monday night.
The blaze happened just under a week ago and there have been claims residents have not had proper access to cash or accommodation after the devastating fire that took their belongings, homes and loved ones.
Ms Dent Coad previously criticised the council's response to the blaze.
She told The Guardian: "There was no council presence. The council has issued press releases and we had the leader of the council and the deputy leader of the council wandering around giving press interviews. They weren't making sure the relief effort was being coordinated.
"
They weren't making sure that people utterly traumatised who have lost family members and neighbours, or who thought they may have, that there was any kind of support for them.
"I've had people on the phone this morning saying we've got to get counsellors down here, people are beside themselves with grief, they are not coping and there's no social support for them."
Local councillor Judith Blakeman previously said that while most Grenfell victims are happy with their hotel accommodation, some have been put in B&Bs with no working shower.
Judith Blakeman said she had spoken to at least two people who had been put in "really horrible B&Bs".
She said she attended a private meeting of survivors on Monday, where she heard that one man was moved from a very basic and dirty room to a second substandard bed and breakfast where the showers were not working.
It has also been announced that a total of £202,000 of government money has been handed out to 180 families who were directly affected by the Grenfell Tower fire.
The payouts were recorded, as of lunchtime on Monday, by the newly set-up Grenfell Response Team (GRT) which is now managing the official response and support operation to the tragedy.
The payments are being made up of £500 cash and £5,000, which is to go into bank accounts. So far, 126 hotel places have been found for residents of Grenfell Towers and Grenfell Walk.
There are also 78 families who have been assessed and are on course to be placed in properties that are local or in the neighbouring borough by the end of the day. None of these properties are in tower blocks
#GRENFELL RESIDENTS MAY LOSE CUSTODY OF CHILDREN IF REJECT DISTANT ACCOMMODATION
As the SKWAWKBOX covered at the weekend, in spite of promises to the contrary by Theresa May and the local council some residents of Grenfell Tower have been offered accommodation in Preston and even as far north as Northumberland – and threatened with being labelled 'intentionally homeless' if they refuse the offer.
Being judged 'intentionally' homeless would mean the withdrawal of support and the loss of a position on housing lists.
But it has emerged that

it can also mean losing custody of your children

.
Intentional homelessness when dependent children are involved usually results in the involvement of social services and, as a government document on intentional homelessness confirms, Social Services departments,
frequently limit their response to 'offering' to take the children into care
.
The document goes on to elaborate that the government's
aim

should

be to avoid families being split up as a consequence of homelessness through a mix of better prevention services and support packages and the use of other means of intervention such as anti-social behaviour orders where appropriate
but offers no guarantee that the aim must be successfully achieved.
The inhumanity of the attempts to pressure Grenfell survivors into accepting unsuitable or distant accommodation is even more profound than it at first appeared.
The SKWAWKBOX is provided free of charge but depends on the generosity of its readers. If you found this information helpful and can afford to, please do click here to arrange a one-off or modest monthly donation via PayPal. Thanks for your support so this blog can keep bringing you information the Establishment would prefer you not to know about.
Todays UK Column with Patrick Heningsen
SHOCKING TRUTH ABOUT THE GRENFELL TOWER CATASTROPHE "please share before its taken down"