In a report that was 4 hours "late", China reported an additional 409 coronavirus cases across the entire nation, and 150 additional deaths as of February 23 compared to 648 additional cases and 97 deaths on February 22; this brought total China cases to 77150 and total deaths 2592

China's Hubei province said it has 398 New Coronavirus Cases As Of Feb 23 and 149 New Coronavirus Deaths.

South Korea raised its national threat level to "red alert" for the first time since the H1N1 swine flu outbreak in 2009. The total number of confirmed cases in the country reached 763, a jump of 161 overnight, and a 25-fold increase in the past week.
The Italian government said it has 152 confirmed cases, up from three in a matter of days. Three people have died. Authorities have locked down about a dozen small towns and canceled events across the north, including Venice's Carnival.
Iran has confirmed eight deaths related to the coronavirus, the most outside of China, media reported Sunday. South Korea confirmed its seventh death.

4 more cases confirmed in UK

200 Israelis quarantined

Japan confirms more cases; Japanese Emperor expresses hope for Tokyo Games

Trump says US has everything 'under control' as he asks Congress for more money

EU's Gentiloni says he has 'full confidence' In Italian health officials

Turkey, Pakistan close borders with Iran as confirmed cases soar

Global Times says virus may not have originated at Hunan seafood market

Axios reports shortages of 150 essential drugs likely.
Authorities in Hubei province reported good news Thursday: There were only 349 new coronavirus cases the previous day, the lowest tally in weeks. The bad - and puzzling - news? Wuhan, the capital of Hubei, reported 615 new cases all by itself.
— 实话实说 (@jMcSVGx9oRuiEir) February 22, 2020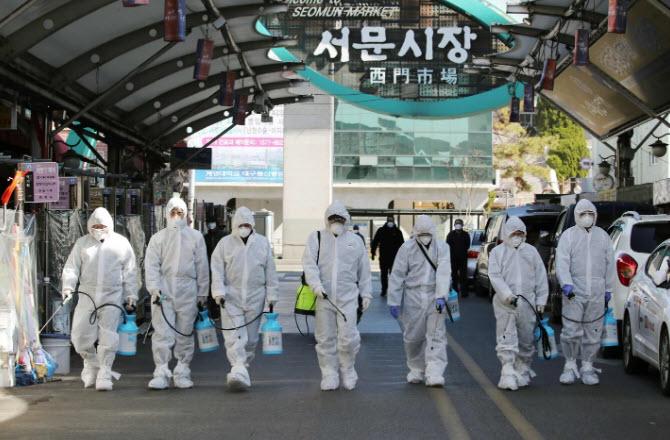 In fact, he said, it is "the most severe" of any crisis in the 40 years since China embarked on major economic reforms. He sees not a double but a "triple whammy," factoring in the economic slowdown the country was experiencing even before the trade conflict and the virus.
"This new coronavirus is a concern. I would like to send my sympathies to those who are infected and their families," he said.

"At the same time, my thoughts are with the efforts of those who are treating them and working hard to prevent the spread of the infection. I hope their efforts will bear fruit soon."

Tokyo will host the Summer Olympics from July 24 for the second time, and Naruhito said the first Tokyo games, held in October 1964 when he was four years old, were one of the highlights of his childhood.
Bishops in several dioceses in northern Italy issued directives that holy water fonts be kept empty, that communion wafers be placed in the hands of the faithful and not directly into their mouths by priests celebrating Mass and that congregants refrain from shaking hands or exchanging kisses during the symbolic Sign of the Peace ritual.
"The health officials haven't been yet able to pinpoint Patient Zero,"Angelo Borrelli, head of the national Civil Protection agency, told reporters in Rome.
"We share concern for possible contagion, but there is no need to panic."