S.Korea Coronavirus Cases
Go Exponential As New
Infections Soar By 70%; 10
Towns In Northern Italy Put
On Lockdown
South Korea reported 142 new cases, up 70% in one day, to 346; The country also reported its second death.

China reported 397 new cases, bringing the total cases to 76,288, and an additional 109 new deaths or 2,345 in total.

Italy reports 1st virus death, 15 additional cases, 10 cities on lockdown

34 cases in USA.

China pledges to build 19 new hospitals in Wuhan

Hawaii hasn't tested any suspected cases in the state

253 more passengers depart the diamond princess as 11 of 13 American evacuees in Nebraska test positive

Local authorities in China warn people will be punished for not returning to work if ordered

WHO's Tedros: Window for confronting virus rapidly closing

CDC says virus tremendous health threat, warns more human to human transmission of the virus in the US likely

First case declared in Lebanon

Iran confirms 9 more cases as virus reaches Tehran

South Korea reported massive jump in cases on Friday as total climbed to 204

Global Times insinuates that US might be covering up coronavirus cases

Health officials in Hubei 'apologize' for changing case confirmation 'criteria'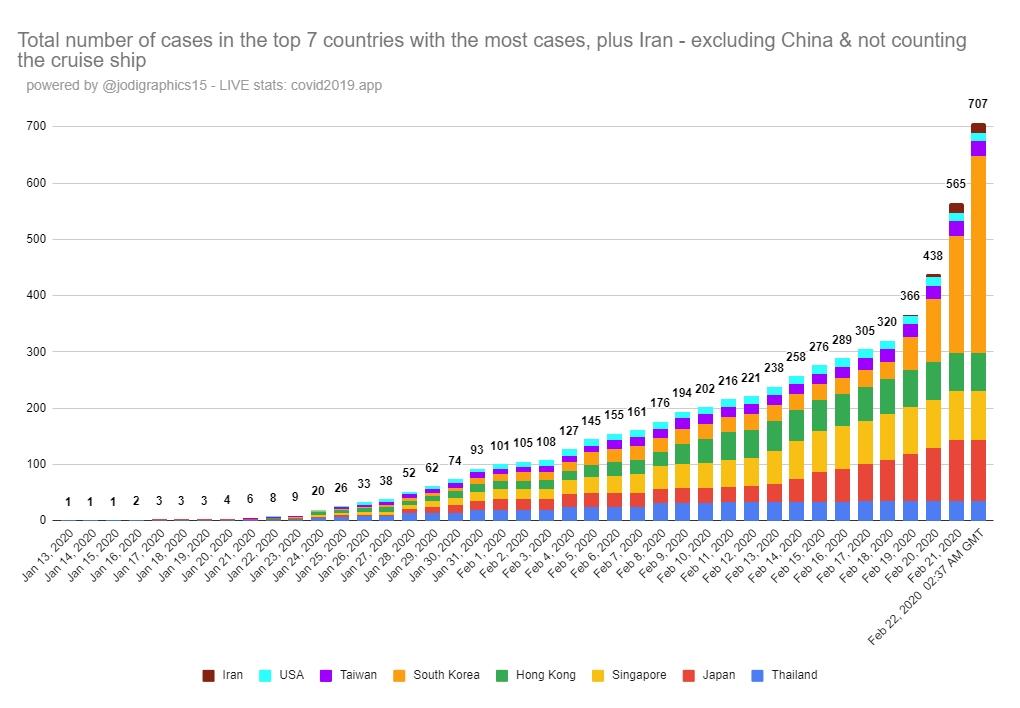 This scenario is very short. The virus spreads globally and also mutates, with its transmissibility increasing and its lethality increasing too. The numbers infected would skyrocket, as would casualties. We could be looking at a global pandemic, and at scenarios more akin to dystopian Hollywood films than the realms of economic analysis. Let's all pray it does not come to pass and just remains a very fat tail risk.
"Coronavirus: the population is invited to remain indoors as a precaution".
"This new virus represents a tremendous public health threat," Dr. Messonnier said.
"The sudden jump in infections in other parts of Asia, notably in Japan and South Korea, has sparked renewed concerns," said Khoon Goh, Singapore-based head of Asia research at Australia & New Zealand Banking Group Ltd. "This points to a new phase in the outbreak, and one which will see continued disruption and more economic impact than previously thought."