Trump to end CIA support for anti-Assad forces in Syria – reports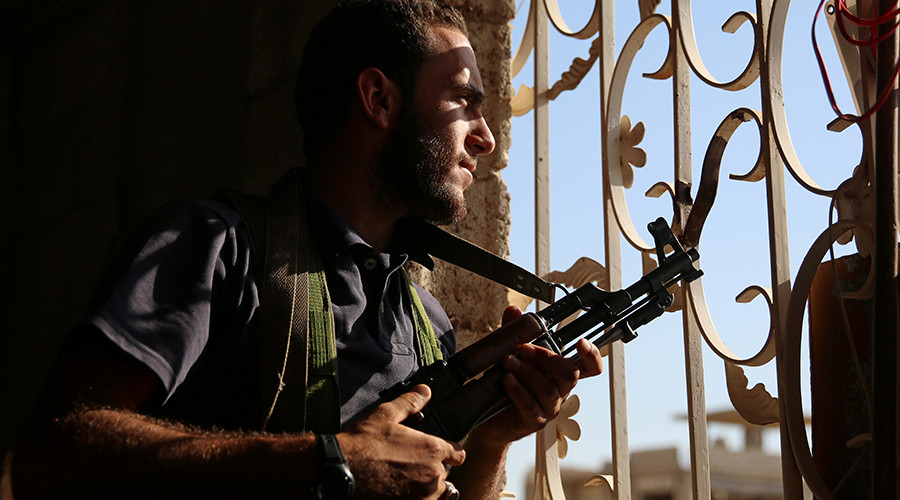 The White House and the Central Intelligence Agency have declined to comment on reports that president Donald Trump has decided to end the CIA's covert program of arming the so-called moderate rebels in Syria.
On Wednesday, US officials told the Washington Post (
WP
) and
Reuters
that Trump has decided to put an end to the covert CIA plan which began arming and training the so-called moderate Syrian rebels in 2013.
Authorized by President Barack Obama, the secret Timber Sycamore weapons supply and training initiative has served as the backbone of Washington's strategy to topple the Syrian President Bashar Assad.
Two US officials, who spoke on condition of anonymty with Reuters, said the covert CIA scheme has produced little results.
'No moderate rebels here': RT's
@LizziePhelan
talks with
#Aleppo
civilians on new ceasefire deal (VIDEO)
The Washington Post meanwhile claimed, based on their sources, that Trump's reported intention to stop arming the rebels is the American president's way of finding common ground with Russia on Syria.
Moscow has always warned against arming the so-called modera
te rebel groups in Syria, pointing out that weapons supplied to them often fall into the hands of jihadist groups such as Jabhat al Nusra and Islamic State.
Trump's decision to end the CIA program was reportedly taken in consultation with CIA Director Mike Pompeo and national security adviser H.R. McMaster ahead of his meeting with President Vladimir Putin in Hamburg earlier this month. During that meeting, on the sidelines of the G20 summit, Trump and Putin reached a ceasefire agreement for southwest Syria.
The scrapping of the CIA's Timber Sycamore program was not a precondition for the ceasefire negotiations, the US officials insisted.
Without sharing the details of the program's demise, the unnamed US officials claimed that Timber Sycamore would be phased out over a period of months. The WP report also said the decision to end the operation is being supported by the Jordanians, where some of the CIA training has been taken place.
Varied US arms and training strategies to bolster rebel groups in Syria under the Obama administration have been notoriously underwhelming. In 2015, General Lloyd Austin, CENTCOM commander at the time, told Congress that only four or five of US-trained fighters have gone to Syria of the 5,000 the Pentagon envisaged.
The Reuters report notes that the US will continue to support select Syrian rebel groups with airstrikes and guidance as part of a separate effort.
The White House declined to comment on the reports at their daily briefing. The CIA has also refused to comment when reached out to by Reuters.
*****
Israeli Prime Minister Benjamin Netanyahu has admitted that Israel carried out dozens of attacks against Hezbollah arms convoys in Syria, oblivious to the fact that his remarks were being picked up by a live mic and relayed to reporters, Haaretz reported.
"We blocked the border not only in Egypt but in the Golan Heights," Netanyahu reportedly said during a closed session with the premiers of Hungary, the Czech Republic, Poland and Slovakia in Budapest on Wednesday.
"We built the wall because there was a problem with ISIS [Islamic State/IS] and Iran trying to build a terror front there. I told [Russian President] Putin, when we see them [Iran/IS] transferring weapons to Hezbollah, we will hurt them. We did it dozens of times," he said, as quoted by Haaretz
Netanyahu focused most of his energy during the meeting on bashing the EU, accusing it of "crazy" behavior due to conditions put on its relationship with Israel over the Palestinian peace process.
"
The European Union is the only association of countries in the world that conditions the relations with Israel that produces technology and every area, on political conditions. The only ones! Nobody does it," Netanyahu reportedly said.
Although the remarks were not intended to be relayed to the press, they were accidentally transmitted to reporters through headphones.
"
It's crazy. It's actually crazy," he continued, referring to Brussels' insistence that Tel Aviv must meet certain terms related to the Palestinian peace process for steps to be made with the EU-Israel Association Agreement.
"
It's not about my interest. I'm talking about Europe's interest," he said, as quoted by Haaretz.
Netanyahu went on to stress that Israel has a "special relationship with China," and that Beijing doesn't care about political issues.
He went on to urge the leaders to use their influence on the EU to persuade the bloc to ease conditions related to Israel, asking them to "help us and help Europe in expediting the EU Association Agreement."
The Israeli prime minister went on to reiterate that he believes there is "no logic" in the EU's behavior.
"The EU is undermining its security by undermining Israel. Europe is undermining its progress by undermining its connection with Israeli innovation by a crazy attempt to create conditions," he said.
At that point, Hungarian Prime Minister Viktor Orban – who himself has clashed with Brussels on a number of issues, including his decision to build a barbed wire fence to keep refugees out of his country – interrupted.
"
Mr. Netanyahu, the European Union is even more unique. The EU places conditions on the ones already inside the EU, not only the countries on the outside."
In response, Netanyahu said he believes "Europe has to decide if it wants to live and thrive or if it wants to shrivel and disappear. I am not very politically correct. I know that's a shock to some of you. It's a joke. But the truth is the truth. Both about Europe's security and Europe's economic future. Both of these concerns mandate a different policy toward Israel."
He added that Israel is "part of the European culture," and noted that Israel even manages to have ties with Arab countries.
"
The Arabs speak with us. They speak with us about technology and everything we're talking about here," Netanyahu said.
The hot-mic transmission was discovered and shut down "within a few minutes," Haaretz reported.
The EU-Israel Association Agreement stipulates that relations between the EU and Israel "shall be based on respect for human rights and democratic principles," with that point being deemed an "essential element" of the deal.
The EU-Israel Association Council has not met since July 2012. It was expected that it would meet in March to take steps to advance the agreement process, but those talks never took place. Some diplomats cited by the Jerusalem Post said its delay was tied to EU frustration with Israel over settlement activity.