These are the facts as we know them as of now as per mainstream media
Paris attacks kill more than 120 people – as it happened
Death toll revised to around 120
A Paris city hall official said four gunmen systematically slaughtered at least 87 young people attending a rock concert at the Bataclan music hall. Anti-terrorist commandos eventually launched an assault on the building. The gunmen detonated explosive belts and dozens of shocked survivors were rescued.
Some 40 more people were killed in five other attacks in the Paris region, the city hall official said, including an apparent double suicide bombing outside the national stadium, where Hollande and the German foreign minister were watching a friendly soccer international.
Some 200 people were injured.
Paris public prosecutor François Molins said the death toll was at least 120.
His spokeswoman said eight assailants had also died, seven of whom had blown themselves up with explosive belts at various locations, while one had been shot dead by police.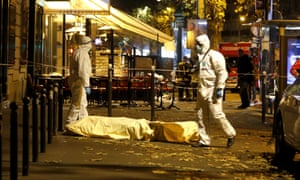 What we know so far
At least 120 people are feared to have been killed

in a series of devastating attacks across Paris on Friday evening.




Eight attackers also died, police say, seven of them by detonating explosive suicide belts.




Police continue to search for accomplices

who might still be at large.




Two hundred people were injured, 80 of them seriously.




Shootings and explosions were reported in

six locations across the city

, including the Stade de France in northern Paris, where two suicide attacks and a bombing took place as the national team played Germany in a friendly football match.




The majority of victims died after a mass shooting inside the Bataclan concert venue.




Shootings also took place in restaurants and other sites in the centre of the city.
President

François Hollande

, who was at the Stade de France at the time of the assaults, said:



We are going to lead a war which will be pitiless. Because when terrorists are capable of committing such atrocities they must be certain that they are facing a determined France, a united France, a France that is together and does not let itself be moved, even if today we express infinite sorrow.
This graphic pinpoints the six locations and the latest death tolls at each; these could, of course, change.
Two hundred people have been injured, 80 of them seriously.
I an interview with Press TV Pepe Escobar said that the perpetrators were extremely calm,trained professionals.
This is borne out here:
A man who survived the attack on a concert hall in Paris on Friday evening recalls details of the assault, and says that he thinks the gunmen were 'no older than 25'. Jerome Bartelemy was at the bar with his friends when the shooting started. More than 100 people are thought to have died in a number of coordinated terror attacks across the city
Eyewitness: 'He swivelled right, swivelled left and opened fire'
Psychotherapist
Mark Colclough
, a 43-year-old British-Danish dual citizen, was with a colleague on Rue de la Fontaine when he witnessed a gunman attack a cafe.
He told the Guardian what he saw:
He was standing in a shooting position. He had his right leg forward and he was standing with his left leg back. He was holding up to his left shoulder a long automatic machine gun – I saw it had a magazine beneath it.
Everything he was wearing was tight, either boots or shoes and the trousers were tight, the jumper he was wearing was tight, no zippers or collars. Everything was toned black.
If you think of what a combat soldier looks like, that is it – just without the webbing. Just a man in military uniform, black jumper, black trousers, black shoes or boots and a machine gun. Maybe a woolly hat.
He was left-handed and shooting in bursts of three or four shots. It was fully intentional, professional bursts of three or four shots.
He killed three or four individuals who were sitting in the chairs in front of the cafe. We saw them get shot down. They fell off their chairs on to the ground.
He then swivelled and shot through a car driver's window.
We then saw him walk into the cafe. He swivelled right and then swivelled left and opened fire. That is when we dived for cover.
We heard a total of maybe 15 or 20 shots, then everything went quiet.
If you want to see Fox News....