This is, of course a very partisan source but it fits generally into what I think is happening.
PATRIOT PRAYER GUY SHOT DEAD IN PORTLAND FOR BEING "TRUMPER"
30 August, 2020
One person was shot and killed late Saturday in Portland, Oregon, as a large caravan of President Donald Trump supporters and Black Lives Matter protesters clashed in the streets, police said.
It wasn't clear if the shooting was linked to fights that broke out as a caravan of about 600 vehicles was confronted by counter-demonstrators in the city's downtown.
Police said the caravan had left the area around 8:30 p.m., and officers heard gunshots at about 8:46 p.m., according to a statement. Officers arrived at the shooting scene "within a minute," police said, but the man who was shot did not survive.
An Associated Press freelance photographer heard three gunshots and then observed police medics working on the body of the victim, who appeared to be a white man. The freelancer said the man was wearing a hat bearing the insignia of Patriot Prayer, a right-wing group whose members have frequently clashed with protesters in Portland in the past.
Police said the man was shot in the chest. He was not immediately identified. It's unclear who shot him.
Developing . .
UPDATE 9:23 AM EDT --
VIDEO OF THE ACTUAL MURDER! (FIXED)
Shouts: "Hey, Hey, we got one right here. A Trumper."
"Right here?"
<GUNSHOTS> BANG BANG
So there you have it. They killed the man BECAUSE he was a Trump Supporter.
This now appears to be an actual Civil War.
IMAGES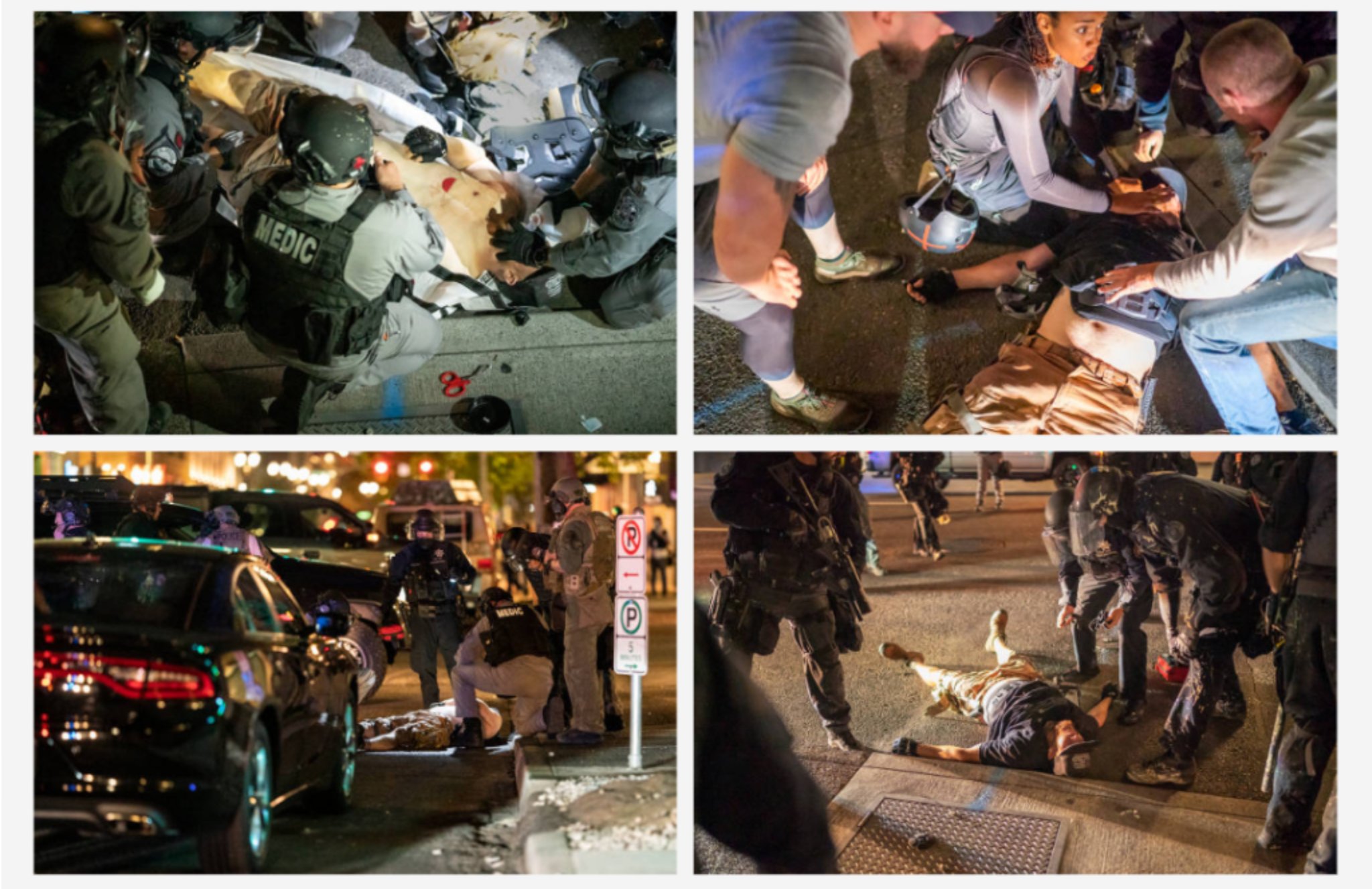 If you want the other side, that is openly supporting insurrection, then by all means read the Guardian.











Portland mayor Ted Wheeler on Sunday slammed Donald Trump, accusing the president of encouraging the kind of violence that erupted in the city overnight when a reported member of a right-wing group was shot dead after a group of Trump supporters confronted Black Lives Matter protesters.




"What America needs is for you to be stopped," Wheeler said of Trump, after the president tore into Wheeler on Twitter in the hours after the death and retweeted video footage of his supporters in trucks firing paintballs and pepper spray at protesters downtown.




It wasn't clear if the shooting was linked to fights that broke out as some from the procession of about 600 vehicles, many flying large "Trump 2020" flags, revved and honked their way through narrow downtown streets, seeming to taunt protesters in the cityon Saturday night. Some of the demonstrators threw objects in response, especially after paintballs were fired towards the sidewalks.




Later, an Associated Press freelance photographer heard three gunshots and then observed police medics working on the body of the victim, who appeared to be a white man.




Portland police officers "responded and located a victim with a gunshot wound to the chest. Medical responded and determined that the victim was deceased," the department stated.




According to police, the shooting happened at 8.46pm local time on Saturday. A video that appears to have captured the incident, taken from the other side of the street, shows a man wearing shorts approaching a car parking garage. Shots ring out and the man falls to the ground.




https://www.theguardian.com/us-news/2020/aug/30/fatal-shooting-in-portland-as-trump-supporters-clash-with-black-lives-matter-protesters