Turkey reportedly amasses tanks, troops near border to Iraq, vows to tackle 'threat'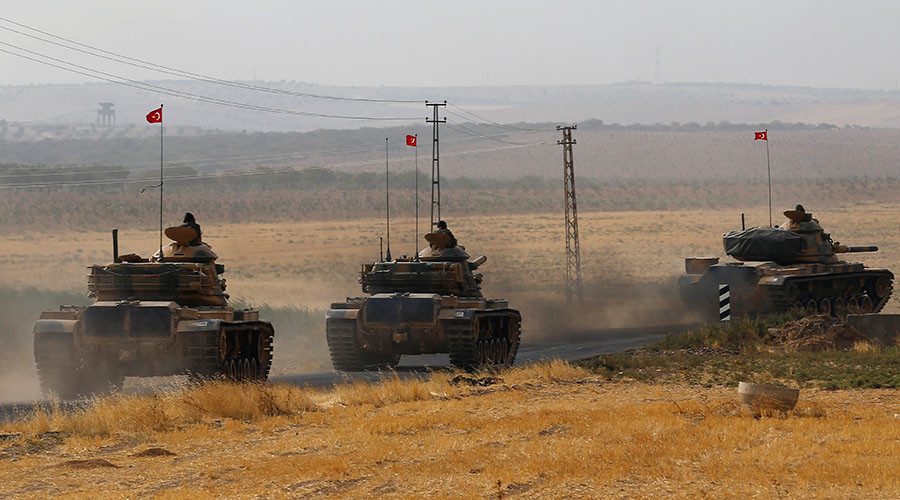 Ankara is deploying heavy armor, including tanks to the border near Iraq, media reports say. Turkish Defense Minister has meanwhile said that the military will tackle potential "increase" of threats to the country.
Turkish tanks as well as armored vehicles have started moving into the town of Silopi, located close to the border with Iraq, Turkish Dogan news agency and Reuters report citing army sources.
According to the country's Defense Minister Fikri Isik, the deployment is part of anti-terrorist fight and is also linked to the developments in Iraq.
"We will not allow the threat to Turkey to increase,"
Isik told broadcaster A Haber as
cited
by Reuters. Ankara has "no obligation" to wait until the fighters of the Kurdistan Workers Partry (PKK), considered by Turkey terrorists, will seize territories in Iraq's Sinjar region, around 115 km south of Silopi, Isik dded.
Earlier in October, Turkish Foreign Minister Mevlut Cavusoglu warned the PKK of using bases in northern Iraq, where its main bases are located.
"If there is a threat posed to Turkey, we are ready to use all our resources including a ground operation to eliminate that threat,"
Hurriyet daily news
quoted
the official as saying.
Strong words came from the Turkish President Recep Tayyip Erdogan on Saturday who promised to increase troops deloyments near Silopi. The leader also cautioned Shiite militias in northern Iraq of advancing at the town of Tal Afar, home to ethnic Turkmen.
"
If al-Hashd al-Shaabi [Shiite militia] causes terror there in [Tal Afar], our response to it will be different,"
Erdogan
said.
The deployment comes at a tense time when Ankara and Baghdad are at odds over the Turkish military presence in Iraq.
On October 23, Turkish tanks and artillery aided the advance of Kurdish Peshmerga fighters against IS jihadists near stronghold of Mosul. That came despite Baghdad's repeated protests against Turkish military presence on its soil.
"
This is something the Iraqis will handle and the Iraqis will liberate Mosul and the rest of the territories,"
Prime Minister Haider al-Abadi said on October 5, declining any Turkish involvement.
Ankara officially maintains some 25 tanks as well as 150 troops and a staff of
"military advisors"
estimated to reach some 2,000 at the Bashiqa camp near Mosul. Abadi called the presence a violation of sovereignty and said Turkish "inside Iraqi territories has no justification."
Storming Mosul's residential areas will likely result in mass casualties, Russian MoD warns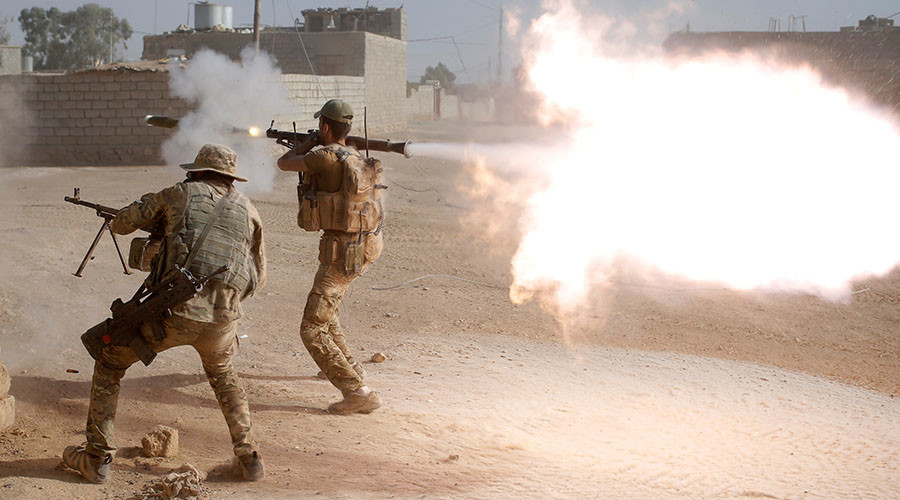 Members of an Iraqi special forces police unit fire their weapons at Islamic State fighters in al-Shura, south of Mosul, Iraq October 29, 2016. © Goran Tomasevic / Reuters
The plans of coalition forces and the Iraqi army to carry out an assault in residential areas of Mosul will likely result in mass civilian casualties, Russia's Defense Ministry said, while noting there are no humanitarian corridors in the Iraqi city.
"
We are hearing reports about an upcoming storming of residential areas populated by civilians that are murky, but extremely alarming, given the mass casualties that could result
," Russian Defense Ministry spokesman Major General Igor Konashenkov said.
He added that the US' plans for the military operation give the impression that the city of more than a million residents
"is only populated by terrorists.
"
The Russian military released the statement following remarks made by the US State Department concerning the anti-terrorist operations in the Iraqi city and Aleppo in Syria, in which it maintained that the situations in Mosul and Aleppo are completely different. State Department's spokesman John Kirby claimed that only the US-led coalition's offensive in Iraq was being carried out in accordance with international humanitarian law.
"
There are in fact some radical differences
" between the situations in the two war-torn cities, Konashenkov said.
The Defense Ministry's statement pointed out that, while the Russian and Syrian Air Forces have not been operating in Aleppo for more than two weeks, Mosul "
is being bombed on a daily basis
" by American strategic bombers, as well as naval bombers from the US USS Dwight D. Eisenhower and France's Charles de Gaulle warships in the region.
In the course of just the past 24 hours, the US-led coalition has conducted 25 sorties, and carried out 21 strikes on the Iraqi city and neighboring areas, the military official reported.
Unlike in Aleppo, where Russian and Syrian government forces established humanitarian corridors through which both civilians and militants could leave the area, in Mosul the US-led coalition has reportedly created an "
iron circle
" aimed at destroying all of the terrorists in the city, he dded.
Given that so many journalists and representatives of humanitarian organizations have been working in Aleppo, the Russian Defense Ministry said it found it "
strange
" that there appear to be no human rights activists or reporters in Mosul.
This means the western media is only able to provide "
censored
" enthusiastic reports about the coalition's successes in the region that are put out by the coalition itself and are not supported by any "
real
" evidence, the ministry's statement said.