'Wall of water': Slip dam breached on New Zealand river, residents urged to seek higher ground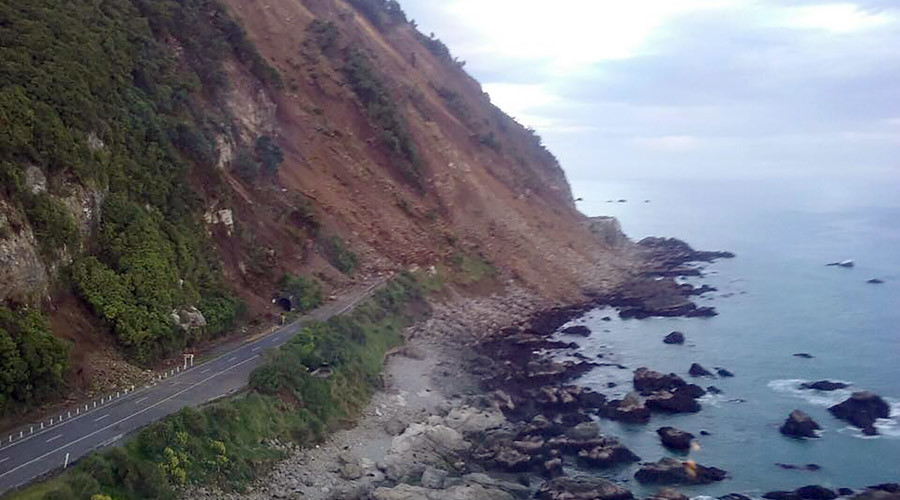 A handout photo taken and received on November 14, 2016, show earthquake damage to State Highway One near Ohau Point on the South Island's east coast. © Ohau Point / AFP
Residents of the Marlborough region of New Zealand have been urged to go to higher ground immediately, after a slip dam breached on the Clarence River following a powerful earthquake and series of aftershocks.
Emergency workers began evacuating residents at around 3:30pm local time on Monday, before the slip breached, as a precautionary measure, the New Zealand Herald reported.
Authorities are currently searching for a group of kayakers thought to have moved to higher ground after their gear was found close to the river bank, Marlborough civil defence said on Twitter. A separate group of 16 rafters, previously believed missing, has been contacted by rescuers and are safe.
The water is likely to flow at 1,000 m3/s to 2,000 m3/s, far exceeding once-in-a-decade flood volumes, according to Environment Canterbury. It would take three to five hours for the
"wall of water"
to travel the length of the river and reach the coast, stuff.co.nz
reported
.
Located on South Island, New Zealand, the Clarence River is 230 kilometers (140 miles) long, making it the eighth longest river in the country.
It comes after a powerful 7.8 magnitude earthquake struck South Island just after midnight local time on Monday, triggering a tsunami and a series of aftershocks which left at least two people dead.
18:13
UPDATE: Latest from Marlborough Civil Defence:
A group of kayakers thought missing on the Clarence River are safe.
The group were evacuated from the river earlier today and reported their whereabouts a very short time ago.
Helicopters were searching for this group after their gear was discovered on the river bank late afternoon. A group of 16 rafters has also been found safe. There was concern about the safety of both groups after water broke through the slips that had been blocking the river, sending big volumes of water down the river.
The first coach load of stranded travellers from the Ward Emergency centre has now arrived safely in Blenheim.
They disembarked at the Blenheim i-SITE Visitor Information Centre where accommodation and travel arrangements were arranged by i-SITE staff.
There are still 50 people at the Emergency Centre which is at the Ward Community Hall which the Red Cross intends to keep operating to late Wednesday if required.
The Wairau Bridge on SH1 between Picton and Blenheim is due to reopen at 6pm.
Weather warning for region affected by earthquake




MetService issues Weather News Releases to keep you up to date when the weather is of particular importance - such as severe weather, weather for special events or holiday periods, etc. You can sign up to receive these emails direct to your Inbox - just click on this link: News Email Sign Up
Issued at 12:27pm Monday 14 Nov 2016
Severe weather to hit during quake clean up
Severe weather is expected to hit New Zealand later today, including a number of areas affected by this morning's earthquakes. Severe weather warnings have been issued for strong winds and heavy rain developing this evening in central New Zealand, with gusts up to 140km/h expected in exposed places.
An active weather system is approaching the lower South Island, with a wedge of warm air from the tropics bringing heavy rain with it. Rain is expected to be heaviest in northwest Nelson, Buller and Westland, and also in the ranges of Marlborough Sounds, Taranaki, Tararua Ranges and the headwaters from Whanganui to Ruapehu. Localised downpours are possible, with a high risk of thunderstorms on the West Coast of the South Island this evening until early Tuesday morning. Areas in the east, including Kaikoura, will miss the worst of this rain although scattered falls are likely there overnight before clearing in the morning.
Northerly winds will pick up this afternoon ahead of tonight's system,reaching severe gale in Cook Strait this evening. The strong northerlies will affect areas from Whanganui and Manawatu to Kaikoura, although the strongest gusts will be closer to the Strait, including Wellington where the quake clean-up is underway. Winds should peak in the Kaikoura area tonight before easing into Tuesday morning, although the week ahead will often be windy.
With a full moon tonight, tides will be high and flooding is possible,especially in the Nelson area around tonight's high tide at 10.30pm which coincides with strong onshore winds and heavy rain. Areas on the Kapiti Coast and northern parts of the South Island's West Coast should also beware of high wind waves during tonight's high tide. Heavy rain could also lead to localised flooding tonight in those areas of the upper South Island that are under severe warnings and watches for rain.
The rest of the week is marked by troughs from the Tasman bringing strong winds and rain, especially in the west, although the wet week should ease up by Friday.
Keep up to date with the latest forecasts and any watches/warnings at metservice.com or on mobile devices at m.metservice.com. You can also follow our updates on MetService TV, at MetService New Zealand on Facebook, @metservice and @MetServiceWARN on Twitter and at blog.metservice.com