New book claims Govt, NZDF covered up civilian casualties

New Zealand accused of cover-up over Afghan civilian deaths
Book claims killing of civilians in raids on two villages amounts to 'dark and guilty secret of New Zealand's recent history'
A botched raid by New Zealand special forces in
Afghanistan
, which led to the deaths of six civilians including a three-year-old girl, was the subject of a military and political cover-up, according to allegations contained in a book by investigative journalist Nicky Hager.
Hit & Run: The
New Zealand
SAS in Afghanistan and the Meaning of Honour, co-authored by war correspondent Jon Stephenson, appears to contradict official statements that raids on two villages in Baghlan province in August 2010 killed "numerous insurgents" but no civilians.
In the book, the authors say "there are reasonable grounds to suspect that New Zealanders and their United States allies were indeed involved in war crimes and other serious breaches of the laws of war".
The raid in question was launched as retaliation for the death of a soldier in a roadside bomb and signed off by then prime minister John Key. The authors have called on Key's successor, Bill English, who faces an election in six months, to commission an independent investigation into the case.
According to the book, which relies predominantly on unnamed sources, there were in fact no insurgents present in the areas targeted by the raid, undertaken by New Zealand forces supported by US helicopter gunships, with six civilians killed and 15 more injured. The subsequent denials, its authors argue, amount to a "dark and guilty secret of New Zealand's recent history".
The elite troops involved in the raid failed to meet the requirements of their code of conduct, which requires them to give aid to the wounded, and instead "shot through", Hager told media following the book launch in Wellington.
It is unclear, he said, how much Key knew about what had taken place. "I suspect we know far more about what happened than John Key was told."
The chief of the NZ Defence Force at the time, Lt Gen Jerry Mateparae, was later appointed as governor general, the Queen's representative in New Zealand, and is due to take up the appointment of high commissioner in the UK.
In keeping with his practice in previous books, Hager did not seek comment from the government or military officials, largely to forestall injunctions. "You don't get a comment, you just get people trying to sabotage you," he said.
The NZ Defence Force has rejected the book's claims, saying: "The NZDF is confident that New Zealand personnel conducted themselves in accordance with the applicable rules of engagement." It said it stood by its response in 2011 to claims of civilian deaths.
It added that a joint investigation had been conducted by the Afghan ministry of defence and Isaf, the Nato-led security mission in Afghanistan, which "concluded that the allegations of civilian casualties were unfounded".
A spokesperson for acting defence minister, Chris Finlayson, said in a statement: "The matter was investigated at the time and I am advised by the New Zealand Defence Force they stand by what they said at the time."
In a 2014 interview, Key said: "We don't discuss the detail of SAS operations, but what we do say categorically is that no New Zealand soldier was involved in killing civilians."
There had been speculation that the book had been timed for the eve of Key's valedictory speech. The authors said that was a coincidence, with printing under way before Key's early exit from parliament was announced. "I would rather it hadn't got tangled up in that," said Hager.
They also said they did not believe the publication of the book or its contents influenced Key's decision to resign as prime minister in December last year.
The chief executive of Amnesty International NZ, Grant Bayldon, has called for an inquiry. "This is crucial, for not only the integrity of New Zealand and its operations overseas, but also for the women, men and children who may have been victims of this raid and have seen no justice," he said in a statement.
Key, who has yet to comment on the book, has previously dismissed Hager as a "conspiracy theorist". Hager's 2014 book Dirty Politics, which drew on hacked emails to expose links between the then prime minister
and an attack blogger
, was published weeks before the last election.
While it dominated the campaign and led to the resignation of a cabinet minister, Key's National party was re-elected with almost exactly the same level of support.
More than 31,000 Afghan civilians
are estimated to have been killed
since the US invasion in 2001.
Could New Zealand Face the International Criminal Court for War Crimes in Afghanistan?
Investigative journalist Nicky Hager's highly anticipated new book alleges SAS forces killed Afghan civilians in a raid personally signed off by the Prime Minister in 2010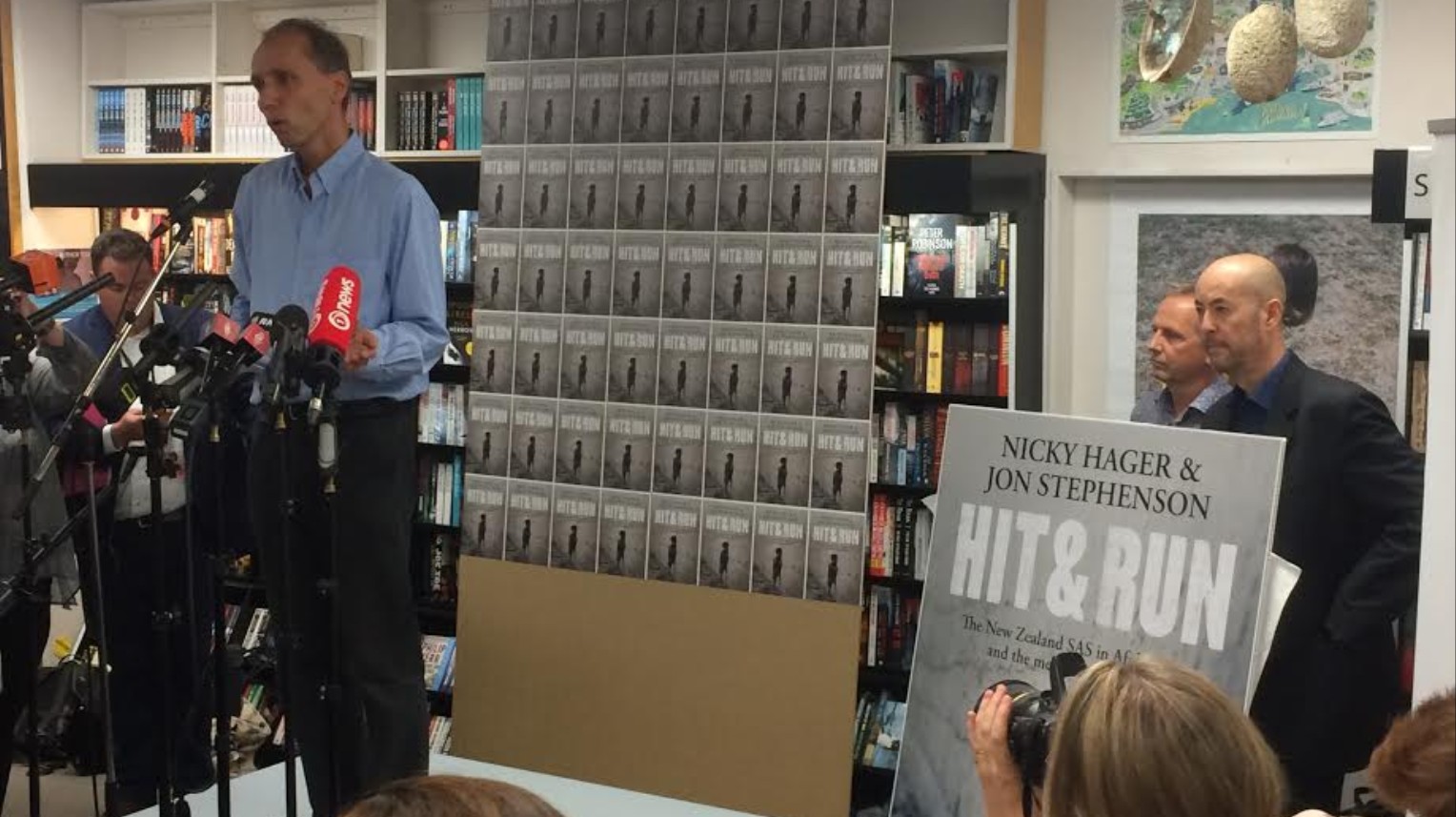 (Top image, Nicky Hager at the launch of Hit & Run with co-author Jon Stephenson, far right. All images by the author.)
The coming days are critical to determining New Zealand's liability for war crimes at the International Criminal Court, following today's release of Nicky Hager and Jon Stephenson's new book Hit & Run. I've worked at the Court as an investigator, and at every other UN war crimes tribunal. The key question will be whether New Zealand is willing or able to investigate the allegations regarding SAS troops in Afghanistan during August 2010, or if the International Court will have to step in and do it for us.
Perhaps contrary to what you might expect, war crimes are not a numbers game. One unlawful killing can lead to charges at the International Criminal Court. Furthermore, it can actually be lawful to kill civilians in certain contexts. However, reviewing the 151 pages of this book, I can see there are sufficient grounds to include these allegations in the International Criminal Court preliminary examination against allied troops in Afghanistan—a case which I have worked on.
It is considered a war crime to intentionally direct attacks against civilians, to destroy the property of adversaries unless immediately demanded by the conflict, or to torture detainees. International law also requires that after an attack all parties should attempt to take care of wounded, and states must investigate allegations of war crimes by their armed forces.
The book records details of the alleged killing of six civilians in the New Zealand-initiated and led raid, including women and children as young as three, plus injuries from shrapnel and fire. It documents reports of New Zealand troops destroying villagers' homes, and failing to offer help to wounded villagers. It also reports one incident where a captured insurgent is allegedly beaten by New Zealand forces in the back of a van, then handed over to Afghan secret police to be tortured.
New Zealand Defence Force has issued a repeat of their statements in 2011 and 2014 saying no New Zealanders were involved in the killing of civilians.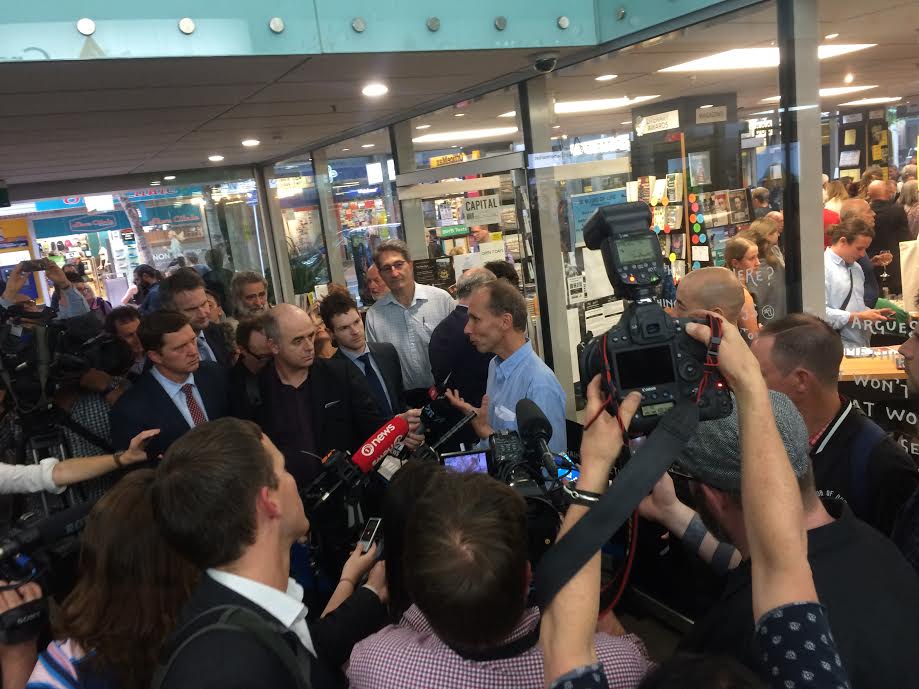 Nicky Hager talks to the press outside Unity Books.
During the book's launch, suspense was palpable in the crammed floorspace of Unity Books. It was hot with the high body count and the excited anticipation for what was to come. With the launch only announced a few days ago, rumours were swirling that Nicky had followed the precedent of his last well-timed election treatise Dirty Politics and was going to release a take-down of ex-Prime Minister John Key the day before his final speech in Parliament. Nicky, however, denied it was going to be a book about the elections. Nobody told the guy with the "Goodbye National" sign.
True to his word, the new book we awaited while jostling for prime viewing position is not about the upcoming elections—but it is massively political. This is because the key way to avoid investigation by the International Criminal Court is for the national political process to kick in and pursue accountability within our own courts. And as Nicky rightly pointed out during his press conference after the book launch, John Key resigning may well provide the best opportunity for creating political space to pursue this accountability, particularly as Mr Key is alleged in the book to have directly approved the SAS actions.
During the press conference, there was a lot of anxiety among the press about the law. Is New Zealand responsible for war crimes? Is this an attack on our military? The grilling was on a par with the UN press corps tackling the Security Council.
At this point I was confused: I have personally collected evidence of thousands of deaths in a single incident. The Rwanda genocide was a crime scene with nearly one million people killed in 100 days. And yet I have never ever seen a room as packed as Unity Books today about any single one of my cases. I began to feel angry and disgusted at the grossly disproportionate application of caring around the world. But then it struck me. We in New Zealand, we care. That's when I started to cry.
There could be a total outpouring of dismissive and hateful responses to this new book. And the law is indeed complex. At the moment there is not yet an open investigation at the International Criminal Court regarding Afghanistan, but the allegations in Hit & Run could be persuasive information which could bump the assessment forward, with the next update report due out in November this year.
The key aspect which could potentially trigger action by the International Criminal Court will be inaction by the New Zealand government. And with a roomful of concerned citizens and press to rival any international response to an international crime, the concerns are clear. What next, Prime Minister?
Alison Cole is a New Zealand international human rights attorney and an international criminal law investigator. She has worked at the International Criminal Court and UN tribunals on Rwanda, former Yugoslavia, Cambodia and Sierra Leone. Alison is an adjunct professor at New York University.
SAS' deadly Afghan counter attack revealed
Apr 20, 2011
A secret mission by New Zealand's elite SAS troops to hunt down the insurgents responsible for the death of a New Zealand soldier has been revealed by ONE News.
Prime Minister John Key on SAS's role in Afghanistan
Following another New Zealand SAS soldier's death this week, the Prime Minister discusses the mission