Imagine this scene replicated over a 24 hour period on each of the border crossings into the southern US.
Arizona Border Chief Warns Illegal Immigration On Track To Surpass Past 3 Years Combined
Authored by Jack Phillips via The Epoch Times,
A U.S. Border Patrol official issued a warning that illegal immigration is on track to overtake the past three years combined amid a surge of migrants at the U.S.-Mexico border.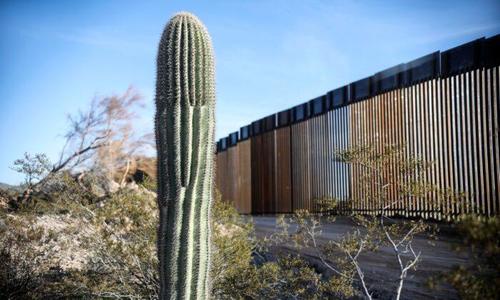 "So right now we're about a hundred percent over where we were this time, this last fiscal year," John Modlin, the interim chief in charge of the Border Patrol's Tucson sector, told independent journalist Sharyl Attkisson.
"We've already surpassed in the first four months of this fiscal year. We've already surpassed all of 2018. If the flow continues at the rate it is here, by the end of this fiscal year, we will have surpassed '18, '19, and '20, all combined."
Modlin said the uptick can be blamed on the reversal of President Donald Trump's immigration orders by the Biden administration, including halting construction of the border wall, ending Trump's "Remain in Mexico" policy, and others.
"At the end of 2018, 2,000 immigrants a day were being intercepted at the Southern border prompting security concerns and a humanitarian crisis. In early 2019, the Trump administration invoked 'Migrant Protection Protocols' [Remain in Mexico] forcing those seeking asylum to wait in Mexico," he said.

"Then in 2020, 'Title 42'—an emergency health order—let border officials immediately turn back illegal immigrants because of COVID-19."
Modlin said those orders had a significant impact, and as of May 2020, about 90 percent of migrants caught in the Southwest border were expelled.
"The number intercepted dropped from about a million in 2019, to roughly half that in 2020," he said.
In recent days, a number of officials who represent or oversee areas along the border have sounded the alarm, saying a crisis is looming.
Among them, Rep. Henry Cuellar (D-Texas), issued a news release about the surge, saying, "In the last 7 days in the valley they have stopped 10,000 individuals and 2,500 individuals in the last two days and many are being released" into the country.
Meanwhile, Cuellar urged the Biden administration to listen and work with communities on the border who are facing a migrant surge.
Department of Homeland Security Secretary Alejandro Mayorkas told reporters last week that there is no crisis at the border. President Joe Biden also issued a similar statement about a week ago, telling reporters there's no crisis.
"The men and women of the Department of Homeland Security are working around the clock seven days a week to ensure that we do not have a crisis at the border—that we manage the challenge, as acute as the challenge is," Mayorkas said.
The Epoch Times has reached out to Homeland Security for comment.
Migrants Show Up At Mexican Border Wearing Biden T-Shirts, Holding 'Let Us In' Signs
March 8, 2021
A group of migrants crossing the southern border were photographed wearing t-shirts in support of President Biden and holding signs which read: "Biden, please let us in!"
The photographs were reportedly taken at the San Ysidro crossing port in Tijuana as the migrants were requesting asylum in the United States.
The incident was more a coordinated protest than it was a group of Biden fans rushing the border.
The Washington Examiner reports, "migrants stood next to each other and took a knee as part of a demonstration urging the president to keep his campaign promise and increase the amount of immigration into the United States."
They also sought support from Biden to "ease former President Donald Trump's law enforcement mechanisms."
Migrants Wearing Biden T-Shirts Hit the Southern Border
The demonstration by migrants wearing Biden t-shirts comes as the President has faced questions about a recent surge in the number of unaccompanied minors arriving at the southern border.
The Wall Street Journal details that "2,200 children have been illegally crossing the border weekly in February" with the pace "picking up."
That represents a "rise (of) more than 50% in February compared with the previous month."
DHS Secretary Alejandro Mayorkas responded to this very obvious crisis by actually claiming there isn't a crisis at all.
The migrants knocking on the door with their freshly minted Biden t-shirts suggest otherwise.
Odd that they wouldn't take Mayorkas' advice when he urged the migrants to wait a bit before trying to cross the border.
"We are not saying, 'don't come,' we are saying, 'don't come now,' because we will be able to deliver a safe and orderly process to them as quickly as possible," he told asylum seekers.
Kids in Cages But No
Crisis
The rise of unaccompanied minors getting arrested at the border is a crisis in the mind of Representative Alexandria Ocasio-Cortez (D-NY) at least.
AOC recently ripped Biden for utilizing 'migrant facilities for children' or rather, the artist formerly known as 'cages for kids.'
"This is not okay, never has been okay, never will be okay – no matter the administration or party," AOC tweeted in response to a Washington Post report indicating the Biden administration was re-opening a migrant facility in Texas.
Former Acting ICE Director Tom Homan blasted Mayorkas for statements claiming DHS is working to "replace the cruelty" of the Trump administration at the border with "an orderly humane and safe immigration process."
"Don't tell me this is compassion!" Homan fired back. "Putting your children in the hands of criminal cartels is inhumane, is dangerous, and it's just bad."
Perhaps they can get a free t-shirt for their troubles.