This is absolutely

UNPRECEDENTED

.
I have just been listening t Rick Wiles on TruNews who reported talking to contacts in the Texas oil industry.
One, who has been in the industry since the 1950's said he had never seen anything like this in their life. They were as shocked as anyone and don't know what to make of it,
US oil market crashes to NEGATIVE in historic plummet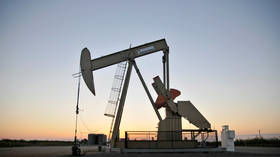 West Texas Intermediate oil prices have gone negative in a record low for the US benchmark, as the market continues to crater amid the general economic collapse.
Vanishing demand and a glut of supply have combined to heavily impact the US benchmark fuel, with prices dropping from $18.27 to close at -$37.63 a barrel on Monday – down over 300 percent from the previous day's close. It's the first time the crude oil futures contract has ever traded in the negative since the New York Mercantile Exchange (NYMEX) started trading it in 1983.
Global oil storage is currently reaching its limits, and while OPEC recently secured a 9.7 million barrel per day cut in production, the US Department of Energy is nevertheless weighing the idea of paying domestic producers to simply leave the oil in the ground so as not to further depress prices.
With May's futures contracts set to expire on Tuesday, investors are scrambling to unload their positions, eyeing the already-glutted market and concerned about being left with a valueless commodity.
As the futures contracts hovered at record lows, oil tankers are reportedly languishing at sea, unable to find places to store their bounty onshore. Demand for the commodity has dropped an estimated 30 percent worldwide amid the coronavirus crisis.
US stocks dropped sharply to start the week on Monday as investors are focused on coronavirus news along with plunging crude prices. The Dow Jones Industrial Average lost 500 points at the opening bell on Wall Street.
The S&P 500 index of America's top-500 corporations slid 1.6 percent, while the tech-heavy Nasdaq Composite was down just under one percent during early trading.
Stocks are headed lower as the price of US crude benchmark West Texas Intermediate (WTI) crashed over 137 percent with the price going negative for the first time ever. Oil is selling off as the May crude contract is set to expire, and suppliers are running out of places to store it.
https://www.rt.com/business/486335-dow-drops-500-points/
US oil prices crashed below $0 on Monday as the coronavirus pandemic cripples global energy demand, sparking concerns that storage facilities will soon be full.
US West Texas Intermediate (WTI) crude for May delivery tumbled over 137 percent and was trading in negative territory for the first time in history.
Meanwhile the most-active June contract for WTI, which expires on May 19, fell more than 11 percent to $22.07 per barrel. The gap between the two consecutive contracts – known as the front month and second month – is believed to be the widest in history.
As the May contract crude expires on Tuesday, the imminent expiry added pressure on the prices which have been already falling amid a lack of demand that is estimated to have dropped around 30 percent worldwide.
The drop also comes amid news that a record amount of oil – some 160 million barrels – is being held on tankers at sea, while traders are struggling to find a place in onshore storages.

Earlier this month, major oil exporting states – the Organization of the Petroleum Exporting Countries and producers led by Russia – agreed to slash global output by nearly 10 million barrels a day. While the historic deal comes into effect in May, there are fears that oil prices could remain low due to April's supply glut.Meanwhile the volumes held in US storage are rising day by day. For example, America's key storage hub, the Cushing delivery point, has nearly doubled the amount of oil since the end of February. It now has almost 55 million barrels of oil, while its working storage capacity stood at 76 million last year, according to the US Energy Information Administration (EIA).
https://www.rt.com/business/486310-wti-falls-worst-day/
Overflowing storage and collapsing demand due to Covid-19 lockdowns have driven the US oil futures to historic lows. There are signs the recent high prices may never come back, warns Max Keiser, the host of RT's Keiser Report.
The US West Texas Intermediate (WTI) crude futures were in free fall on Monday, dropping below $5 a barrel and headed for the $1 mark as May delivery contracts became worthless compared to June ones.
Between space running out at storage facilities, the supply glut due to an OPEC price war, and the demand shock due to the Covid-19 pandemic, "what you have is a unique opportunity for futures traders to 'sell-short' oil contracts with virtual impunity because at the moment the cost of buying and storing oil is actually negative," Keiser told RT.
One of the reasons for the futures crash is that brokers have been dumping the May contracts to buy June ones, in a situation known as "contango" – where the future price of a commodity is higher than the spot price.
Keiser notes that this is structurally similar to the 1987 stock market meltdown, when "an already overextended stock market was driven to extreme highs by leveraged futures traders who believed their positions were fully hedged" until the automated systems handling futures trading experienced a fatal system error.
The distortion in oil price will no doubt be sorted out shortly, as May contracts roll into June ones and the underlying structural issues are resolved, Keiser said.
That still leaves oil prices "at the mercy of the virus" as other market analysts have noted. One major takeaway from this situation is that the US shale oil industry has been exposed as essentially unprofitable.
Shale "had zero chance of ever being profitable because the industry, as structured, is cash flow negative to begin with, with no way of ever becoming cash flow positive," Keiser told RT. "The entire industry exists purely as a means to create profitable-for-Wall-Street junk bonds."
The crunch created by demand collapse and storage capacity was made worse by a surge in production initiated by Saudi Arabia last month, ostensibly to bring Russia to heel but in effect devastating the US shale producers.
The Organization of the Petroleum Exporting Countries, Russia and other oil producers agreed last week to slash global output by nearly 10 million barrels a day, starting in May. Keiser said there will likely be further cuts, due to the ongoing lack of demand
I expect we'll hear the 10 million barrel per day cut will be increased to 20, 30 and beyond until equilibrium is reached.
Keiser pointed out that Saudi Arabia recently sold part of their state oil company to the public in a bid to transition its economy away from oil, something he says other countries should take note of.
"I think the world is experiencing a paradigm shift away from oil so the historic highs we've seen in price might never come back," Keiser told RT.
https://www.rt.com/business/486372-oil-contigo-keiser-paradigm/