US Ready for Preemptive Strike if North Korea even Test a Nuke
US military has their finger on the trigger and ready for even a hint at a nuclear test launch or any other action by North Korea that the US military deems threatening.
The same hour President Trump seems evasive on journalist question as to whether the president authorized the MOAB bomb to be dropped on Afghanistan.
China moves the S-300 missile defense system close to North Korean border, but why to protect North Korea or defend themselves.
Links:
http://www.nbcnews.com/news/world/u-s...
http://www.epochtimes.com.tw/n203678/
http://tass.ru/mezhdunarodnaya-panora...
https://sputniknews.com/news/20170413...
https://topwar.ru/113372-udar-vvs-koa...
https://twitter.com/search?q=syria%20...
https://worldisraelnews.com/irans-ahm...


New Korean War may break out 'at any moment' – Chinese FM
People watch a television news showing file footage of a North Korean missile launch, at a railway station in Seoul on April 5, 2017. © JUNG YEON-JE / AFP
China's Foreign Minister warned that an armed conflict with North Korea may break out "at any moment," urging Washington and Pyongyang to tone down their hawkish rhetoric and realize the price to pay for both sides if a new Korean War were to start.
The extraordinary warning comes amid massive US military buildup near the Korean Peninsula, with the carrier strike group 'USS Carl Vinson' heading towards the region. While US President Donald Trump is threatening to
"take care"
of the North Korean
"problem,"
Pyongyang says it is ready to repel any military action.
"
Lately, tensions have risen with the US and the ROK [South Korea] on one side, and the DPRK [North Korea] on the other,"
Chinese Foreign Minister Wang Yi told reporters on Friday, adding that
"One has the feeling that a conflict could break out at any moment."
He cautioned both sides that
"if a war occurs, the result is a situation in which everybody loses and there can be no winner,"
and that whichever side provoked a conflict
"must assume the historic responsibility and pay the corresponding price."
Earlier in the day, Wang said both Washington and Pyongyang must refrain from
"provoking and threatening each other, whether in words or actions, and not let the situation get to an irreversible and unmanageable stage,"
as cited by Reuters.
In an apparent attempt to cool down the US administration's bellicose rhetoric, he added:
"Force cannot solve the problem – dialogue can be the only channel to resolving the problem."
China, North Korea's close ally and main trading partner, does not welcome Pyongyang's nuclear program, but advocates finding political solution to the crisis.
For its part, Russia, which also shares a land border with the reclusive state, expressed deep concern over the mounting tensions on the Korean Peninsula.
The tension on the Korean Peninsula was one of the topics Wang Yi discussed with his Russian counterpart Sergey Lavrov in a Friday phone call.
Moscow stands for
"politico-diplomatic reconciliation"
and urges all parties to show patience and refrain from
"any actions which might mean making provocative steps,"
Kremlin spokesman Dmitry Peskov told reporters on Friday.
From 1950 to 1953, the US fought against North Korea's troops in the Korean War. After the US-led coalition forces crossed the 38th parallel dividing the two Koreas, China deployed troops and entered the war, while the USSR rendered military and logistical support to their socialist allies. The conflict, which quickly became a war of attrition, claimed the lives of over 33,000 American and 400,000 North Korean soldiers.
According to some media reports, the ongoing US military buildup close to North Korean waters may go far beyond an ordinary show of force. On Thursday, American intelligence officials told NBC that the US has sent two destroyers capable of launching Tomahawk cruise missiles in the region, with one just 300 miles (some 480 km) from the North Korean nuclear test site.
American long-range bombers have also been positioned in Guam to hit North Korean targets. In turn, North Korea warned on Tuesday it would retaliate to any sign of American aggression with all means available.
"
If the US dares opt for a military action, crying out for 'pre-emptive attack', [Pyongyang] is ready to react. We will hold the US wholly accountable for the catastrophic consequences to be entailed by its outrageous actions,"
North Korea's deputy foreign minister said in an interview with AP.
"
The US introduces into the Korean Peninsula, the world's biggest hotspot, huge nuclear strategic assets, seriously threatening peace and security of the peninsula and pushing the situation there to the brink of a war,"
the North's General Staff said in a statement carried by KCNA.
China issues strong warning to US and North Korea on possible eve of war
China issues a plea for peace, directed to both the US and North Korea.
Chinese Foreign Minister Wang Yi has made a warning directed at both the United States and the two Korean states in an attempt to calm tensions during what looks like an increasingly intense march to war. The Chinese Foreign Minister warned,
Lately, tensions have risen with the US and the ROK [South Korea] on one side, and the DPRK [North Korea] on the other….One has the feeling that a conflict could break out at any moment".
He went on to describe a war between the US and North Korea as a lose-lose situation in which the country who started the conflict,
"…

must assume the historic responsibility and pay the corresponding price".
Russia has joined China in calls for calm and a diplomatic solution to the largely artificial crisis.
China and Russia are increasingly looking like the most mature powers in the region, urging restraint from both highly bellicose sides.
If North Korea and the United States started to engage in open war, it would be the first hot war between nuclear powers since the short Kargil War between India and Pakistan in 1999.
Apart from being a little late in its reporting the Duran speaks of "

Trump's biggest foreign policy surprise" instead of the risks of nuclear war.
BREAKING: 50,000 US troops are being prepared by McMaster to invade Syria – Bloomberg
Trump's biggest foreign policy surprise (and global nightmare) may be yet to come.
We are in the early stages of what may be a massive uptick in violence in Syria, as Trump's national security adviser, General H.R. McMaster, is plotting a George W. Bush style invasion of Syria.
The swamp is taking down Trump very quickly, and a world war, with the potential to destroy life on earth, is taking shape.
Listening to his campaign rhetoric, the last thing you would expect Donald Trump to do as president would be to escalate a ground war in the Middle East. He won the Republican nomination last year by campaigning against both George W. Bush's war in Iraq and Barack Obama's war in Libya.
But as Trump's young presidency has shown, many of the candidate's foreign policy positions are not as firmly held as his supporters had hoped. It's not just that Trump struck the Syrian regime after last week's chemical weapons attack on rebels outside of Damascus. It's not just his recent reversals on Chinese currency manipulation and the NATO alliance.

The president's biggest foreign policy surprise may be yet to come.
Senior White House and administration officials tell me Trump's national security adviser, General H.R. McMaster, has been quietly pressing his colleagues to question the underlying assumptions of a draft war plan against the Islamic State that would maintain only a light U.S. ground troop presence in Syria.

McMaster's critics inside the administration say he wants to send tens of thousands of ground troops to the Euphrates River Valley. His supporters insist he is only trying to facilitate a better interagency process to develop Trump's new strategy to defeat the self-described caliphate that controls territory in Iraq and Syria.
U.S. special operations forces and some conventional forces have been in Iraq and Syria since 2014, when Obama reversed course and ordered a new air campaign against the Islamic State. But so far, the U.S. presence on the ground has been much smaller and quieter than more traditional military campaigns, particularly for Syria. It's the difference between boots on the ground and slippers on the ground.
Trump himself has been on different sides of this issue. He promised during his campaign that he would develop a plan to destroy the Islamic State. At times during the campaign he said he favored sending ground troops to Syria to accomplish this task. More recently, Trump told Fox Business this week that that would not be his approach to fighting the Syrian regime: "We're not going into Syria," he said.
McMaster himself has found resistance to a more robust ground troop presence in Syria. In two meetings since the end of February of Trump's national security cabinet, known as the principals' committee, Trump's top advisers have failed to reach consensus on the Islamic State strategy.

The White House and administration officials say Secretary of Defense James Mattis, Chairman of the Joint Chiefs of Staff Joseph Dunford and General Joseph Votel, who is in charge of U.S. Central Command, oppose sending more conventional forces into Syria. Meanwhile, White House senior strategist Stephen Bannon has derided McMaster to his colleagues as trying to start a new Iraq War, according to these sources.
Because Trump's national security cabinet has not reached consensus, the Islamic State war plan is now being debated at the policy coordinating committee, the interagency group hosted at the State Department of subject matter experts that prepares issues for the principals' committee and deputies' committee, after which a question reaches the president's desk for a decision.
The genesis of this debate starts with one of Trump's first actions as president, when he told the Pentagon to develop a strategy to defeat the Islamic State.

Trump's first national security adviser, Michael Flynn, opposed sending conventional forces into a complicated war zone, where they would be targets of al Qaeda, the Islamic State, Iran and Russia.

In Flynn's brief tenure, he supported a deal with Russia to work together against the Islamic State and al Qaeda's Syria affiliate, similar to a bargain Obama's secretary of state, John Kerry's tried and failed to seal with Moscow.
Inside the Pentagon, military leaders favor a more robust version of Obama's strategy against the Islamic State. This has been a combination of airstrikes and special operations forces that train and support local forces. Military leaders favor lifting restrictive rules of engagement for U.S. special operations forces and using more close air support, like attack helicopters, in future operations against the Islamic State capital in Raqqa.
McMaster however is skeptical of this approach. To start, it relies primarily on Syrian Kurdish militias to conquer and hold Arab-majority territory. Jack Keane, a retired four-star Army general who is close to McMaster, acknowledged to me this week that the Kurdish forces have been willing to fight the Islamic State, whereas Arab militias have primarily fought against the Assad regime.
"

Our special operations guys believe rightfully so that this was a proven force that could fight," Keane said of the Kurdish fighters. "While this makes sense tactically, it doesn't make sense strategically. Those are Arab lands, and the Arabs are not going to put up with Syrian Kurds retaking Arab lands. Whenever you select a military option, you have got to determine what political end state will this support. Regrettably this option puts us back to the drawing board."
There are other reasons that relying too much on the Kurds in Syria presents problems. The U.S. Air Force relies on Turkey's Incirlik Air Base to launch bombing raids over Islamic State positions in Syria. The Turks consider the Syrian Kurdish forces to be allies of Kurdish separatists within Turkey and have complained that Obama was effectively arming militias with weapons that would be turned on their own government. (Turkey's own president, Recep Tayyip Erdogan, cynically declared war on his own Kurdish population in 2016, exacerbating these tensions.)
Keane, who said he was not speaking for McMaster, told me he favored a plan to begin a military operation along the Euphrates River Valley.

"

A better option is to start the operation in the southeast along the Euphrates River Valley, establish a U.S. base of operations, work with our Sunni Arab coalition partners, who have made repeated offers to help us against the regime and also ISIS. We have turned those down during the Obama administration."

Keane added that U.S. conventional forces would be the anchor of that initial push, which he said would most likely require around 10,000 U.S. conventional forces, with an expectation that Arab allies in the region would provide more troops to the U.S.-led effort.
"

The president wants to defeat ISIS, he wants to win, what he needs is a U.S.-led conventional coalition ground force that can take Raqqa and clean out the Euphrates River Valley of ISIS all the way to the Iraq border," Keane said. "Handwringing about U.S. ground troops in Syria was a fetish of the Obama administration. Time to look honestly at a winning military strategy."
White House and administration officials familiar with the current debate tell me there is no consensus on how many troops to send to Syria and Iraq.

Two sources told me one plan would envision sending up to 50,000 troops.

Blogger and conspiracy theorist Mike Cernovich wrote on April 9 that McMaster wanted 150,000 ground troops for Syria, but U.S. officials I spoke with said that number was wildly inflated and no such plan has been under consideration.
In public the tightlipped McMaster has not revealed support for conventional ground forces in Syria. But on Sunday in an interview with Fox News, McMaster gave some insights into his thinking on the broader strategy against the Islamic State.

"

We are conducting very effective operations alongside our partners in Syria and in Iraq to defeat ISIS, to destroy ISIS and reestablish control of that territory, control of those populations, protect those populations, allow refugees to come back, begin reconstruction,"

he said.
That's significant. Obama never said the goal of the U.S. intervention in Iraq and Syria was to defeat the Islamic State, let alone to protect the population from the group and begin reconstruction.

Those aims are much closer to the goals of George W. Bush's surge strategy for Iraq at the end of his second term, under which U.S. conventional forces embedded with the Iraqi army would "clear, hold and build" areas that once belonged to al Qaeda's franchise.
McMaster himself is no stranger to the surge. As a young colonel serving in Iraq, he was one of the first military officers to form a successful alliance with local forces, in Tal Afair, to defeat the predecessor to the Islamic State, al Qaeda in Iraq. During the Iraq War, McMaster became one of the closest advisers to David Petraeus, the four-star general who led the counter-insurgency strategy in Iraq that defeated al Qaeda in Iraq — and brought about a temporary, uneasy peace there.
That peace unraveled after Obama withdrew all U.S. forces from Iraq at the end of 2011. Obama himself never apologized for that decision, even though he had to send special operations forces back to Iraq in the summer of 2014 after the Islamic State captured Mosul, Iraq's second-largest city. He argued that U.S. forces in Iraq would have been caught up inside a civil war had they stayed.
The cadre of former military advisers to Petraeus took a different view. They argued that America's abandonment of Iraq gave the Shiite majority there a license to pursue a sectarian agenda that provided a political and military opening for the Islamic State. An active U.S. presence in Iraq would have restrained those sectarian forces.
One of those advisers was H.R. McMaster.

It's now up to Trump to decide whether to test the Petraeus camp's theory or try to defeat the Islamic State with a light footprint in Syria. Put another way, Trump must decide whether he wants to wage Bush's war or continue Obama's.
BREAKING: North Korea threatens to destroy US targets in Japan and South Korea if attacked
Air China has suspended flights to North Korea as regional tensions continue to rise.
North Korea has issued its most specific threat of retaliation to date, in the event of a US attack on North Korea.
In an
official statement
from the Staff of the Korean People's Army, North Korea promised to 'ruthlessly destroy' American targets in the region.
Targets which North Korea promises to strike in the event of a US missile attack include US bases in Japan, South Korea as well as the South Korean Presidential palace.
The statement ominously continued,
"

Our toughest counteraction against the US and its vassal forces will be taken in such a merciless manner as not to allow the aggressors to survive".
The statement also said that Pyongyang understands America's strike against Syria to be a 'warning' to North Korea, a provocation which will elicit a powerful North Korean response.
The Pentagon's refusal to confirm or deny the veracity of an
NBC report
saying that a US led strike on North Korea could happen in the next 24 hours has do little to ease the tensions.
China has urged for deescalation, though these pleas have largely fallen on deaf ears.
It has been reported that Air China has suspended its flights to North Korea.
At the same time, tourists and journalists continue to arrive in Pyongyang to obverse celebrations of the
'Day of The Son'
, the official state celebration of the birth of North Korea founder Kim Il-Song.
A nuclear test is widely believed to be part of the celebration and also the proximate cause of US threats against the DPRK (Democratic People's Republic of Korea, aka North Korea).
There have thus far been no signs either from Washington or Pyongyang of any moves to calm the tensions.
China's national airline, Air China, has canceled some flights to the North Korean capital, Pyongyang, due to poor demand but it has not suspended all flights there, it said on Friday, denying a report by Chinese state broadcaster CCTV.
CCTV had reported that all flights run by the airline between the two cities were to be suspended indefinitely.
Evacuations planned by Japan as
North Korea vows to "mercilessly
ravage" America
Superstation96,
14 April, 2017
NORTH Korea has upped its rhetoric on America today vowing to "mercilessly ravage" the country as Japan plans to help South Korea evacuate 60,000 citizens amid rising tensions.
North Korea
is raising the stakes in its war of words with the US and its allies as the country pushes ahead with its plans to lauch a six missile test.
And Japan has said it will help South Korea to evacuate 60,000 residents from the country as the crisis in the region continues.
The United States has warned that a policy of "strategic patience" is over and is now sending Vice President Mike Pence to South Korea on Sunday.
Mr Pence will visit the country for 10 days as emergency management plans get underway amid fears Kim Jong Un is plotting to start a war.
And China which has cancelled flights to Pyongyang says the angry rhetoric needs to be stopped from reaching an "irreversible and unmanageable stage" as a US aircraft carrier group headed to the region.
Japan's National Security Council discussed how to evacuate its nearly 60,000 citizens from South Korea, a government official has confirmed.
Now North Korea has waded into the debate once more claiming the United States is bringing "huge nuclear strategic assets" to the Korean peninsula.
Japan is planning to send military aircraft and ships to assist in the evacuation if the South Korean government agreed according to reports which followed the NSC meeting.
The country is also preparing with an onslaught of North Korean refugees fearing that the country will also flood them with spies and agents.
Tension has risen since the U.S. Navy fired 59 Tomahawk missiles at a Syrian airfield last week in response to a deadly gas attack.
US President Donald Trump's plans for North Korea, which has conducted missile and nuclear tests in defiance of UN and unilateral sanctions, are as yet unclear but he has offered a show of support to the region which hosts tens of thousands of American soliders.
North Korea threatens pre-emptive nuclear attack
North Korea
says it is "on the brink of war" with the U.S.
In an interview with CBS News' Ben Tracy, one of the nation's senior officials has accused the Trump administration of wanting to "annihilate" his country and blamed the escalating tension on the Korean Peninsula squarely on the U.S. and South Korea.
A U.S. Navy strike group, with the USS Carl Vinson aircraft carrier in the middle, is
heading toward the peninsula
as the region braces for the isolated regime to conduct its expected sixth nuclear test.
With that backdrop, North Korea's Vice Minister of Foreign Affairs, Han Song Ryol sat down with Tracy in Pyongyang for a 40 minute interview, and he didn't mince any words.
Han said the situation between the U.S. and North Korea is the worst it has ever been, and if provoked, his country is ready and willing to fight a war. He said North Korea's nuclear program is non-negotiable.
"

In one word, Trump is openly pursuing a policy to annihilate North Korea by force of arms," alleged Han.
He said President Trump's decision to send the navy strike group to the region, as well as a large-scale, ongoing joint U.S.-South Korean military exercise in the area, were deliberate provocations.
"

If the U.S. comes up with a dangerous military option, then the first card is in our hands. We'll deal with it with our pre-emptive strike. This means war," Han said.
Tracy sought to clarify Han's remark; "So you are saying if you feel North Korea is going to be attacked, you will use nuclear weapons?"
Pyongyang unveils submarine-based missiles at military parade marking founder's birth (LIVE)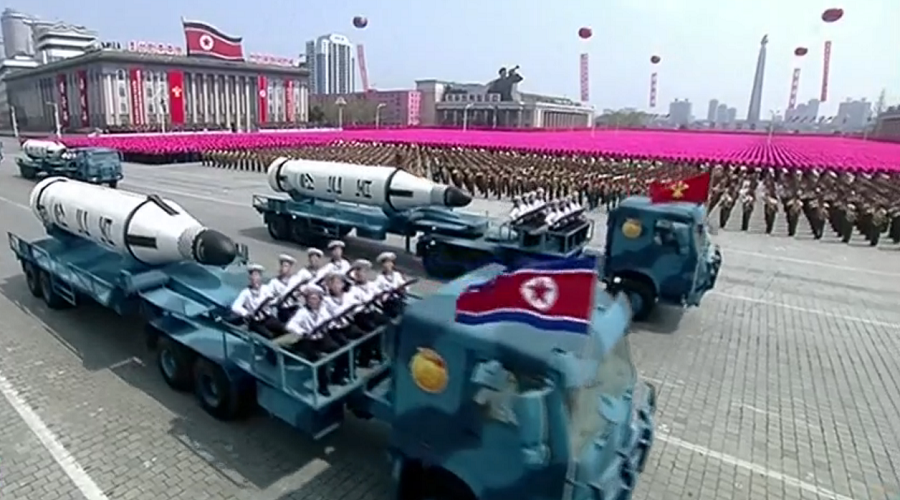 RT,
14 April, 2017
Amid regional "military hysteria," North Korea has marked the 105th birth anniversary of its founding leader Kim Il-sung with a military parade in Pyongyang, where it for the first time publicly showcased its submarine-launched ballistic missiles.
The country's hereditary leader Kim Jong-un, wearing a black suit and white shirt and a tie, welcomed his country's bravest as he addressed thousands of soldiers who took part in the parade honoring his grandfather.
Under the clear sky and to the sound of the military band, dozens of military vehicles and an entire army of soldiers passed through the country's biggest square named in honor of Kim Il-sung, whose 105th birthday is being celebrated on Saturday.
State TV showed images of the Pukkuksong-2 submarine-launched ballistic missiles (SLBMs) on trucks for the first time as the country continues to pursue an aggressive military and nuclear deterrent policy.
itary hysteria & aggression' in Syria, vows to mercilessly foil provocations
North Korea in February claimed that it successfully test-fired a surface-to-surface "medium long-range ballistic missile" known as the Pukkuksong-2, which is potentially capable of carrying a nuclear warhead
North Korea also paraded what appeared to be a new intercontinental ballistic missile (ICBM), Yonhap reported.
Choe Ryong Hae – believed to be the second-most powerful official in the country – in his address to the soldiers during the parade, blamed Donald Trump for "creating a war situation" in the Korean Peninsula promising to respond with all out war to US aggression.
"We will respond to an all-out war with an all-out war and a nuclear war with our style of a nuclear attack," Choe warned, according to AP, during the parade.
The country's biggest national holiday called the "Day of the Sun" came amid growing speculation that Pyongyang could conduct its sixth nuclear test.
Amid growing tensions with the US President Donald Trump who promised to "take care" of North Korea, the communist officials told foreign journalists on Tuesday that a "big and important event" is expected to take place.
But on Thursday amid much hype and secrecy, the North Korean leader surprised the press by showcasing a new skyscraper-lined street in Pyongyang.
"Ryomyong Street is an accomplishment that the North wants to promote on the economic front," an official at Seoul's unification ministry, told South Korean Yonhap news. "It may hope to show something to display its nuclear and missile capabilities."
Ahead of Saturday's festive parade, Pyongyang urged Washington to stop its "military hysteria" and come to its "senses" – or otherwise face a merciless response in case of any provocations against North Korea.
As tensions heighten in the peninsula, China's foreign minister, Wang Yi, warned that confrontation between the US and North Korea had escalated to such a point that "a military conflict may start at any moment."
'Riskier than striking Syria': Beijing warns US against attacking NorthKorea
China has warned the US against using military force against North Korea, after a surprise redeployment of an aircraft carrier group. Washington's regional allies said they expect it to consult with them before any action.
Tension is mounting in the region as US President Donald Trump said he would solve the "North Korean problem" with or without China's help. The warning came amid the diversion of the aircraft carrier group 'USS Carl Vinson' to the Korean Peninsula and a week after Trump ordered the US Navy to fire a barrage of 59 Tomahawk missiles at a Syrian airbase as punishment for an alleged chemical attack in Idlib province.
Responding to US belligerence, Beijing called against using force against Pyongyang.
"

Military force cannot resolve the issue," Chinese Foreign Minister Wang Yi told reporters in Beijing. "Amid challenge there is opportunity. Amid tensions we will also find a kind of opportunity to return to talks."