N. Korean ballistic missile test 'estimated to have failed' – Seoul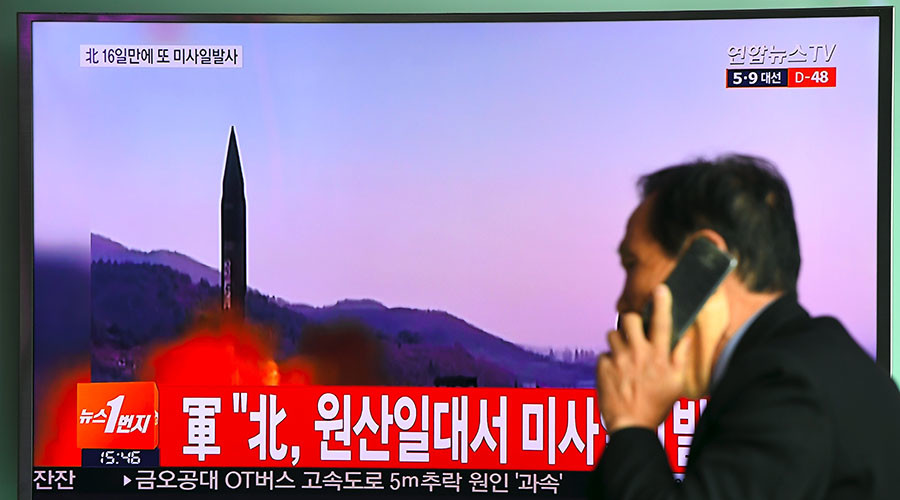 North Korea has launched a ballistic missile from an area north of the country's capital, Pyongyang, South Korea's Yonhap news agency reported, citing the South Korean Joint Chiefs of Staff.
"
North Korea fired an unidentified missile from a site in the vicinity of Bukchang in Pyeongannam-do (South Pyeongan Province) early this morning,"
the Joint Chiefs of Staff (JCS) said in a statement, according to Yonhap.
"
It is estimated to have failed,"
the JCS said. Missile debris allegedly landed in the Sea of Japan, also known as the East Sea, according to a US official who spoke with CNN.
An unnamed US official confirmed to NBC News that there was indeed a missile test, but there was no indication that it was nuclear. Meanwhile, Reuters reports, citing sources, that initial analysis shows that the latest test might have failed.
The missile reportedly exploded in the air just a few seconds after launch, Yonhap news agency said, adding that the projectile was likely a newly developed intermediate-range ballistic missile (IRBM). Meanwhile, US officials are
"still waiting to determine type of the missile,"
Reuters reports.
The South Korean military are now analyzing the type of missile fired and flight distance of the projectile traveled.
The reported launch comes amid rising tensions in the region and a US military buildup in response to the North Korean "nuclear threat." It also comes just hours after US Secretary of State Rex Tillerson told the UN Security Council that the military option remains on the table for the US to curb Pyongyang's nuclear program.
"
All options for responding to future provocations must remain on the table,"
Tillerson told the 15-member international body.
"Diplomatic and financial leverage or power will be backed up by willingness to counteract North Korean aggression with military action, if necessary."
Tillerson's remarks come just a day after US President Donald Trump told Reuters that there is a
"chance"
of a major conflict in the region if diplomacy fails.
"
There is a chance that we could end up having a major, major conflict with North Korea. Absolutely,"
Trump told Reuters.
"We'd love to solve things diplomatically, but it's very difficult."
Military solution totally unacceptable, dialogue only viable choice – Russia & China
In an attempt to deter North Korea from more nuclear and missile tests, the US has sent a group of American warships led by an aircraft carrier to the region.
This week, North Korea conducted large-scale, live-fire exercises on its eastern coast, just as the US and South Korea were engaged in their annual war games.
As the US continue to push for peace through increasing its military power in the region, China and Russia have been urging both sides to refrain from provocations and belligerent rhetoric, and to find a diplomatic solution to the ongoing crisis.
Stressing the need to avoid
"chaos"
on the Korean peninsula, Chinese Foreign Minister Wang Yi called for cool-headed negotiations over North Korea's missile and nuclear programs.
"
Right now, the situation on the Korean peninsula is under grave tension and at a critical point,"
Wang said, ahead of a UN Security Council meeting Friday.
"
[The peaceful settlement] of the nuclear issue [on] the Korean peninsula through a dialogue and negotiations represent the only right choice that is practical and viable,"
the minister

dded

.
A military solution to the North Korean issue is totally unacceptable and could lead to a terrible catastrophe, Russian Deputy Foreign Minister Gennady Gatilov said at a meeting of the UN Security Council.
While accusing North Korea of ignoring the United Nations Security Council's resolutions which ban nuclear weapons development, Gatilov said that "at the same time, the use of military force is absolutely unacceptable as it is fraught with disastrous consequences for the Korean Peninsula and the entire Northeast Asia."
Pointing out that
"bellicose rhetoric paired with an unreasonable show of muscle makes everyone in the world ask themselves if there is going to be a war,"
Gatilov said that
"it is no secret that in the midst of tensions, any thoughtless step may result in terrible consequences."