As of this morning there seems little hope of any agreement as Obama sticks to his Imperial narrative and the war party – Saudi Arabia, the Gulf states, Turkey – and France stick to their aggressive stance.
I suggest listening to Putin's speech in its entirety.
Isn't it interesting that RT, the Kremlin "propaganda bullhorn" publishes the speeches in their entirety (including Obama's) while the western press only provides edited highlights.
Putin to UN: Export of so-called democratic revolutions continues globally
The export of the so-called democratic revolutions continues, as the international community fails to learn from mistakes, which have already been made, Russian President Vladimir Putin said addressing the UNGA.
He cited the example of the revolutions in the Middle East, when people wished for change,
"but how did that turn out?"
He said that instead of triumph of democracy "
we have violence and social disaster,"
where no one cares about human rights, including the right to life.
#Putin

to

#UNGA

: We want to coordinate a group to fight

#ISIS

& terror through the UN

http://t.co/wdTm78euxBpic.twitter.com/AdT8ZjonbJ
—

RT (@RT_com)

September 28, 2015
Actions carried out without a UN mandate could destroy the system of international relations, Putin said in his address.
"
Russia is ready to work on the basis of broad consensus on the further development of the United Nations with all partners. But we believe that attempts to undermine the authority and legitimacy of the United Nations are
In this case there would be no other rules left "but the rule of force," he warned. The world would be dominated by "selfishness rather than collective work" and characterized by "dictate rather than equality."
Today, we see unilateral economic sanctions bypassing UN for political reasons -

http://t.co/gLa9HKeLfz#UNGApic.twitter.com/pzUDG6wOSF
—

RT (@RT_com)

September 28, 2015
Putin said that the power vacuums in the Middle East and North Africa regions have led to the emergence of extremists. The Islamic State militants (IS, formerly ISIS/ISIL), who gained foothold in Iraq and Syria, are now seeking to dominate in the whole Islamic world, he said. Some of them have defected from the 'moderate' opposition in Syria, who has been supported by some Western states, he stressed.
ISIS trains militants from many nations, including Europe, and Russia is not an exception, he said. Putin urged to cooperate with the Syrian government forces fighting terrorists on the ground.
Export of so-called 'democratic' revolutions continues globally -

#Putin

to

#UNGAhttp://t.co/aU5wavZhuwpic.twitter.com/LTPtiGWZvC
—

RT (@RT_com)

September 28, 2015
"We think it is an enormous mistake to refuse to cooperate with the Syrian government and its armed forces who are valiantly fighting terrorism face to face,
" he said.
"

We should finally acknowledge that no one but President Assad's armed forces and [Kurdish] militia are truly fighting Islamic State and other terrorist organizations in Syria,
" he added.
Iran Accuses US of Terrorism, Calls Sanctions 'Unfair'
Hassan Rouhani addressed the United Nations General Assembly on Monday afternoon, discussing matters such as the Hajj pilgrimage disaster and the Iran nuclear deal.
Rouhani made a conclusion that US and Israel are to blame for regional terrorism.
"We propose that the fight against terrorism be incorporated into a binding international document and no country be allowed to use terrorism for the purpose of intervention into the affairs of another country," Rouhani said in an address to the UN General Assembly.
An Iranian demonstrator burns a representation of the Israeli flag with red lines indicating cancellation, in a pro-Palestinian demonstration in Tehran, Iran
Moving to Iran's relationship with the international community, Rouhani stated that he was "proud" to start a "new chapter" of engagement with the world.
He then praised the Iran nuclear deal and the negotiating partners involved. Rouhani appreciated that the deal was unanimously approved by the UN Security Council.
On July 14, Iran, Russia, the United States, China, the United Kingdom, France and Germany signed a historic deal to guarantee the peaceful nature of Tehran's nuclear activities in exchange for sanctions relief.
Lifting of sanctions is viewed in Iran as a practical possibility for resuming cooperation with both regional and international partners.


.... The Iranian president expressed misgivings over acts of terror, saying the key threat to the world today is "[lest] terrorist organizations turn into terrorist states."
"

We propose that war on terror turn into a document and an international binding rule, and that no government have the right to support terrorism as a method to interfere in nations' affairs," Iran's chief executive underscored.
He said Iran stands ready to cooperate in fighting terrorism and setting the stage for bringing about "democratic developments" in the region.
President Rouhani recalled the World Against Violence and Extremism (WAVE) initiative he proposed during his 2013 speech at the UN General Assembly, saying it is possible to draw on the "JCPOA experience" coupled with the support by WAVE advocates to draw up a plan to solve problems gripping the Middle East, "which has been crushed by the clutches of ruthlessness and brutality."
Military intervention root cause of terror
The Iranian president underlined that military interference is the root cause of war, devastation and terrorism.
"

If the US had not launched military aggression against Afghanistan and Iraq, and if the US did not lend unflinching support for the [Israeli] Zionist regime's inhumane acts against the oppressed Palestinian nation, today terrorists would have no excuse to justify their crimes," he noted.
"

It is necessary that the US government, rather than distorting the realities in the region and leveling baseless accusations against others, put an end to its own policies as well as the ones adopted by its regional allies," saying the policies "stoke extremism, violence and sectarianism in the region."
He urged Washington to align itself with the ideals and demands of the regional nations.
Below we have the full speech of Barck Obama - courtesy of the "propaganda bullhorn", RT
Reuters presents the western view of the two speeches
At U.N., Obama and Putin clash over working with Syria's Assad
The United States said on Monday it was willing to cooperate with Russia, as well as Iran, to try to end the Syrian civil war but the two big powers clashed over whether to work with Syrian President Bashar al-Assad.
Speaking at the annual United Nations General Assembly, U.S. President Barack Obama described Assad as a tyrant and as the chief culprit behind the four-year civil war in which at least 200,000 people have died and millions driven from their homes.
Russian President Vladimir Putin, in contrast, told the gathering of world leaders that there was no alternative to cooperating with Assad's military in an effort to defeat the Islamic State militant group, which has seized parts of Syria and neighboring Iraq.
Putin called for the creation of a broader international anti-terrorist coalition with majority-Muslim countries as members, an appeal that may compete with the group that the United States has assembled to fight Islamic State.
The disagreement over Assad raised questions about how Obama and Putin might find common ground when they meet later on Monday on the sidelines of the General Assembly.
"The United States is prepared to work with any nation, including Russia and Iran, to resolve the conflict," said Obama, who spoke before Putin. "But we must recognize that there cannot be, after so much bloodshed, so much carnage, a return to the pre-war status quo."
Later, at lunch hosted by U.N. Secretary-General Ban Ki-moon, the two men shook hands and clinked glasses. As they did so, Putin smiled but Obama, with a piercing look, did not.
Obama did not explicitly call for Assad's ouster and he suggested there could be a "managed transition" away from his rule, the latest sign that despite U.S. animus toward the Syrian leader it was willing to see him stay for some period of time.
He dismissed the argument that authoritarianism was the only way to combat groups such as Islamic State, saying: "In accordance with this logic, we should support tyrants like Bashar al-Assad, who drops barrel bombs to massacre innocent children, because the alternative is surely worse."
Putin differed, suggesting there was no option but to work with Assad against Islamic State fighters.
"We think it is an enormous mistake to refuse to cooperate with the Syrian government and its armed forces who are valiantly fighting terrorism face to face," Putin said during his speech before the U.N. General Assembly.
"We should finally acknowledge that no one but President Assad's armed forces and (Kurdish) militia are truly fighting the Islamic State and other terrorist organizations in Syria," he said.
French President Francois Hollande and Turkish Prime Minister Ahmet Davutoglu both rejected the possibility of allowing Assad to stay.
BITTER PILL
In voicing a willingness to deal with Iran and Russia, both backers of Assad, Obama was openly acknowledging their influence in Syria and swallowing a somewhat bitter pill for the United States.
Tehran has armed the Syrian government and, through its backing of Lebanese Hezbollah fighters, has helped Assad combat rebels seeking to end his family's four-decade rule. Russia has started a military build-up in Syria, where it has a naval base that serves as its foothold in the Middle East.
U.S. officials say they believe Putin's build-up of Russian forces, including tanks and warplanes, in Syria mainly reflects Moscow's fear that Assad's grip might be weakening and a desire to shore him up to retain Russian influence in the region.
They also see it as a way for Putin to try to project Russian influence more widely, a goal he appeared to achieve on Sunday with Iraq's announcement that Russia, Iran, Syria and the Iraqi government were sharing intelligence on Syria.
Iranian President Hassan Rouhani, in his speech to the U.N., blamed terrorism on U.S. invasions of Iraq and Afghanistan and Washington's support for Israel "against the oppressed nation of Palestine." Rouhani said Iran was ready to help bring democracy to Syria and Yemen, another war zone in the region, where Iran backs Houthi rebels.
Obama also renewed his criticism of Russia over its March 2014 annexation of Crimea from Ukraine and support for separatist rebels in eastern Ukraine.
"We cannot stand by when the sovereignty and territorial integrity of a nation is flagrantly violated," he said. "If it happens without consequences in Ukraine, it can happen to any nation here today. That's the basis of the sanctions that the United States and our partners impose on Russia, it's not a desire to return to a cold war."
Putin, however, told the 193-nation General Assembly that the crisis in Ukraine was the result of "a military coup ... orchestrated from outside." He was alluding to Russian allegations, denied by the United States, that Washington was behind the 2014 ouster of Ukraine's former pro-Russian president.
Putin also complained that unilateral sanctions, such as the U.S. and EU measures against Russia over Ukraine, were not only illegal but "a means of eliminating competitors."
Russian president tells UN general assembly it is enormous mistake not to work with Syrian government to defeat Isis, but US leader says Assad must go
The Russian president, Vladimir Putin, and the US president, Barack Obama, clashed on Monday over their competing visions for Syria, with Obama urging a political transition to replace the Syrian president but Putin warning it would be a mistake to abandon the current government.
Finally,coming through the wires now, Obama and Putin meet.
Putin, Obama meet on UNGA sidelines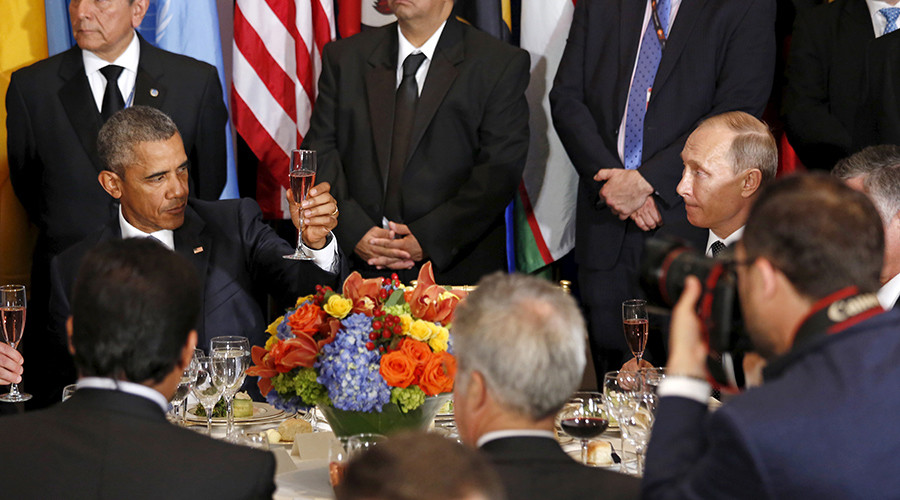 The leaders of Russia and the United States are holding a bilateral meeting on the sidelines of the UN General Assembly in New York, shortly after they both addressed the international community on urgent topics, varying from global terrorism to climate change.
Due to their tight schedules, the leaders will only have 55 minutes to complete their bilateral talks, Putin's press secretary Dmitry Peskov told the media.
DEVELOPING: Putin, Obama meet on

#UNGA2015

sidelines

http://t.co/SfvJt3N1ZGpic.twitter.com/gK8diV4aUy
—

RT America (@RT_America)

September 28, 2015
Earlier in the day, UN Secretary-General Ban Ki-moon hosted a state luncheon for the heads of delegations to the 70th Session of the UN General Assembly, with Russian President Vladimir Putin and US President Barack Obama sitting either side of him.
The informal lunch followed the high-profile addresses by the two leaders at the opening of the UNGA debate on Monday.