Police take Hager to court over sources
Dirty Politics author Nicky Hager has been taken to court by police in an attempt to access the source material used in his book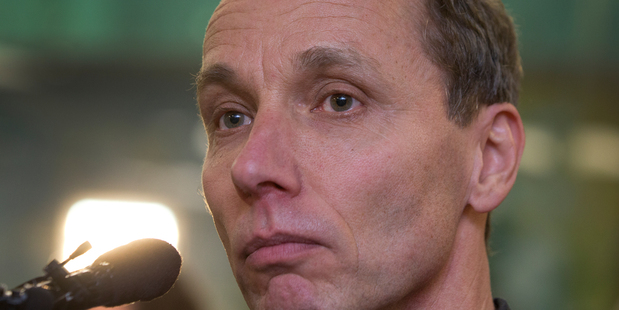 Nicky Hager. Photo / Mark Mitchell
Earlier this month police conducted a 10-hour search of Hager's house, during which he said computers and papers were seized in what appeared to be an attempt to discover the identity of the person who provided information used in the book.
The book was an election bombshell based on hacked email and social media material belonging to WhaleOil blogger Cameron Slater.
Yesterday at the High Court at Auckland, police asked Justice Geoffrey Venning to let them review the documents taken in the raid, after Hager claimed legal privilege to protect his sources under the Evidence Act.
Hager's lawyer, Felix Geiringer told Radio New Zealand that his client would also be challenging the legality of the search warrant police used to raid Hager's home.
It was being challenged on three fronts, RNZ reported, the legality of the decision by police to apply for the search warrant, the granting of the warrant by a judge and the execution of the warrant by police.
Mr Geiringer told RNZ that police were looking for information that would lead them to the identity of the hacker dubbed Rawshark.
"Rawshark is a confidential source of Mr Hager.
Mr Hager's given him an assurance of confidentiality and the law says that when a journalist does that, that information that identifies that person is privileged," Mr Geiringer said.
"The first issue is that it appears that the very thing that the police are looking for is protected by journalistic privilege.
"In order to try and find the information about this Rawshark, what the police want to do is look through all of Mr Hager's material and in particular, they want to examine anything in Mr Hager's possession that indicates information about a potential confidential source.
"In fact, what the police want to do is they want to examine all of Mr Hager's sources for all of his research."
Doing so would override the privilege awarded to all of Hager's sources, which would have an enormous impact on his ability to act as an investigative journalist, Mr Geiringer said.
"I would suggest that it has an enormous impact on the ability of every journalist in New Zealand to do their work."
A campaign to help with Hager's legal fees has raised more than $57,000.
A high-powered legal team has formed around Dirty Politics author Nicky Hager to challenge the validity of the police search warrant which was used in the hunt for the hacker Rawshark.
The team, led by Julian Miles QC, will file papers in the High Court next week seeking a judicial review of the search warrant which saw police seize computers and files from Hager's Wellington home.
Media lawyer Steven Price and barrister Felix Geiringer make up the rest of the team which was boosted by public funding of about $80,000 raised in New Zealand and internationally.
From earlier
Nicky Hager challenges police raid
Author and journalist Nicky Hager claims the police raid on his house earlier this month was illegal and is gearing up for a court battle.
Hager's book Dirty Politics was based on emails and Facebook posts allegedly hacked from WhaleOil blogger Cameron Slater's computer. Dirty Politics drew links between Prime Minister John Key's office, National politicians and Slater.
Slater laid a complaint with police after more details were leaked online by a hacker calling himself Rawshark.
Police spent 10 hours searching Hager's house on October 2, and removed computers and related items under a search warrant as part of the "ongoing investigation into alleged hacking of Mr Slater's emails".
Hager's lawyer, Felix Geiringer, said his client was immediately concerned with the legality of the police search and since then had "strengthened in his view" that the raid was unlawful.
Hager expected to file his case with the High Court as early as tomorrow, Geiringer said.
It would run alongside his fight to keep the information seized in the police search a secret. The court had custody of the physical and electronic documents seized by police at the start of the month, Geiringer said.
Hager said he would not reveal his sources and would fight to maintain this.
On his website Hager said his investigative journalism meant he had an "unnegotiable obligation" to protect his sources and the confidences of other people who approached him.
"I will not cooperate in any way with the police in trying to discover this or other sources."
The police said Hager did not have a valid claim of privilege and it wanted to review the documents it seized, Greiringer said.
Hager and Crown lawyers had a video conference with Justice Geoffrey Venning today to determine how to proceed with the pending legal battles.
Police had been given three weeks to file evidence in support of their position, he said.
Hager's legal battle had also received financial support from the public. So far he had received almost $57,000 through the online fundraising page GiveaLittle.
The Freedom of the Press Foundation, a non-profit organisation based in the US, had also thrown its support behind him raising $18,000.
The organisation said it was dedicated to helping support and defend public-interest journalism focused on exposing mismanagement, corruption and law-breaking in government.