Tommy Robinson wins appeal over contempt sentence, will be released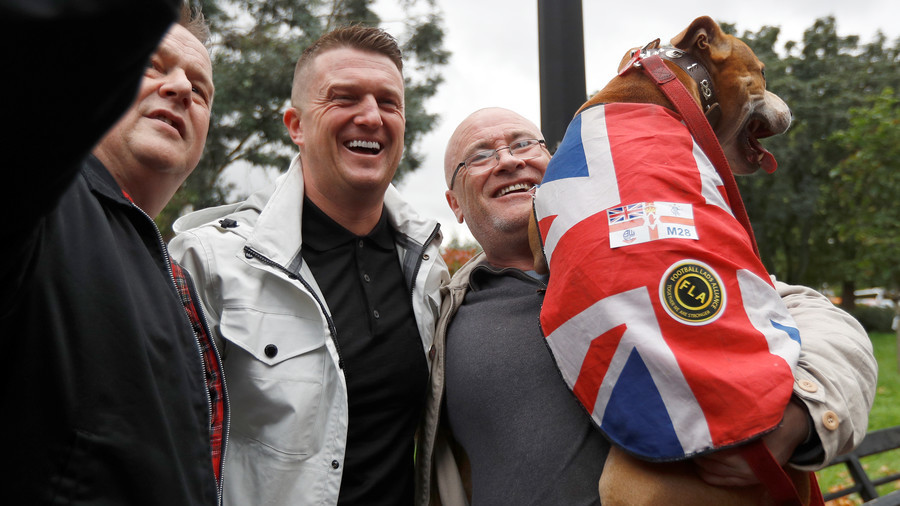 Tommy Robinson's conviction for contempt of court has been overturned after a court ruled that the process leading to the conviction of the former leader of the English Defence League 'was flawed.'
Lord Chief Justice Lord Burnett, along with two other judges, quashed a finding of contempt, ordering a fresh hearing of the allegation. Robinson did not attend court but witnessed his appeal hearing via videolink.
'Tommy Robinson is the backbone of this country': Steve Bannon clashes with LBC political chief
Robinson's supporters broke into applause as Lord Burnett announced the decision, prompting the judge to order
"silence."
In a summary of the judgement the trio of judges wrote:
"Once the appellant had removed the video from Facebook, there was no longer sufficient urgency to justify immediate proceedings."
Robinson, whose real name is Stephen Christopher Yaxley-Lennon, was sentenced to 10 months imprisonment in May for breaching reporting restrictions relating to an ongoing trial.
The self-styled journalist live-streamed footage from outside the courthouse on Facebook, and the video was watched some 250,000 times.
A further three months were added to his imprisonment for breaching a previous suspended sentence related to an incident at Canterbury Crown Court in May 2017.
Fearing protests, Metropolitan Police Commissioner Cressida Dick warned that added security measures were in place around the courthouse.
Dick told the Independent:
"We'll see where the Free Tommy Robinson supporters go next and what they're thinking next – it is a large set of people at the moment.
"

We are thinking about it and will be well-prepared."
Outside the courthouse some 25 #FreeTommy supporters cheered the decision. They were opposed by a similar number of activists from Stand Up to Racism.
The two groups exchanged chants, but were separated by police to avoid violence.
Jeremy Dein QC, Robinson's lawyer, said his client's initial court appearance was
"unnecessarily and unfairly rushed,"
with Robinson being arrested, sentenced and jailed within hours of his arrest.
Robinson had previously been handed a suspended sentence for contempt of court after live-streaming at another case in Canterbury in 2017. Among other arrests, he was also previously detained for
"incitement"
after a protest in 2013, and was jailed for 18 months for mortgage fraud in 2014.
A date for Robinson's fresh hearing has not yet been set.
Here is a fairly objective view from a legal mind - Alexander Mercouris
Here is Tommy Robinson's message to his supporters upon release from prison.
This is the response from mainstream media. Why WOULD he want to talk to presstitutes who have done so many attack pieces on him?!
Here is just one response to the whole MSM response
And this is how Channel 4 treats the whole matter. Nothing but sour grapes and further distortion of the facts
Journalism at its most toxic.
This article pushes Tommy Robinson's "far-Right" credentials by association but nowhere does it say what the court of appeal found - that he was sentenced in an "unfair trial" (read, kangaroo court). They would hav3 to acknowledge thereby that they were leading the charge in a campaign against Tommy Robinson.
My strong feeling is that this is class warfare. The Oxbridge and middle class people who inhabit the Establishment media against the working class who no longer have a voice in neo-liberal, fascist Britain.
'Alt right' figures in US and Canada, Dutch MP Geert Wilders and Ukip leader among those welcoming release of EDL founder