This is NOT gonna end well.
Some of my best Iran sources say they are not worried. But the escalation is now fast, inexorable - and irrational. And we're not even in August - when the first sanctions kick in.
Trump to Iran's Rouhani: Never threaten the US again or suffer consequences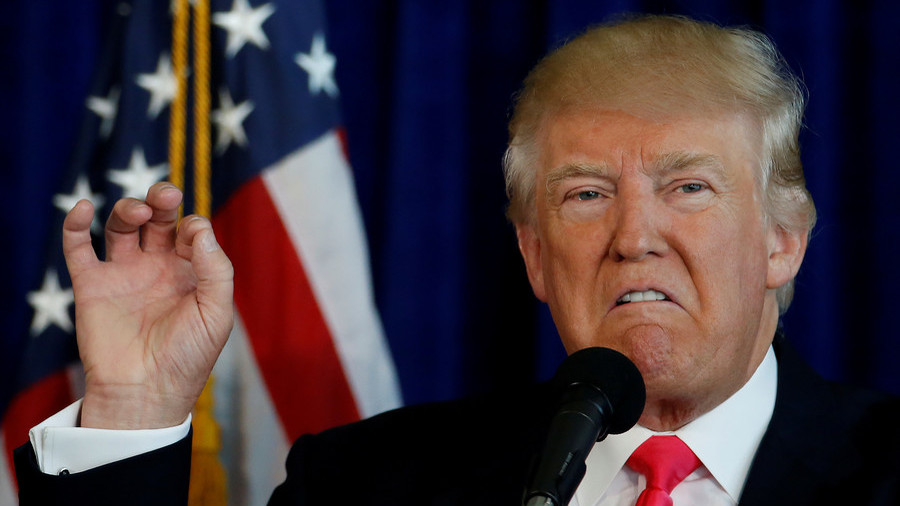 US President Donald Trump has promised "consequences the likes of which few have ever suffered before" to Iranian President Hassan Rouhani in a late-night Sunday tweet in all caps.
In the tweet, addressed to Rouhani, Trump cautions the Iranian leader to
"never, ever threaten the United States again"
or suffer
"consequences the likes of which few throughout history have ever suffered before."
He then accuses Rouhani of saying
"demented words of violence and death."
The US President is known for his liberal use of capitalization for emphasis, but it is rare for him to resort to capitalizing entire tweets.
Trump's fresh broadside against Iran apparently comes in response to the earlier warning by Iranian President Hassan Rouhani, who on Sunday urged Washington to refrain from provoking Iran unless it wants
"the mother of all wars"
to break out.
"
The Americans must understand well that peace with Iran is the mother of all peace, and war with Iran is the mother of all wars,"
Rouhani stated, adding that
"it would only lead to regret."
The already tense relations between Washington and Tehran have been strained further by the
US State Department's campaign
to subvert the Iranian government through propaganda.
US Secretary of State Mike Pompeo announced on Sunday that the US will be lending its support to dissidents in Iran with a new 24/7 Farsi-language channel and backing what he described as
"the long-ignored voice of the Iranian people."
The US has intensified its efforts to squeeze Iran, the world's fourth-largest oil producer, out of the global oil market by threatening its European allies with secondary sanctions unless they cut all imports of Iranian oil by November 4.
Pompeo on Sunday reiterated the threat, stating that the US is currently in talks with Iran's partners
"to get imports as close to zero as possible"
by the stated deadline
Iran Warns US Against Blocking Oil Trade, Wants to Restore Relations With Saudis
The US has vowed to impose the "harshest sanctions ever" on Iran, seeking to curb its oil trade in response to Tehran allegedly continuing the development of its nuclear arms program.
Iranian President Hassan Rouhani has warned the US against attempting to stop Tehran's oil trade, the Islamic Republic News Agency reported. He added that Iran has many "straits" apart from the Strait of Hormuz, through which to ship its oil, in case Iran's exports are blocked.
"Mr. Trump! We are the honest men who have throughout history guaranteed the safety of this region's waterways. Do not play with the lion's tail, it will bring regret," Rouhani said.
The Strait of Hormuz is a chokepoint exit from the Persian Gulf, which regional oil producers, including Saudi Arabia, use to send their tankers with crude oil around the world.
President Donald Trump announced on May 8 that the US was withdrawing from the Joint Comprehensive Plan of Action (JCPOA), an international agreement reached in 2015 by Iran, the United States, Russia, France, China, the UK, Germany and the EU. It was designed to prevent Iran from acquiring nuclear weapons and offered relief from economic sanctions in return.
Trump has consistently been a harsh opponent of the Iran deal, calling it "defective at its core." He demanded that it be "fixed," threatening to withdraw the US from the deal and to re-impose economic sanctions, which would also apply to any company doing business with Tehran, potentially hurting Tehran's oil trade.
Iranian crude oil exports took a nosedive after sanctions were imposed on the country back in 2012, limiting its oil production to 2.5 million barrels per day (it had previously been 3.8 million). When the Iranian nuclear deal was reached in 2015 and sanctions were lifted, its oil output returned to pre- 2012 levels. It is unclear whether the drop this time will be as significant as previously, as EU countries are struggling to avoid partaking in the US embargo.
Relations With Regional Neighbors
When speaking to representatives of Iran's foreign diplomatic missions, Rouhani declared that Tehran wants to restore good relations with its neighbors, specifically with Saudi Arabia, the United Arab Emirates and Bahrain. However, he noted that such an improvement requires a "change of actions" and Saudi Arabia letting go of its "obstinacy," as well as developing a desire to mend relations with Iran.
Relations between Iran and Saudi Arabia deteriorated after the latter executed Shiite cleric Nimr al-Nimr and 46 of his followers in 2016 after being found guilty of extremist activities. The execution sparked demonstrations in the majority Shiite Iran, leading to the Saudi embassy being ransacked and set on fire.
Riyadh severed diplomatic ties with Tehran in response to the incident, with the move being followed by Bahrain, Sudan and Djibouti, while the United Arab Emirates downgraded its diplomatic relations with Iran. Tehran has stated that it had nothing to do with the attack on the embassy and said that it was up to Riyadh to restore relations.
Another stumbling block in relations between Tehran and Riyadh, as well as other regional powers, is the ongoing war in Yemen, where the Saudi-led coalition is supporting the country's president, Abd Rabbuh Mansur Hadi, who is embroiled in a war against Yemeni Shiite Houthi militants. Saudi Arabia claims that Iran has covertly been supplying the Houthis with weapons, including ballistic missiles, which the rebels have frequently launched in the direction of the Saudi capital Riyadh and its surrounding oil facilities.