Rush hour above the clouds: FlightRadar24 shares amazing footage of busiest flight day (VIDEO)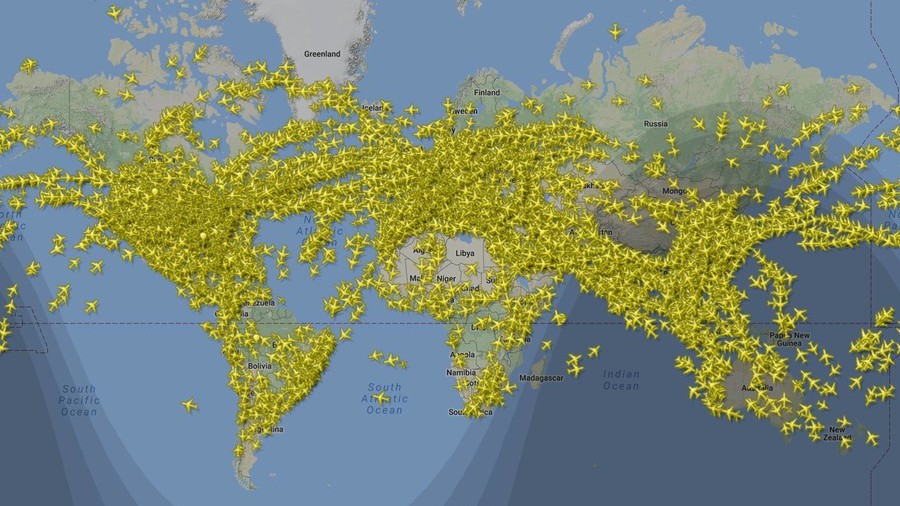 Amazing footage showing more than 202,000 planes traversing the Earth in a single day has been captured by the FlightRadar24 website.
The busiest day for flights was recorded on Friday, with some 202,157 planes seen swarming across the skies. Flight Radar shared footage of its flight tracking technology which shows a mass of planes almost covering the skies in a sea of yellow. The tweet has been retweeted more than 12,000 times.
Yesterday was the busiest day of the year in the skies so far and our busiest day ever. 202,157 flights tracked! The first time we've tracked more than 200,000 flights in a single day on https://www.flightradar24.com/
FlightRadar24 said it was the busiest day this year, and the busiest day they had ever recorded. The global flight tracking organization was founded in 2006. It also said it was the first time the organization had ever tracked more than 200,000 flights in a single day.
"
At the peak of the day, over 19,000 flights were in the air at the same time." it said.
The FlightRadar24 website tracks any plane in the air with a transponder. The group was asked what was the least amount of flights recorded in a day, and said it was 101,511 on 25 December. "Christmas is usually the least busy day of the year." it explained.
It also said that the last week in August is generally the busiest time for flights. Thursdays or Fridays of a holiday weekend in Europe and the US are the busiest