President Trump's national security adviser, John R. Bolton, who is often described as a war hawk and known for his support of the 2003 invasion of Iraq and his advocacy of the bombing of North Korea, Iran and Syria, seems to have given up on his "Assad must go" rhetoric, at least temporarily.
Speaking to CBS News on Sunday about the prospects for the upcoming Putin-Trump summit in Helsinki on July 16, Bolton suggested that Syria was one area where Russia and the US "might make progress together."
"We'll see what happens when the two of them get together. There are possibilities for doing a larger negotiation on helping to get Iranian forces out of Syria and back into Iran, which would be a significant step forward – to have an agreement with Russia if that's possible," Bolton said.
"This has been something that's been going on now for nearly seven years, this conflict in Syria," Bolton noted, adding that his concern was the "Iranian presence now across Iraq and Syria really reaching into Lebanon."
Asked whether he agreed with the assessment that Syrian President Bashar Assad had effectively "won the war" against Syria, Bolton deflected.
"Well I don't think Assad is the strategic issue. I think Iran is the strategic issue," he said, listing off a string of accusations against Tehran including their alleged "conventional forces in the Middle East."
For their part, Tehran and Damascus have denied all claims about Iranian forces in Syria, pointing out that Iran is present in Syria only in an advisory capacity in the country's fight against Islamist extremism.
John Bolton has been a keen proponent of military intervention against Syria going back to the Bush administration. Earlier this year, in the run-up to the Western missile strikes against Syria in April, the national security advisor reportedly advocated a considerably more significant intervention, promoting strikes which would be "ruinous" to Damascus's military capabilities. Bolton was overruled by Defense Secretary James Mattis and Joint Chiefs Chairman General Joseph Dunford, who had opted for more limited strikes, which proved a failure.
The Trump administration is softening its earlier demand that countries like China, India and Turkey end all imports of Iranian oil by Nov. 4, as a top State Department official on Monday said the United States would allow reduced oil flows, in certain cases.
"
We are prepared to work with countries that are reducing their imports on a case-by-case basis," said Brian Hook, the department's director of policy and planning.
His announcement was a delicate attempt at reassuring oil markets and allies that sanctions are not likely to hit them this fall — even if Iranian oil continues to flow around the world, as is likely the case.
India, South Korea and Turkey — all allies or friends of the United States — are major importers of oil from Iran and are unlikely to be able to switch suppliers entirely by November.
That reality was not acknowledged last week when a different senior State Department official told reporters that the United States expected global imports of Iranian oil to go to zero by Nov. 4, when Washington will reimpose sanctions against Tehran's energy sector. The announcement sent oil prices soaring and markets have been on edge ever since.
That official had briefed reporters on condition of anonymity to predict that it was unlikely — but not impossible — that some importers would be given waivers to protect them from penalties after buying Iranian oil. On Monday, Mr. Hook said, "Our policy is to get to zero as soon as possible" — a subtle shift that is likely to reassure markets.
She has conceded much and nearly lost her handle on power
German Chancellor Angela Merkel has found her Chancellorship and governing coalition in clear and present danger via a dispute over migration with her Interior Minister, Horst Seehofer, who is also the leader of the conservative Christian Social Union party.
Seehofer has threatened to turn away migrants at Germany's border, a move which runs contrary to Merkel's policy on migration, which has admitted more than a million asylum seekers and economic migrants since 2015. Seehofer's move in that direction threatened to split Merkel's governing coalition by losing the support of her party and having to nominate a new Interior Minister to replace Seehofer following his termination from the role.
Merkel, in a bid to save her position and retain coalition support, went about a series of meetings and negotiations with European leaders at a break neck pace in order to establish a 'European response' to the migrant crisis facing Europe, realizing that a unilateral approach would not meaningfully address the issue.
An informal meeting was held last week with failed to establish the desired result, but an agreement which came out of a Union wide summit in Brussels managed to get some agreement on ways to address some political concerns as well as the issue of taking in more migrants, which has been a hot button issue both politically and economically across the bloc.
But that agreement was not enough for Seehofer, who went to tender a provisional resignation from his post as Germany's Interior Minister, leading right back to a situation that would rock Merkel's government to its foundations, quite literally. Ergo, to solve the crisis, Merkel held a meeting with Seehofer this afternoon in order to accomplish a sort of compromise on the migration matter, and to preserve Seehofer, and, by extension, the party of which he is chairman, and which represents a substantial portion of Merkel's governing coalition, in his position which was threatened by the dispute between Seehofer and Merkel.
An agreement was reached which would provide for transit centers to vet the claims for asylum offered by incoming migrants, the refusal to accept secondary migrants, and the potential deportation of those who have originally filed for asylum in some other European country.
Multiple Russian and Middle East news sources are reporting
new accusations by the Iranian military
that that
a US ship carrying chemical weapons has recently anchored in the Persian Gulf and in engaged in a "dangerous plot"
, though not naming the particular "Gulf state" territorial waters at which the ship docked.
The accusation comes just as a major seven week US military exercise,
Operation Nautical Horizon
, has concluded in the Persian Gulf which involved
the same military transport ship that decommissioned Syria's declared chemical weapons stockpiles.
Maxine Waters (D-CA) is now attacking establishment Democrats after they denounced her calls to form into mobs and attack Trump officials - blasting Senate and House Minority Leaders Chuck Schumer and Nancy Pelosi after they called for civility and debate in the wake of her inflammatory comments.
"
Leadership like Chuck Schumer will do anything that they think is necessary to protect their leadership
," said Waters during a Sunday appearance on MSNBC's "AM Joy. "What I have to do is not focus on them. I've got to keep the focus on the children."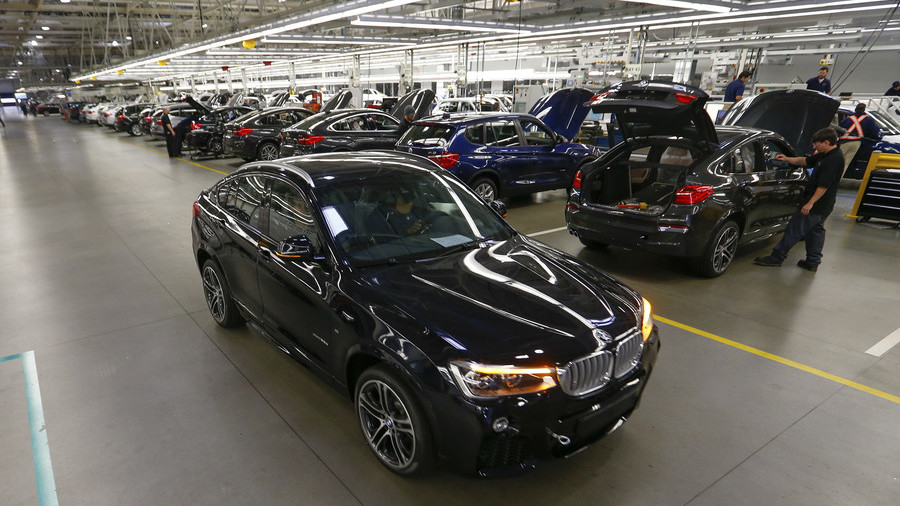 The United States could get a new round of retaliatory tariffs worth as much as $300 billion, if it moves ahead with new duties on European cars, the EU has warned.
In a written statement to the US Department of Commerce Brussels reportedly warned that imposing tariffs on European cars "will be harmful first and foremost for the US economy."
According to the 11-page document, "an additional import tariff of 25 percent, applied to automobiles and automotive parts, would in first instance have a negative impact on US GDP in the order of $13-14 billion, and the current account balance of the US would be not affected positively."
US President Donald Trump recently threatened to hit imports of European cars with a 20 percent tariff if Brussels doesn't remove levies and other trade barriers on US goods.
Trump said on Sunday that the EU was "as bad" as China when it came to the way European countries traded with the US. He dismissed suggestions that his attacks on the EU were counterproductive and that he should instead strengthen relations with European countries to tackle the Chinese trade issue together.
Washington's so-called allies continue to
gravitate
towards the Russian sphere of influence, and specifically the Russian S-400 Triumph advanced anti-aircraft weapon system.
First it was Turkey, which openly defied Trump's
threats
that the US would sanction Ankara if it
completes the purchase
of the anti-aircraft missiles,
saying
the acquisition of the missile defense system is "a done deal and Turkey will not turn back from its decision."
Now India is also moving towards acquiring five or more S-400 from Russia despite the threat of US retaliation. The Defense Acquisitions Council (DAC), chaired by minister Nirmala Sitharaman, last week approved the "minor deviations" in the $5.7 billion deal to purchase S-400s for final government approval, to the finance ministry and the Prime Minister's office sources told the Times of India.
WASHINGTON/BRUSSELS (Reuters) - U.S. President Donald Trump warned the World Trade Organization on Monday that "we'll be doing something" if the United States is not treated properly, just hours after the European Union said that U.S. automotive tariffs would hurt its own vehicle industry and prompt retaliation.
Trump, speaking to reporters during a meeting with Dutch Prime Minister Mark Rutte at the White House, said, "The WTO has treated the United States very, very badly and I hope they change their ways."
His comments came after the Axios news website reported that Trump's administration has drafted proposed legislation that would allow Trump to raise tariffs at will and negotiate special tariff rates with specific countries — two basic violations of WTO rules.
The United States has "a big disadvantage with the WTO. And we're not planning anything now, but if they don't treat us properly, we'll be doing something," Trump said, without elaborating.
(Reuters) - The U.S. government moved on Monday to block China Mobile (0941.HK) from offering services to the U.S. telecommunications market, recommending its application be rejected because the government-owned firm posed national security risks.