'F
ree Tommy Robinson' march in London
The demonstration calling for the release of Tommy Robinson took place a few hours ago.
The BBC decided not to mention it but the Independent which earlier took legal action to have the gag order on the arrest, covered it in the way all media covers strike action or demonstrations.
Five officers suffer minor injuries in demonstration that saw missiles and smoke bombs hurled at police
Five people have been arrested during a violent protest that saw crowds of Tommy Robinson supporters in a tense stand-off with riot police.
Hundreds of far-right demonstrators descended on the capital on Saturday afternoon, occupying the road around Trafalgar Square.
The protest is the latest in what appears to be a bid to secure the former English Defence League (EDL) leader's release from jail.
Supporters chanted "Free Tommy Robinson" and hurled missiles and smoke bombs at police. Right-wing Dutch politician Geert Wilders also delivered a speech.
Scotland Yard said two people were arrested for assaulting a police officer, and three others were detained on separate charges of possession of an offensive weapon, possession of a flare and criminal damage to a bus.
The Metropolitan Police said in a statement: "During the protest there were scenes of violence which saw bottles, metal barriers and other objects thrown at officers.
"Five officers have reported injuries, which are not serious.
"The Met will now launch a post investigation collating the CCTV in the area."
Hundreds of supporters crowded on to an open-top Megabus sightseeing vehicle waving Union Jack flags, while one supporter posed on the roof in a Donald Trump mask.
By 6pm, officers had removed protesters from the bus and had kettled many of the remaining protesters on the traffic island overhead.
Other Robinson supporters crowded on to the steps of Nelson's Column and continued to chant slogans.
A spokeswoman for megasightseeing.com said: "Our London sightseeing bus was on its normal route when it got caught up in the demonstrations.
"The bus was stormed by demonstrators and the driver and a small number of customers got off.
"The demonstrators have caused a significant amount of damage to the bus which meant it had to be towed away.
"We have reported this to the police and will help them with any investigations."
Videos posted on social media appeared to show police being significantly outnumbered by demonstrators.
The Metropolitan Police have not yet responded to requests for comment about the protest.
Saturday's protest was the second in as many weeks
Robinson was jailed for contempt of court after he used social media to broadcast details of a trial which is subject to blanket reporting restrictions.
Leeds Crown Court heard how Robinson filmed himself and people involved in the case, in footage that was watched around 250,000 times within hours of being posted on Facebook.
Robinson, who was listed by his real name Stephen Christopher Yaxley-Lennon on court documents, was sentenced to 13 months in jail on the same day as his arrest.
He was given 10 months in jail for contempt of court, and an additional three months for beaching a previous suspended sentence.
Meanwhile RT was actually there and manage to report on things without resorting to meaningless epithets.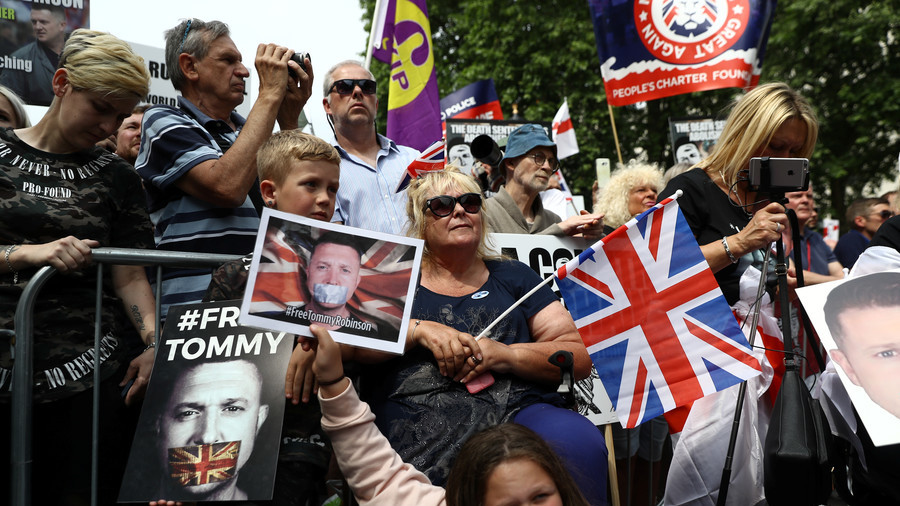 Supporters of Tommy Robinson have gathered in London in solidarity with the activist, who last month was jailed for contempt of court.
Robinson, who founded the English Defence League, was jailed in May after he pled guilty to contempt of court. He was on a suspended sentence for another contempt of court incident at the time.
Robinson, whose real name is Stephen Yaxley-Lennon, made comments about an ongoing grooming trial in a Facebook Live broadcast outside Leeds Crown Court in earshot of the trial's jurors. He was found in contempt of court for breaching court reporting laws and threatening the trial. He was sentenced to 10 months for that charge and three months for breaching his suspended sentence.
Robinson's supporters demand his release from jail, as they believe he was arrested because of the information he was exposing about
"Muslim grooming gangs."
A large crowd gathered in central London, where right-wing Dutch politician Geert Wilders appeared to support Robinson.
"

So, Downing Street is just around the corner, so maybe once again, as loud as possible as we can, let them hear our message: Free Tommy Robinson!"
he said.
Another march planned for Newcastle was cancelled after police said their resources were stretched due to an Ed Sheeran concert.
The mainstream media has tried to downplay the whole thing:
Ray Brown
Im a reporter for a mainstream news outlet. I've just counted how many turned up today a
nd the figure is 127...
Other reports (more accurately) say that attendance figures were much larger and the video footage seems to bear that out.
Here is how the organisers described things.
I am going to rely on this for my video footage.
I do not relate in any way to the right-wing American commentary here although they are not wrong either.
People on the Left stick to tarring participants with the same brush - of 'far right', 'fascist'. I am sure there were some pretty extreme, neo-nazi elements present just as you get the Black Block anarchists at other anti-corporate demonstrations.
Frankly, with the depth of feeling I am surprised there was not more violence.
See this:
A vignette from violence in Luton and the formation of the English Defence League (EFL)
This is how what goes for the "left" sees it. An angry mob of working class nazis chase down the faultless police.
In my time socialism was all about the working class. Today's chardonnay socialists of the Guardian are as anti-working class as it comes