Syrian air defense engages Israeli rockets near Damascus – State media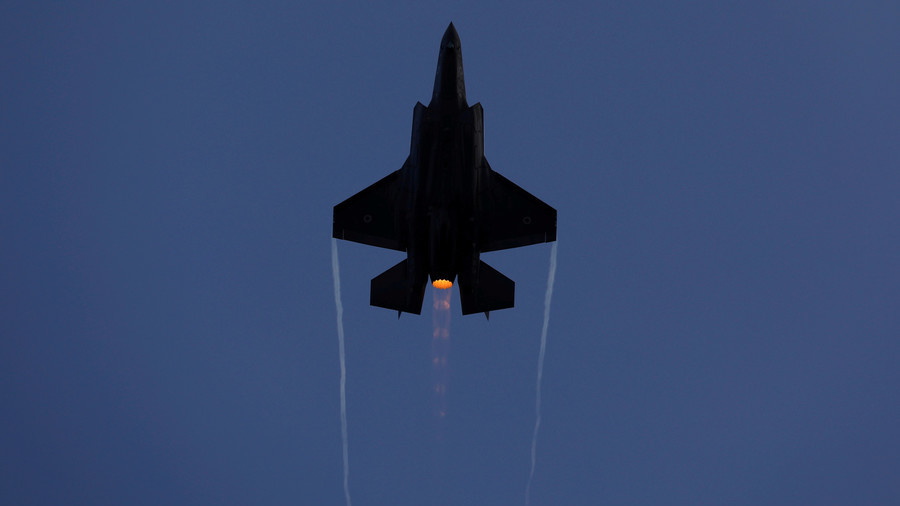 Syrian air defenses have been deployed to thwart an attack by the Israeli rockets, Syria's state SANA news agency reported. The bombing is reportedly being carried out by Israeli warplanes from Lebanese airspace.
Citing a Syrian military source, SANA reported that hostile missiles were being intercepted by Syrian air defenses.
The reported strike by the Israeli jets is seen as a continued retaliation to what Israel claims were some 20 rockets launched by Iran's Quds Force from Syrian territory into the Israeli-occupied part of the Golan Heights earlier in the night. The Israel Defense Forces said its Iron Dome systems intercepted some of the projectiles and the reported attack resulted in no injuries.
Around the same time, Syria's state media reported that Israel shelled the city of Baath in the northern Quneitra governorate.
Tensions were ramped up in the region after US President Donald Trump announced his country's withdrawal from the Iran nuclear deal. Israeli PM Benjamin Netanyahu, a fierce critic of the accord, hailed the decision, which drew sharp condemnation from Europe, Rusia, China and other non-signatory countries. A day after Trump reneged on the internationally acclaimed agreement, Israel hit a Syrian army position in the Kisweh area south of Damascus.
Israel has been claiming that Iran is setting up bases of operations in Syria in order to stage attacks against the Jewish state. It has launched numerous air strikes against Syrian government-controlled territories, targeting alleged Iranian positions.
The Golan Heights in southwestern Syria have been occupied by Israel since the Six-Day War of 1967 and are internationally recognized as a Syrian territory.
This is hoe Reuters is reporting.
By staying silent on Israeli attacks the lamestream media can make any Iranian counter-action look like aggression.
Iranian forces in Syria shell Israeli army bases on Golan: Israel
JERUSALEM/BEIRUT (Reuters) - Iranian forces in Syria shelled Israeli army outposts on Thursday but caused no casualties, the Israeli military said, and the Syrian military was later quoted as saying its air defenses had confronted Israeli rocket fire on its territory.
It came a night after Syria accused Israel of striking one of its military bases south of Damascus, an attack that a war monitor said killed 15 people including eight Iranians.
Israel's military spokesman Lieutenant Colonel Jonathan Conricus said Israel had retaliated for the attack on its outposts in the strategic Golan Heights plateau, which it partly occupies, without elaborating.
Syrian state media, citing a military source on the incident, also did not elaborate. Earlier, state news agency SANA and a war monitor reported artillery fire from Israeli-held territory at Baath City in Quneitra province.
The war monitor, the Syrian Observatory for Human Rights, said rockets were fired at military positions of the Syrian army and allied forces in Baath City.
The late-night incident followed a surge in tensions between Israel and Syria, where Iranian and Lebanese Hezbollah forces have been helping Damascus beat back a 7-year-old rebellion.
Fearing that Iran and Hezbollah are setting up a Lebanese-Syrian front against it, Israel has occasionally struck at their forces. Iran blamed it for an April 9 air strike that killed seven of its military personnel in Syria, and vowed revenge.
Conricus said that, in Thursday's attack, around 20 projectiles, most likely rockets, were fired by the Quds Force, an external arm of the Iranian Revolutionary Guards Corps, at around 12.10 a.m.
"
A few of those rockets were intercepted" by Israel's Iron Dome air defense system, Conricus told reporters. "We are not aware of any casualties. The amount of damage that we currently assess is low."
Asked if Israel retaliated for the salvo, he said, "We have retaliated but I have no further details about this."
Expectations of a regional flare-up were stoked by U.S. President Donald Trump's announcement on Tuesday that he was withdrawing from the Iranian nuclear deal. Hours later, Israeli rocket rockets targeted a military base in Kisweh, a commander in the pro-Syrian government regional alliance said.
The strike killed 15 people, including eight Iranians, the Observatory said. Israel has neither confirmed or denied responsibility.
Syrian military fires missiles into occupied Golan Heights for first time in decades
BEIRUT, LEBANON (2:10 A.M.) – The Syrian military took a bold stance tonight, firing several missiles into the occupied Golan Heights for the first time in decades.
A military source in Damascus told Al-Masdar News that the Syrian military fired the missiles towards an Israeli base in the occupied Golan Heights; however, he could not confirm if any of the missiles struck their intended targets
The Syrian military does not often respond to Israel's attacks, but with much of Damascus secured, the government forces have become more confident.