The Kilauea Volcano in Hawaii triggered the state's highest-level warning, indicating it could become 'more explosive'
The alert level for the Kilauea Volcano in Hawaii has been raised from "orange" to "red."




This indicates "major volcanic eruption is imminent, underway, or suspected with hazardous activity both on the ground and in the air."




Ash clouds have reached as high as 10,000 to 12,000 feet above sea level.




The USGS has warned the volcano may become "more explosive."




The US Geological Survey (USGS) raised its alert level for Hawaii's Kilauea Volcano on Tuesday evening.
The alert level has been raised to "red," which the USGS defines as: "Major volcanic eruption is imminent, underway, or suspected with hazardous activity both on the ground and in the air."
Early in the morning local time, eruptions of ash increased in intensity and have since been rising continuously. Ash-fall has been reported in Pahala, about 18 miles downwind.
The ash cloud has reached as high as 10,000 to 12,000 feet above sea level.
USGS confirmed on Twitter that a major eruption was previously underway, but the threat level was raised after increased emissions created a potential threat to aviation, causing possible delays.
"

While ashfall may impact the other islands, depending on wind direction, it's still safe to travel to Hawaii. However, you should expect the possibility of air travel delays/rerouting to avoid the ash plumes," USGS said on Twitter.
The USGS expects ash emission to vary depending on rockfalls and other changes within the vent, but has said activity "may become more explosive, increasing the intensity of ash production and producing ballistic projectiles near the vent."
This activity is in addition to a new fissure which opened on Sunday, spraying magma chunks over 100 feet in the air and spewing lava into surrounding forests and residential neighbourhoods.
Thousands of people have been forced to evacuate.
The USGS previously had given an "orange" alert, indicating a major volcanic eruption may have been imminent but hazards were limited because of no or minor volcanic ash emissions.
USGS CHANGES KILAUEA VOLCANO ALERT WARNING TO "RED"
http://halturnerradioshow.com/index.php/news/u-s-national-news/2532-usgs-changes-kilauea-volcano-alert-warning-to-red
The United States Geological Survey (USGS) has upgraded the Warning Level for the ongoing Kilauea Volcano from
ORANGE

to
RED
.
Ash emissions from the volcano are increasing dramatically. The ask is now posing a hazard to aviation and COULD be a sign of a large eruption coming.
HVO/USGS Volcanic Activity Notice


Volcano:
Kilauea
(VNUM #332010)

Current Volcano Alert Level: WARNING

Current Aviation Color Code:
RED

Previous Aviation Color Code: ORANGE
Issued:
Tuesday, May 15, 2018, 1:23 PM HST
Source:
Hawaiian Volcano Observatory
Notice Number:
Location:
N 19 deg 25 min W 155 deg 17 min
Elevation:
4091 ft (1247 m)
Area:
Hawaii
Volcanic Activity Summary:
As of early this morning, eruption of ash from the Overlook vent within Halemaumau crater at Kilauea Volcano's summit has generally increased in intensity. Ash has been rising nearly continuously from the vent and drifting downwind to the southwest. Ashfall and vog (volcanic air pollution) has been reported in Pahala, about 18 miles downwind. NWS radar and pilot reports indicate the top of the ash cloud is as high as 10,000 to 12,000 feet above sea level, but this may be expected to vary depending on the vigor of activity and wind conditions.
Photo from 5:00 PM Eastern US time, Tuesday, May 15, 2018: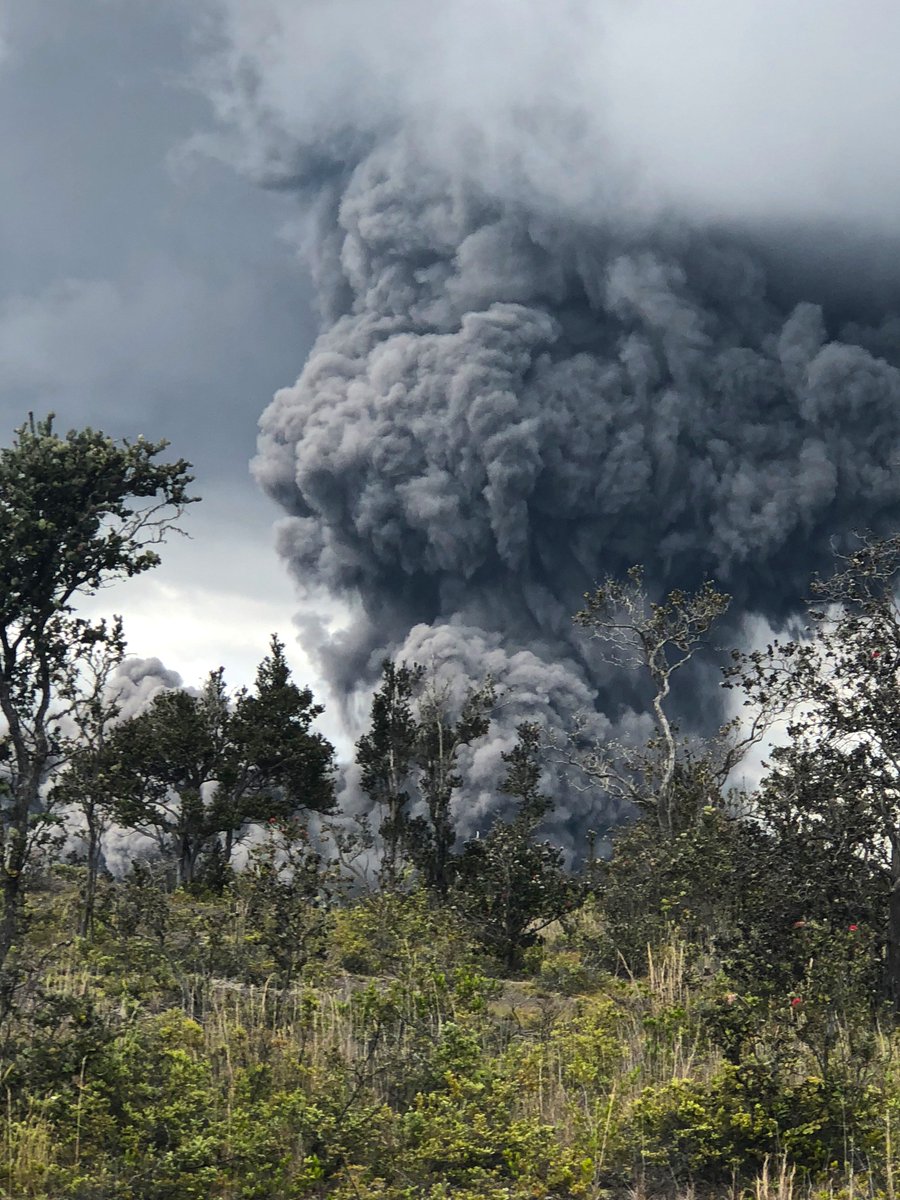 Ash emission from the Kilauea summit vent will likely be variable with periods of increased and decreased intensity depending on the occurrence of rockfalls into the vent and other changes within the vent.
At any time, activity may become more explosive, increasing the intensity of ash production and producing ballistic projectiles near the vent.


Resource on volcanic ash hazards: https://volcanoes.usgs.gov/volcanic_ash/

Resource on vog: https://vog.ivhhn.org/
Recent Observations:

[Volcanic cloud height] 10,000 - 12,000 feet
[Other volcanic cloud information] Drifting generally southwest with tradewinds

[Ash cloud] The ashcloud is drifting downwind primarily to the southwest with the Trade Winds. Wind conditions are expected to change in the next 24 hours and other areas around Kilauea's summit are likely to receive ashfall.

[Ashfall] Ashfall has been reported in the community of Pahala, at locations along Highway 11 from Pahala to Volcano, and in the Ka'u Desert section of Hawaii Volcanoes National Park.

[Other hazards] Ballistic projectiles may be produced should steam-driven explosions occur. Impacts will be limited to an area around Halemaumau.
[Volcanic gas] Vog or volcanic air pollution produced by volcanic gas has been reported in Pahala.
Remarks:
Photos of this activity may be found here:

https://volcanoes.usgs.gov/volcanoes/kilauea/kilauea_multimedia_15.html
Contacts:
askHVO@usgs.gov
Next Notice:
Additional notices will be issued should activity change significantly.
Consult the National Weather Service for specific Ashfall notifications:http://www.prh.noaa.gov/hnl/

The Hawaiian Volcano Observatory is one of five volcano observatories within the U.S. Geological Survey and is responsible for monitoring volcanoes and earthquakes in Hawai`i.