Powerful 6.9 quake, numerous aftershocks hit Hawaii's Big Island near erupting volcano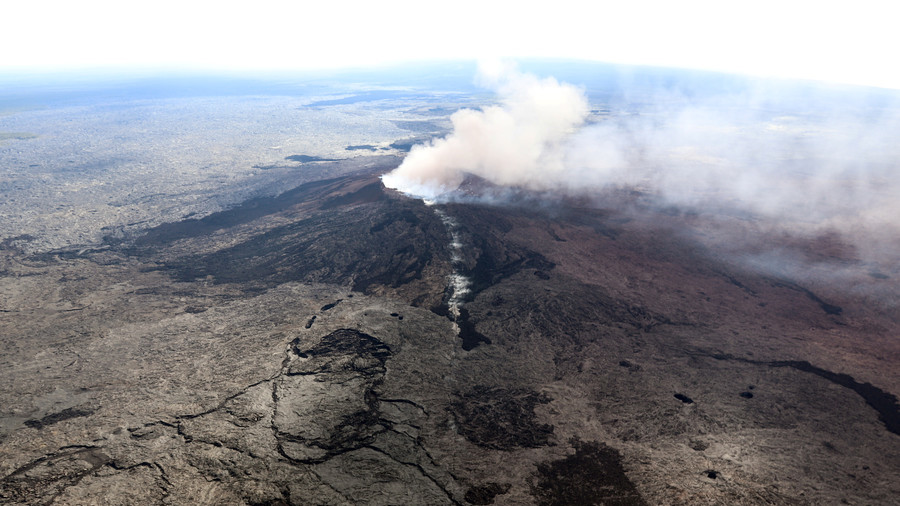 A powerful earthquake measuring magnitude 6.9 has struck just off the Big Island of Hawaii as numerous smaller jolts, including a 5.4 tremor, shook the island in the past hours, amid ongoing volcanic eruption.
The US Geological Survey has upgraded the severity of the earthquake off the Big Island in Hawaii to a 6.9 on the Richter scale, roughly an hour after it was registered. According to the new USGS data, the extremely powerful tremor was registered 16km southwest of Leilani Estates, Hawaii, at a depth of 5.0 km.
The quake struck on the south flank of Kilauea Volcano at 12:33 local time and was followed by several aftershocks, according to the National Weather Service, as eruptions at the volcano continue. No Tsunami warning has been issued.
The tremor was the most powerful of a series of earthquakes that have been rocking the islands over the past days. No Tsunami warnings have been issued after the quake.
The massive earthquake caused small sea level changes at some locations of the Big Island, which are now "diminishing," authorities said. A twenty centimeter (cm) amplitude was recorded in Hilo, with 40 cm in Kapoho and 15 cm in Honuapo, the County of Hawaii said in a statement.
The latest from Hawaii County Civil Defense on the Kilauea eruption. Volcanic Eruption In Lower Puna District Message For Friday May 4 At 12:30 PM http://www.hawaiicounty.gov/active-alerts #kilauealava #HiLava2018 #kilauea #kilaueavolcano #lava
Following the quake, the Hawaiian Volcano Observatory confirmed further volcanic eruption is ongoing in Leilani Subdivision, in the Puna District.
"

Active volcanic vents are located on Makamae, Kaupili and Mohala Streets. A new vent has opened near the intersection of Leilani Avenue and Kahukai Road," the Civil Defense of Hawaii County reported.
"

All residents of Leilani Estates and Lanipuna Gardens Subdivision are ordered to evacuate immediately," the alert issued by the authorities announced, adding that Police, Fire and National Guard are assisting with the evacuation, which originally started on Thursday, when a lava outbreak began threatening residential areas.
Authorities warn that people must leave the area immediately due to high levels of Sulfur Dioxide gas, noting that those with "compromised respiratory systems" are especially vulnerable. "The high levels detected are an immediate threat to life for all who become exposed. First responders may not be able to come to the aid of residents who refuse to evacuate," the alert stressed.
Residents of Leilani Estates and Lanipuna Gardens Subdivisions are strictly ordered to stay away from the area of the ongoing volcanic eruption. "No one is allowed into the area. Do not attempt to return to your home at this time," authorities firmly stressed.
Follow

@

Hawaii_EMA

and

@

CivilDefenseHI

for

#

KilaueaVolcano

updates. Stay tuned to local radio and TV for evacuation orders.

The

#

HI

Fire Department warns high levels of sulfur dioxide gas in the affected areas are a serious threat to life. For more tips:

ready.gov/volcanoes
GET THE HELL OUT NOW! M6.9 Earthquake, Leilani Estates, Hawaii
ERUPTION ! ! ! HAWAII VOLCANO SENDS LAVA 100'S OF FEET IN THE AIR; RESIDENTS FLEE
Residents in Puna's Leilani Estates subdivision on the big island of Hawaii
fled with little more than the clothes on their backs
Thursday night after an eruption in Kilauea's east rift zone created a fissure in the community, spewing lava into the air as high as utility poles, covering roads and nearing several homes.
Evacuation orders remain in place for the community, home to about 1,700 people, and it's not yet clear when residents will be able to return home.
Two emergency shelters
have been opened for evacuees — one at Pahoa Community and the Keaau Community centers — and a number of families had hunkered down at the facilities for the night.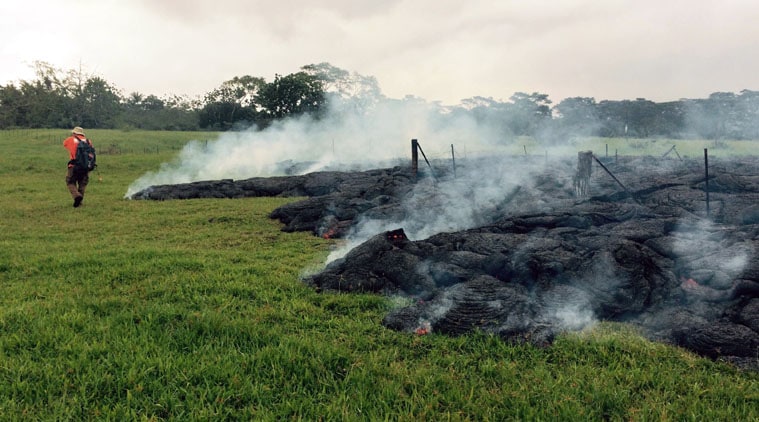 Meanwhile, fire officials warn they've detected extremely high levels of dangerous sulfur dioxide in Leilani Estates and are reiterating this message: Get out of the community — if you haven't already — and stay out until the threat has passed.
Hawaiian Volcano Observatory said the eruption that started in late afternoon ended about 6:30 p.m., after creating a fissure that sent lava soaring as high as 125 feet into the air. About 10:30 p.m., geologists confirmed the fissure (whose length was not immediately clear) was no longer erupting — and no other fissures had been reported.
They stressed, however, that new lava outbreaks remain a possibility.
"The opening phases of fissure eruptions are dynamic and uncertain. It is not possible at this time to say when and where new vents may occur," the observatory said, in its latest update. "Areas downslope of an erupting fissure or vent are at risk of lava inundation. At this time, the general area of the Leilani subdivision appears at greatest risk."
Within hours of the eruption Thursday, Gov. David Ige had activated the Hawaii National Guard and issued an emergency disaster proclamation. FEMA is also mobilizing resources.
In an interview with Hawaii News Now, Ige urged evacuees to "stay calm" and continue to stay tuned to emergency alerts.
Those residents fled their homes Thursday evening with few belongings — just what they could collect in the minutes they had to leave, as officers went door-to-door to ensure everyone got out. One resident said he grabbed his father's ashes as he ran out the door.
"My family is safe, the rest of the stuff can be replaced," another resident said. "When I bought here 14 years, I knew that this day would eventually come. But the reality is sinking in now."
Some residents seemed in disbelief at what they were seeing in their own backyards. In social media posts, they documented lava sputtering up from cracks in the roadway and then angrily boiling up higher and higher getting higher and higher.
Resident Ikaika Marzo said he could see fountains of lava in the community topping 100 feet.
He was among the first people in Leilani Estates to spot the active lava. And as soon as he did, he started notifying anyone he could find.
"When we drove on that road, we heard a noise in the forest and it was like a little thump," he said. "Next thing, like three to five seconds after that, we smelled sulfur. After that, that's when there was tons of sulfur. Then we saw some lava popping out."
The lava outbreak was first reported about 4:30 p.m., some six hours after a 5.0-magnitude earthquake shook the Big Island Thursday morning. That quake came after hundreds of small tremors rattled the island since last week.
In the photo below, lava is seen shooting up out of a road as nearby residents flee. At times, the lava shot higher than the nearby telephone poles!