Sometimes it is best to look beyond the media - even RT - for information. As usual Hal Turner is unafraid to say things
that others are afraid to.
These are fast-moving events so I believe in taking from all sources to hopefully get a fuller picture.
ISRAEL MASSING TROOPS & ARMOR AT SYRIA BORDER - More Airstrikes
This is BREAKING NEWS as of 1:33 PM eastern US time on Saturday, Feb. 10, 2018

(ALL UPDATES AT BOTTOM) --
After this morning's shoot-down of an Iranian Drone which crossed into Israeli airspace, the government of Israel launched eight F-16 fighter jets to attack the base in Syria from which that Drone had been launched.
During the F-16 attack, Syrian air defenses were able to hit TWO Israeli F-16's, downing one INSIDE ISRAEL.
(The Israelis sent their jets to the border between Israel and Lebanon, then fired missiles across Lebanon into Syria. Syria anti-aircraft missiles traveled across Lebanon and into Israel to hit the attacking planes).
Later, Israel launched more F-16's to conduct additional attacks against what THEY say are "Iranian" bases in Syria, except one such base was also shared with Russia. Upon coming under attack, RUSSIAN air defense missiles were launched against Israeli F-16's. In addition, during that same later Israeli air assault, the Israelis found their planes had also come under attack from . . . . LEBANON.
There is a formal Media BLACKOUT on these operations; a blackout which the Hal Turner Radio Show is not obliged to honor - and is not honoring.
Just a few hours ago, Lebanon publicly announced they would no longer permit Israeli jets to fly into Lebanon, and any jet doing so WILL BE SHOT AT.
In response to these developments, Israel is now sending "massive" numbers of troops and heavy armor toward the Syria Border.
Israel is also opening BOMB SHELTERS in the northern part of the country and telling citizens to get inside them!
This morning's events are a MAJOR escalation on multiple fronts of the Middle East and unless things somehow calm down quickly, expect the worst.
This is a developing story - check back for updates which will appear below . . . .
UPDATE 1:53 PM EST --
The Israeli Air Force pilot whose F-16 was shot down, has reportedly died of his injuries. . . . conflicting reports say he improved after surgery.
Ben Gurion Airport in Tel Aviv, Israel is now CLOSED due to Syria missiles having earlier reached the center of Israel.
UPDATE 2:01 PM EST --
The Russian Federation has issued a statement which calls for all sides to show restraint. The statement also explicitly warns Israel against any attacks in Syria where Russian forces may be deployed.
UPDATE 3:26 PM EST --
The Al Khalkhala Airbase in southern Syria is now under heavy attack by Israel. Multiple buildings reported destroyed, raging fires all over the base. A squadron of Israeli war-planes are currently carrying out Airstrikes on the Khalkhala airbase in S. Damascus Syria which is the home camp of several Iranians IRGC Soldiers & Hezbollah fighters. Sources on ground confirm huge explosions.

Following is a list of reported targets already hit inside Syria by Israel: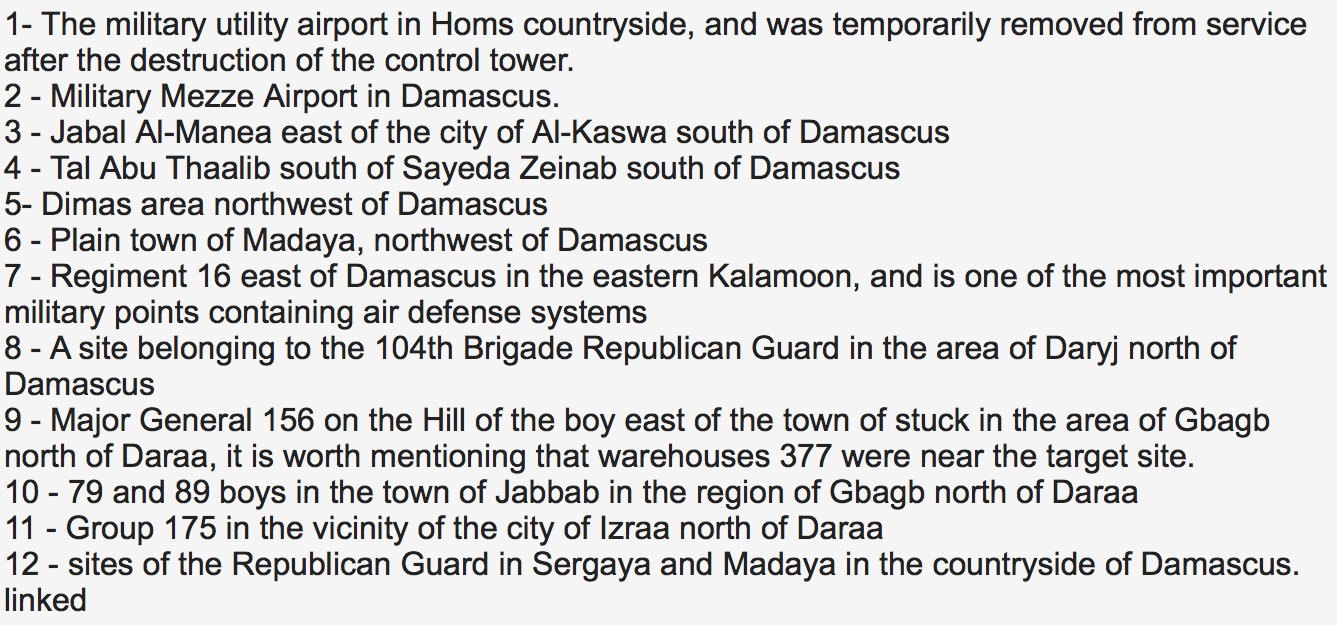 UPDATE 3:36 PM EST --
Syrian Air Defenses have now damaged at least one Israeli Apache Attack Helicopter.
UPDATE 4:16 PM EST --
Israeli military planes are NOW flying over Syria and bombing pro-Assad targets.
Journalists have been directly ORDERED not to report this.
These are headlines from the conspiracy site Godlikeproductions. The majority of contributors seem to be millenials supporting Israel.
SRAEL LAUNCHES MASSIVE WAVE OF AIRSTRIKES IN TO SYRIA TARGETTING AA SITES ACROSS THE COUNTRY
ISRAEL MILITARY ON FULL WAR FOOTING
MULTIPLE WAVE OF AIRCRAFT HITTING AA SITES ACROSS SYRIA AS I TYPE
PILOT OF PLANE SHOT DOWN MY SYRIAN AIR DEFENCE REPORTED AS CRITICALLY ILL
ISRAEL MILITARY SAYS INITIAL STRIKES WERE LARGE IN SCOPE WITH MANY AIRCRAFT
ISRAEL SAYS IT HAS IRANIAN DRONE IN ITS POSSESSION - BELIEVED WAS GOING TO BE USED ON AN ASSASSINATION IN ISRAEL
'A LARGE SCALE ATTACK AGAINST AIR DEFENCE IN SYRIA IS ONGOING' - IDF STATEMENT JUST NOW
8 AIRCRAFT IN INITIAL ATTACK AGAINST DRONE BASE
STRIKES ARE ONGOING - UNCONFIRMED DIRECT HITS BY ISRAELI JETS ON 14 SITES IN SYRIA
Moments ago, IAF aircraft, targeted the Syrian Aerial Defense System & Iranian targets in Syria. 12 targets, including 3 aerial defense batteries & 4 Iranian military targets, were attacked. Anti-aircraft missiles were fired towards Israel, triggering alarms in northern Israel
FURTHER ROCKET SIRENS IN NORTHERN ISRAEL - IT APPEARS THAT SYRIAN ANTI-AIRCRAFT MISSILES ARE FOLLOWING AIRCRAFT ACROSS THE BORDER
Finally, here is Israeli Daily News
<iframe width="560" height="315" src="https://www.youtube.com/embed/alssten8OvE" frameborder="0" allow="autoplay; encrypted-media" allowfullscreen></iframe>
Syrian air defense turns against Israeli war plane for targeting Iranian assets bringing down the plane. Israel responds with a major offensive striking 12 targets supposedly all Iranian in Syria saying they do not what to raise tensions, all this happening while inside sources are saying that PM Netanyahu is to resign Monday and the LA times saying Netanyahu said he will be indicted soon.