Breaking News! Q Anon & Julian Assange Exposed 7 Mysterious Shipping Containers Tracked By SERT
Why are 7 shipping containers being tracked by SEALS and SERT? Congressmen not returning after Holidays? Flights being blocked and transponders down? What hints has QAnon given for the New Year and Julian Assange - where is he now?
WikiLeaks Drops Proof That NYTimes Colluded With Hillary Clinton
You thought 2017 was going to end without a bang — other than the fireworks?
Think again.
After The New York Times on Saturday published a story headlined "Republican Attacks on Mueller and F.B.I. Open New Rift in G.O.P.," WikiLeaks couldn't stand it anymore. In a late-night post on Twitter, WikiLeaks revealed that a Times reporter used to feed State Department email updates of the stories the paper would be publishing DAYS before the stories appeared.
At the time, Hillary Clinton was the Secretary of State.
The heads-up email was intended to give State (and Clinton) time to come up with some spin for stories that may have caused problems. Or, in another possible scenario, the heads up could give the State Department time to create a diversion for the same day, thus overriding a damaging story with other news its friends in the mainstream media would happily cover instead.
The players in the WikiLeaks email are interesting. Scott Shane is the national security reporter for the Times. And the recipient of his email, Philip Crowley, was at the time the United States Assistant Secretary of State for Public Affairs under Clinton's State Department.
As 2017 comes to an end, it's clear the Clinton scandals won't go away anytime soon.
On Friday, the Justice Department released thousands of Clinton emails. "Several emails with classified information from former Hillary Clinton aide Huma Abedin were among a tranche of documents released Friday that were found on Anthony Weiner's personal computer during an FBI probe," USA Today reported.
After the emails were made public, Judicial Watch President Tom Fitton called the release a "major victory."

"Judicial Watch has forced the State Department to finally allow Americans to see these public documents," Fitton said. "That these government docs were on Anthony Weiner's laptop dramatically illustrates the need for the Justice Department to finally do a serious investigation of Hillary Clinton's and Huma Abedin's obvious violations of law."

The FBI said most of the emails ended up on Weiner's computer because of backups from Abedin's personal electronic devices. Former FBI Director James Comey has said investigators could not prove Abedin acted with criminal intent or "had a sense that what she was doing was in violation of the law."

A November 2010 email was partially redacted due to "classified" and "confidential" information. It detailed a planned call between Clinton and Saudi Foreign Minister Prince Saud al-Faisal, where then-Secretary of State Clinton would warn al-Faisal about Wikileaks planning to release sensitive documents.

That same month, Wikileaks released the U.S. diplomatic cables leak, known as "Cablegate."
Jerome Corsi About QAnon, State Of Emergency, Eric Schmidt And What We Can Expect In January
UNPRECEDENTED IN U.S. HISTORY, NOW 9,294 SEALED CRIMINAL CASES / INDICTMENTS PENDING IN U.S. FEDERAL COURTS! Corrupt Politicians & "Elite" Pedophiles Going Down!



Historic news is breaking tonight, the final evening of 2017. Thanks to a group of intrepid Twitter users, the world is about to find out that right now, in federal district courts throughout the United States, there are presently 9,294
SEALED
CASES/INDICTMENTS. That means the feds have the evidence they feel they need to arrest and prosecute a whole slew of people, but they are waiting until the time is right, to do so.
Never before in the entire history of the United States, have so many sealed cases been Docketed in a single YEAR . . . but even more stunning is that these 9,294 cases were Docketed in less than two MONTHS!
More interesting is the "Skuttlebutt" being rumored throughout federal law enforcement circles and the Intelligence Community about WHO is heading for Prison: Very well-known public figures, numerous elected officials at the federal, state and even local levels, prominent power players in the Entertainment Industry, media personalities, news media figures and more! And the "Skuttlebutt"
also
says that these Indictments include things like
Child Rape, Human Trafficking, Drug smuggling, Money-Laundering, Espionage and . . . . MURDER(s).
Please indulge me for a few paragraphs while I set-up HOW this information came to me, and how it exploded into massive news that the so-called "mass-media" simply will not report.
On October 30, I (and the rest of the media)
reported on the Indictment of Paul Manafort and Roger Kelly
, by the Office of Special Counsel Robert Mueller. The Indictments against both men had been filed "
under Seal
" in federal court, and when the men agreed to turn themselves in - and did -- the public was told the contents of the formerly sealed Indictments.
With all the hoopla surrounding the Manafort and Kelly Indictments, the mass-media was in a feeding frenzy trying to spin the Indictments as being related to President Trump. They weren't. NOTHING about the Manafort and Kelly cases involves anything to do with the President or his campaign. But the mass-media just couldn't resist trying to spin the arrests as somehow being related to "Russia Collusion." Turns out that the Indictments dealt with work that Manafort and Kelly did with the Podesta group during the Obama Administration . . . but I don't think _any_ mass-media outlet bothered to report that tidbit of information.
Something about the story nagged at me. The cases had been on the federal court Docket "under seal." So the next day, October 31, I checked the Public Access to Court Electronic Records (PACER) system to see if there were any more cases "under seal." I was able to
report that there were, in fact, FOUR MORE
Sealed Indictments on the DC District Court Docket.
My FBI Years
I have to take a momentary diversion here for a second to give all of you insight into my background and how it relates to what comes next. As most of you probably know, for fifteen years, (1993-2008) I worked with the FBI, mostly in the political corruption area. In my final five years (2003-2008) I had been recruited into the Joint Terrorism Task Force (JTTF) to handle National Security, Terrorism and Foreign Counter-Intelligence.
In January, 2005, I was granted Fully operational authority for "extra-territorial" operations by the Office of Intelligence at FBI Headquarters in Washington. (FYI: "Fully-operational status actually means legal authority to "spy, steal, damage, destroy or - under special circumstances that were not foreseen - kill, to protect the United States of America.") It ALSO meant - and I had to sign-off that I understood -- . . . that "
should (I) be captured or taken into custody by (insert foreign government name here) circumstances may be such that the FBI and the Department of Justice may be unable to render assistance.
) Put simply, in some countries I was tasked to operate in,
I was on my own.
If this sounds eerily like something you saw in one of the Mission Impossible movies "Should you or any of your IM Force be caught or killed, the Secretary will disavow any knowledge of your actions" it was . . . . only I had to sign the real-life version. What I did wasn't the movies.
Bear in mind that the FBI is chartered for Domestic operations only. Whenever an FBI asset like me had to undertake operations outside the country, special authority had to be given, in writing and in advance, and those operations were closely coordinated with other government agencies who are chartered for overseas operations. I think you know who I mean.
It was through those coordinated efforts with other agencies that I became deeply (DEEPLY) involved in the Intelligence Community both for the US and with folks working for the Intel services of other countries. I maintain close relations with many of those people to this very day even though I am no longer on any government payroll and no longer do any work at all for any government.
All these facts came out in Brooklyn federal court in 2009, when then-Assistant Special Agent in Charge, Amy Pickett from the FBI New York City Division - and other witnesses -- gave sworn testimony in a criminal case about me. The records/transcripts are in PACER.gov.
I tell you this because in my work with FBI, I knew that cases were sometimes sealed to prevent targets from fleeing or destroying evidence before they were arrested. I just never really paid much attention to how many such cases were sealed. It wasn't important to me back then. More importantly, the relationships I forged in my FBI years have a neat side-effect: I can get inside info that others can't get near.
More Research
Over the next days, I continued to look at PACER to see if more sealed cases were filed. I also began reaching out to certain folks with whom I have relations from my years with FBI. What I was being told made me realize something very big was taking place.
The info I was getting (all of it unofficial "rumors") made clear to me
there's a new Sheriff in town
and his name is Donald J. Trump. When this guy campaigned on "draining the swamp" he actually MEANT it!
The rumor mill was cranking throughout law enforcement and Intelligence circles and I was hearing that people who, in years prior, would have been able to skate past any government prosecution, were suddenly "rumored" to be under Indictment. And the charges against some of these people were astonishing / incredible / disgusting / mind-boggling!
I pointed out that Sealed indictments are rare. It's rare to have more than 1 or 2 in a month in any given federal district. There are literally hundreds now, all over the US.
Speaking to a lawyer friend of mine, a former Assistant United States Attorney who is now in private practice here in New York City, he said 1-3 sealed indictments in a month in any one district wouldn't cause to many eyebrows to be raised. 4-5 is high, 6 is almost unheard of.
Between the 294 Indictments now located across the country PLUS the 81 in Washington, DC and in Eastern Virginia, that's almost 400 Sealed Indictments. The lawyer told me this number is
"off the charts . . . .no one has seen anything like this."
The Twitter Squad
Things _seemed_ to quiet down after November 9. The mass-media had not reported _any_ of the sealed Indictments and life went on. But on November 27, I was flabbergasted when I ran across a group of Twitter users who - like me - were intrigued by the "SEALED" cases, and had begun doing an utterly incredible job of research on their own.
These folks, and I will introduce their Twitter handles to all of you, spent most of their Thanksgiving Holiday, pouring through federal court dockets for ALL NINETY-FOUR federal court districts in the entire United States of America!!!!!!!
The kind of focus required to undertake such an effort was Herculean; yet they persevered. Frankly, I'm still astonished at their dedication and the thoroughness of their work.
Let's face it, pouring over federal court Dockets, endless streams of case numbers, whether they are Civil (Plaintiff v. Respondent) or Criminal (United States v. Defendant) is arduous, mind-numbing work. It required constant attention-to-detail, endless patience and a level of determination that very few people nowadays are willing -- or able -- to put forth.
Before I go further, let me pay tribute to these intrepid souls:
@Arazel50 @Avonsalez @buildthewall_20 @damartin32 @emarie1225 @KathyMicale @LemboPhil @MScipio_African @t193931 @TanHaley @Tspinnerchaser and @vstil
These folks published not only a listing of additional Sealed Cases, they also published the actual printouts from PACER using a Google Drive to make the proof available to the general public!
The result of their work:
They uncovered a staggering 4,289 Sealed Cases in all 94 federal districts in the USA!!!!!
So on that same day, I assembled a story USING THEIR WORK. I was so impressed, so overwhelmed by the enormity of what they uncovered, I just HAD to spread the word. I published an Update to this ongoing tale titled
UPDATED 9:41 AM Tuesday: 4,289 SEALED Federal Indictments/Cases in All 94 federal districts: HISTORIC!
But when I published the story, I made an error that I shouldn't have: I omitted the fact that the research was THEIRS. I should have given them credit and didn't. For that, I am sorry. I know they don't have to accept my apology, but I feel that I HAVE TO offer it.
Which brings us to today, December 31, 2017. The Twitter Squad listed individually above, has done it again: They have updated their research and determined that, from October 30 through December 22, 2017, there are now 9,294 total SEALED federal cases/Indictments in all 94 federal districts.
Here is a graphic of where the sealed cases exist: (Click image to enlarge)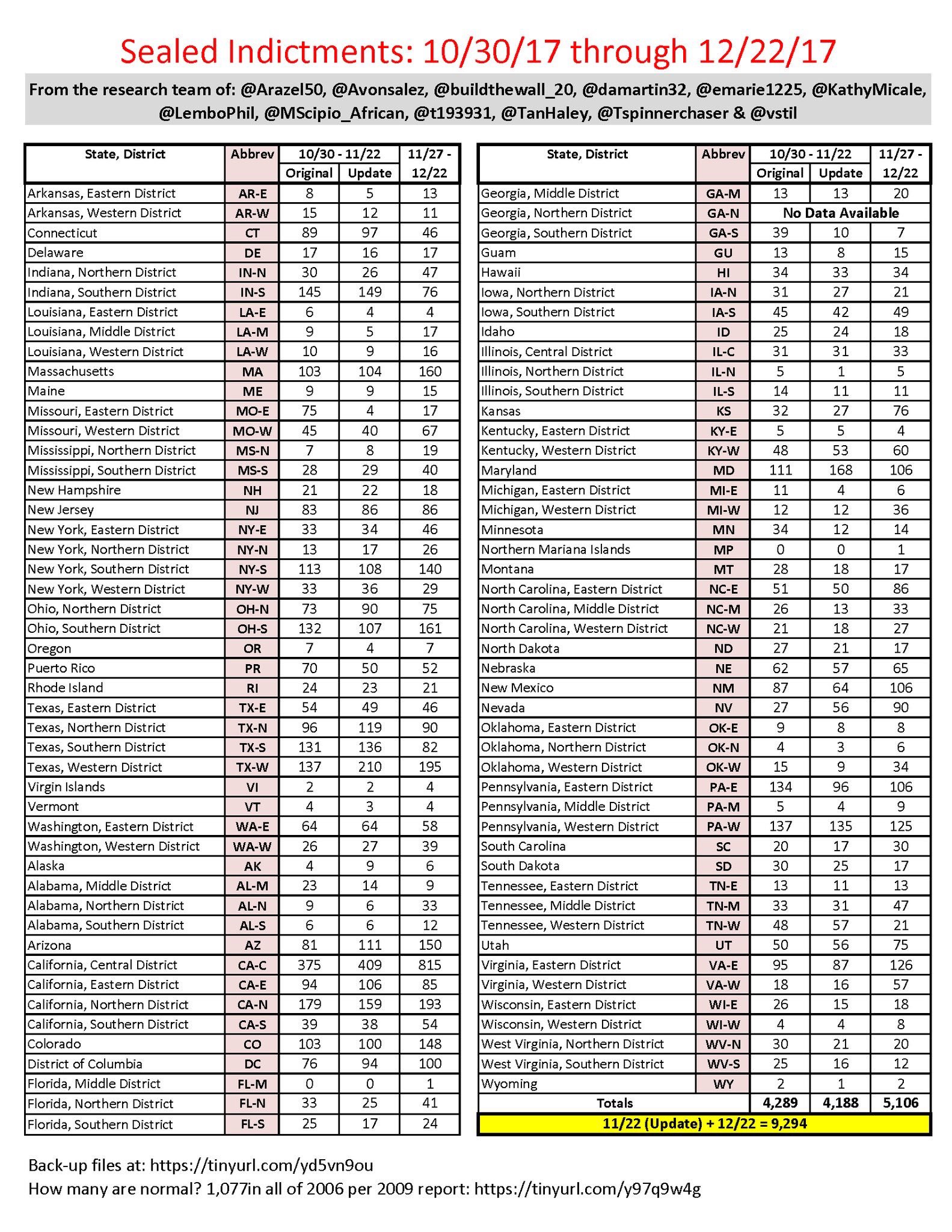 Looking at the very bottom of the image above drives home the staggering nature of what we're all now seeing: How many "Sealed" Cases/Indictments are "normal?" 1077 in the year 2006, as determined by a report on such cases issued in 2009 at the URL shown above.
Intel Info
I took a large part of today reaching out to numerous former colleagues in both law enforcement and Intelligence. The "Skuttlebutt" is that many of these cases are gang-related but a "major portion" of the Sealed Cases deal with
"an elite pedophile ring involving elected officials at the federal and state level, well-known figures in the Entertainment industry (Hollywood)."
Even more startling is that at least one of the federal Indictments is allegedly against an elected official (and several other persons) for "Espionage"- another Indictment is against several federal officials and other persons for "Money Laundering", another Indictment is allegedly against "at least one US Senator" for alleged involvement in "Cocaine smuggling" and another Indictment allegedly against another federal official is for "
Conspiracy to commit murder and facilitation of murder."
Of course, this is all "skuttlebutt." Rumor. Unsubstantiated by any factual record because to have or reveal any factual record while a case is sealed, would be a Contempt of Court at least and a federal crime at worst. So until such time as these cases are UNSEALED, we will have to wait to find out the actual accusations.
The strange thing about "skuttlebutt" is how often it tends to turn out true. Rumors spread for a reason. I have a sense that a lot of these "rumors" are probably based on facts. Time will tell.
My thanks to the Twitter Squad for their patriotism, integrity, and hard work. They are fine Americans doing a hard job for no pay and it is right and proper they be recognized and congratulated for their accomplishments. I for one, salute them all!