One picture is worth a thousand words.How much is a dozen photos worth?
As has been pointed out all the old, multi-year ice is being pushed down to Greenland and the Canadian Arctic while the remainder of thin ice is being fractured and being pushed around by ocean curents and wind.
The denialists are getting desperate.
I had a comment today from one saying that the 2012 melt exceeded this year's.
Apart from the claim to being psychic it's amazing that this denier has to resort to comparison with the lowest sea ice extent on record.
What these idiots can't recognise is that the situation is very different in that there is very little multi-year ice left and ice in proximity to the Pole is fracturing and subject to ocean currents and winds that are affecting the area as we speak.
Whilst it takes a lot of heat to melt the ice once we get to this stage it doesn't really matter.
Barring miracles it doesn't really matter if there is a blue sea event or not. The ice has gone.
Does it matter that we end up with 2 mln sq km of ice instead of 1?
The writing is on the wall and the disappeared multi-year ice is never coming back (barring their favourite fable, a sudden ice age).
Extreme ice on Canada's east coast – in pictures
Warming temperatures caused perilous ice up to eight metres thick to drift south from the Arctic to clog the coasts of Newfoundland, Labrador and Quebec. It trapped boats and ferries as late as June, with Canadian scientists blaming climate change. These dramatic photos capture the rare event.
All photographs by Louis Helbig unless otherwise credited
4 July, 2017
To see photographs GO HERE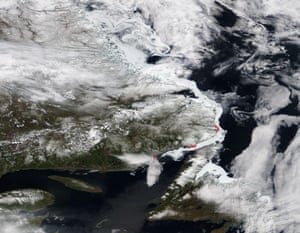 A satellite view of the coast of Newfoundland and the estuary of the St Laurent river on 26 May. Ice can be seen along the coast. Red dots are locations where the following pictures were taken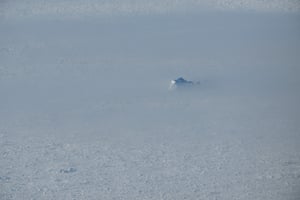 An iceberg in pack ice and shrouded in fog in Alexis Bay, Labrador. Scientists said the unseasonal thick, dense ice was multi-year ice that had travelled down from the high
Arctic.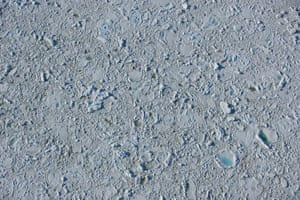 Solid pack ice in Petty Harbour, Labrador. This type of ice had never been seen before in the area. Chunks measured between 5m and 8m thick.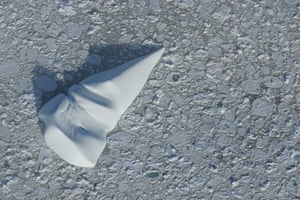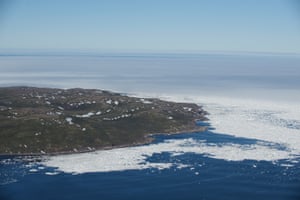 Broken icebergs can travel long distances on ocean currents. This pack ice in the Strait of Belle Isles would have made its way from the high Arctic.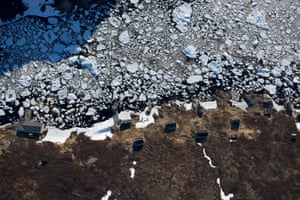 Buildings in Murray Harbour, Labrador show the scale of the ice. Murray Harbour is one of many largely abandoned outports along the Labrador coast that now sees only seasonal visits from former residents.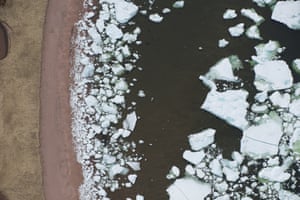 Melting pack ice crowds into a beach on a cove near L'Anse-au-Loup, Labrador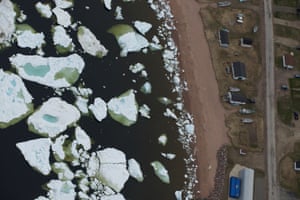 Buildings in L'Anse-au-Loup look out over the pack ice flow.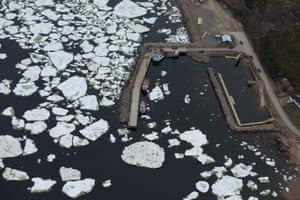 Fishing boats at L'Anse-au-Loup blocked by pack ice.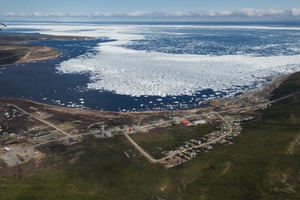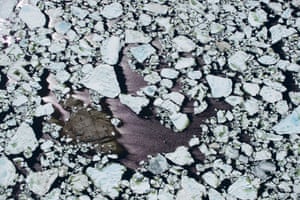 Pack ice flowed south from Labrador to blockade La Tabatière, Quebec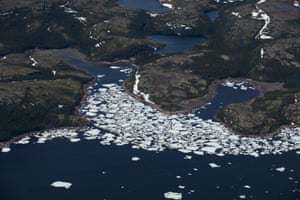 La Baleine, Quebec, was the southernmost community to be blockaded.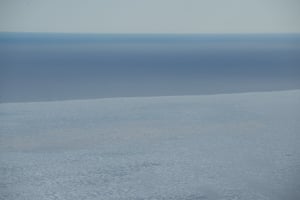 Pack ice in Strait of Belle Isle near Blanc-Sablon.