Van rams into people on London Bridge, police on scene – reports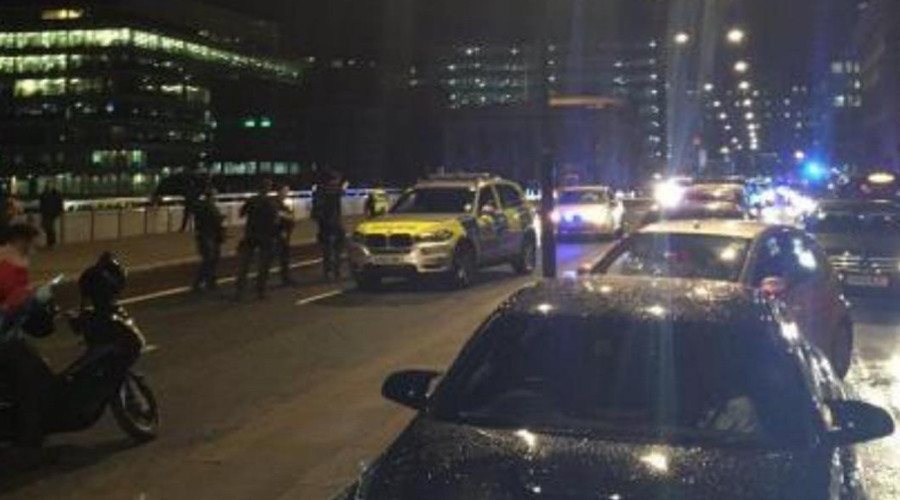 British police said they are dealing with an incident on London Bridge after reports of a van hitting multiple people there.
Van drove into people on London Bridge, this is happening now. Really hope all are ok. We are in the middle of it.
#londonbridge
#london
Police cars, ambulances and helicopters have arrived at the scene, according to various eyewitness reports on Twitter.
The Metropolitan Police said they will release further information after making sure it is "accurate," following social media reports that there was an attacker with a knife and gunfire heard in the area.
Conflicting accounts claimed that between one and three attackers jumped out of the van after it hit people and proceeded to stab people.
At least five people were injured on the bridge, the BBC reported. It was not immediately clear how grave the injuries were.
Police have confirmed they also "responded to an incident" in the nearby Borough Market after reports suggested there was a knife attack there.
Emergency services descend on London Bridge after reports of a van leaving the road and striking pedestrians
This appeared on Facebook
"IT LOOKS LIKE PRESIDENT PUTIN WAS RIGHT WHEN HE ISSUED A STATEMENT 5/26/2017 WARNING RUSSIAN CITIZENS AGAINST TRAVELING TO TO THE UK!
IT IS MAYHEM RIGHT NOW ON LONDON BRIDGE (THE NEW ONE)! ANOTHER TRUCK HAS BEEN DRIVEN INTO PEOPLE ON THE SIDEWALK FOLLOWED BY A MASS STABBING AND SHOOTING INCIDENT! BODIES ARE STREWN EVERYWHERE! I AM BLAMING THE 'RELIGION OF PEACE' AND DOUBT THAT I WILL BE WRONG! FOR MAJOR SHAME!"
'LONDON Bridge has been evacuated amid reports of a van mowing down pedestrians, victims being stabbed and shots being fired.
Armed police are at the scene while people have been seen fleeing the central London landmark near Borough Market amid reports that an officer has been "seriously injured".
Eye witnesses confirm that several bodies are "strewn on the ground" and people are receiving CPR after being stabbed with "12 inch long knives" while a bomb squad has arrived on the scene.'
'Gregor Peter‏ @L0gg0l 2m2 minutes ago
Several London tube stations closed, The Shard skyscraper on lockdown following London Bridge incident. Scary on a warm Saturday night'
'Another caller on @LBC now describing 3 men with long blades jumping out and randomly stabbing people in the area, says it was 'sickening''