Not a squeak about this in the mainstream media. France is deeply divided and whichever way the election goes things do not look too good for France.
Luke Rudkowski of WeAreChange is in Paris and doing some good coverage of events.
Paris divided
In this video, Luke Rudkowski and Lauren Southern share what they experienced in Paris during May Day riots.
Many people in France are very angry with the socio-political situation, and these riots are showing everyone how vulnerable the state is.
Luke has been covering protests on the ground for many years, and this was one of the worst he has ever seen.

The day started with many people gathering and waving communist flags, and then the explosions started happening as protesters faced off with police.
It was complete madness with broken windows, mortars, tear gas, stun grenades, and police ablaze- lit with fire bombs
While recording the action, both Luke and Lauren had their phones knocked out of their hands by protesters who didn't want their violent actions to be documented.
Tensions are extremely high in Paris with the recent terrorist attacks, and currently being less than a week from the presidential election.
In this video, Luke Rudkowski shows us large groups of protesters being herded around by fully geared up riot cops- seen wielding flash bang grenades.
Then, protesters launched mortar fireworks at a group of cops, more than one of which detonated near journalists including Luke, who said his eardrum felt blown.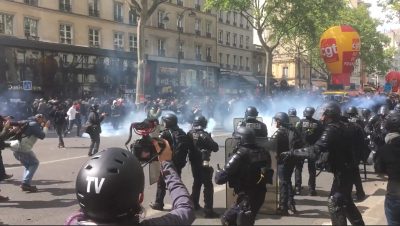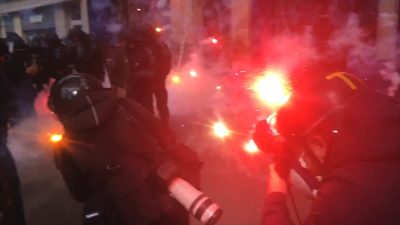 I don't want to tempt fate but perhaps we are about to see Brexit and the US elections all over again? The Guardian would like things to be different.
Macron PLUMMETS in the polls as Marine Le Pen enjoys boost a WEEK AWAY from election vote
Recent moves by Ms Le Pen to appeal to a wider audience seem to be working as she has removed herself as the leader of the Front National party, and rebranded her campaign with the new motto "Choose France".
Pollster Harris Interactive, who correctly predicted the result of the first round, revealed a six points slip by Mr Macron since last Sunday.
Ms Le Pen said: "The country Mr Macron wants is no longer France; it's a space, a wasteland, a trading room where there are only consumers and producers."
The latest polls were conducted prior to the announcement that defeated first round presidential candidate Nicolas Dupont-Aignan, would be Ms Le Pen's prime minister if she wins the presidency.
Marine Le Pen, French National Front (FN) political party leader and candidate for French 2017 presidential election arrives at her campaign headquarters in Paris
French presidential election candidate for the far-right Front National (FN) party Marine Le Pen arrives to visit the marketplace in Rouvroy near Henin-Beaumont, northern France, on April 24, 2017
Brigitte Trogneux watches her husband casting his ballot in the first round of 2017 French presidential election at a polling station in Le Touquet
Mr Dupont-Aignan's policies are seen as less extreme than her own, despite being eurosceptic and a longstanding critic of the eurozone.
The French media reported it represented an important move to grab moderate voters and could prove a decisive decision during the election on May 7.
Marine Le Pen advisor insists she will BEAT Macron
Mr Dupont-Aignan and Ms Le Pen, in a joint statement on Saturday, said that "the transition from the single currency to the European common currency is not a prerequisite for any economic policy".
The presidential candidate denied that her position on the euro has changed. The former Front National leader said: "I have been calling for the transformation of the single currency to the common currency for quite a long time, so there is no contradiction in that."
The Harris Interactive poll places Mr Macron on 61 per cent and Ms Le Pen on 33 per cent.
Robert Ménard, the mayor of the town of Béziers in the south of France who was elected with Front National support, said: "It's very good news. It proves that she has finally understood.
"
To win an election it's necessary to assemble and gather first in your own camp. For the Front National, that's the right."
Political Science Professor Douglas Webber said: "It would be almost impossible for the EU to survive if Marine Le Pen should win the up-coming French Presidential elections, and subsequently win a referendum to withdraw France from it."
Accroding to the Guardian Macron is going to win. Why? Because he HAS to win accordign to them.
Defeating Marine Le Pen is not enough. The French centrist must build a coalition to re-unite his divided country
Emmanuel Macron, not yet 40, seems to be on course to become the next French president. Many signs point to a comfortable victory in this Sunday's run-off against the far-right Marine Le Pen. The polls give him a strong lead, although it has narrowed. Many mainstream politicians, left and right, have endorsed him, including former foes within the Socialist party and also the tiny Communist party. Much of France finds his opponent repugnant. He has strong support in almost all of its large urban centres. His score in the first round was encouraging. But he can take nothing for granted.