That was a super quick flip-flop and surrender to the neo-cons and the Deep State. All it took was a False Flag so that was so obviously and patently NOT anything to do with Assad.
You can now say goodbye to
the
Donald Trump of the election campaign or even recent weeks. He has been captured and the Deep State gets what it wants - and more
U.S. WEIGHS "SATURATION STRIKE" AGAINST SYRIAN GOVERNMENT IN RESPONSE TO CHEMICAL ATTACK
The Pentagon has developed plans for an airstrike against Syrian government targets in response to this week's apparent chemical attack by Syrian government forces, according to two U.S. military officials.
Secretary of Defense James Mattis will present the proposals to Donald Trump later today at the president's Mar-a-Lago estate in Florida.
One of the proposals drawn up is a "saturation strike" using dozens of cruise missiles designed to hit Syrian military targets —including military air fields — in an effort to limit future Syrian Air Force attacks on rebel positions, according to the two U.S. military officials.
The officials asked for anonymity to discuss classified plans.
The proposed strike would involve launching Tomahawk cruise missiles to overwhelm Russian air defense systems used by the Syrian military. The Russian government currently helps maintain the air defense sites and advises the Syrian military.
According to both U.S. military officials, the current proposal would likely result in Russian military deaths and mark a drastic escalation of U.S. force in Syria.
One U.S. military official said the decision to allow the strikes, which would kill Russians, signals a significant change in policy by the Trump administration. A decision by Trump to go forward with the plan would be a reversal from the Obama administration, which denied multiple air strike proposals that would likely cause Russian personnel casualties in Syria.
The Bashar al-Assad government placed many of its air defense systems in civilian areas, putting Syrian civilians at risk, according to the U.S. military and intelligence sources.
President Trump said yesterday that the Syrian government "crossed many, many lines" by conducting an apparent chemical weapons attack in Idlib on Tuesday. The attack has killed as many as 100 Syrians.
The proposed airstrike was prepared by U.S. Central Command, which oversees U.S. military operations in Syria, where a civil war has resulted in an estimated 500,000 Syrians killed, millions displaced, and an ongoing refugee crisis.
Neither the Pentagon nor CENTCOM responded to requests for comment.
Trump Discussing Options for Attacking Syria
Congressmen Informed that Trump, Mattis Are Discussing Options
by Jason Ditz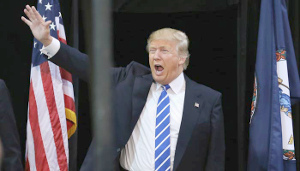 Trump is said to be discussing the different options on such an attack with Secretary of Defense James Mattis, and that he is likely to rely on Mattis' judgement on the matter. Officials say the Pentagon has had such plans ready to go for quite some time.
The shift in Trump Administration policy is publicly being justified by a bombing attack in northwest Syria Tuesday, allegedly a chemical weapons attack. President Trump insists Syria has "
crossed many lines
," and is insisting that his position on Syria has changed, adding that "
I now have responsibility when it comes to Syria
."
US, British, and French diplomats are once again pushing for UN action against Syria now, though a Russian veto at the Security Council is assured, with Russian officials saying the resolution is based on "
fake information
." US officials are already looking beyond the UN and threatening unilateral action.
All of this sounds remarkably familiar to the statements by US officials when the Obama Administration was planning to attack Syria, and while it's not clear President Trump is willing to risk war with Russia by launching such an operation, Secretary of State Rex Tillerson's warning that
Russia needs to reconsider its continued support
for Syria, suggesting that at the very least the administration is fine with continuing to raise tensions with Russia over the matter.
The gas attack incident, however, still has a lot of questions, with the Organization for the Prohibition of Chemical Weapons
still just starting to probe the incident,
and is well short of assigning responsibility. US officials, along with British and French officials, immediately had a complete narrative fitting with their interest in moving against Syria, and are refusing to consider any possibility that runs counter to that, including Russia's suggestion that a
conventional air strike had caused a leak in a rebel chemical
cace.
The Pentagon
claimed
they'd detected the bombs on radar and confirmed they were from a Syrian warplane. Of course, because chemical and conventional bombs don't show up differently on a radar, this still does not discredit Russia's version of events.
The shift in US policy, however, really began before the alleged gas attack even took place, as in the days ahead of it, officials were again
demanding
Assad's ouster, and rebel officials were reporting that the previously halted CIA
arms shipments had been resumed recently
. This is just serving as a justification for being more public with it, and hyping a war of regime change.
Obviously, all of the same problems with the US moving against Syria militarily, which Trump pointed out in presidential debates, are still problems, and that may ultimately deter an American attack. Either way, the Trump Administration is looking to rebrand their official stance as a hostile one, and one which is likely to please other NATO members, who see it as a chance to forestall any normalization of US-Russia ties.
Russia Prepares for US Strike on Syria
The Russian military moves into a high state of alert as the US considers its response to the Sarin gas attack that was allegedly carried out by the Syrian military. Evidence proved that in 2013 that Syria was not responsible for the gas attack and evidence has surfaced already that seems to once again point to Syrian Rebels gassing their own people.
Links: