Massive 7.2 quake off Fiji triggers tsunami warning within 300km radius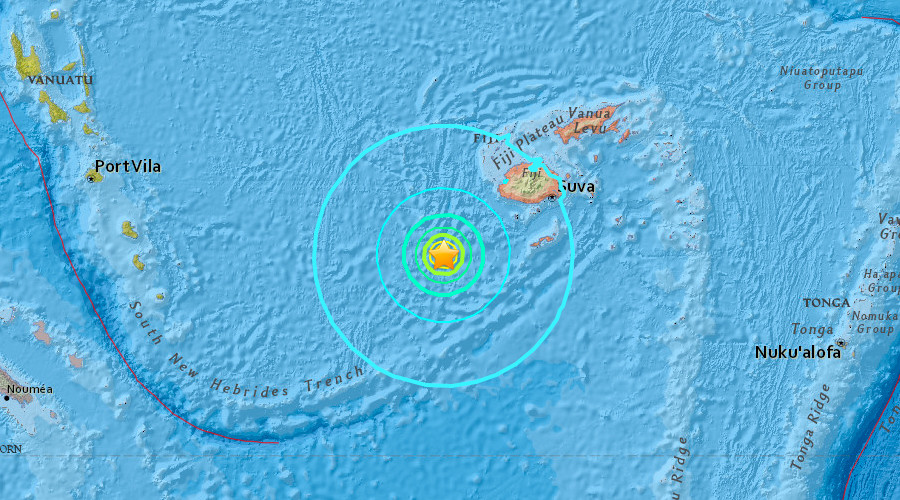 © earthquake.usgs.gov / Reuters
An earthquake with a preliminary magnitude of 7.2 has struck off the coast of Fiji, according to the US Geological Survey.
The quake centered some 221 km southwest of Nadi at a depth of 15.2 km, the USGS said.
Tsunami waves are possible for coasts located within 300 kilometers of the earthquake epicenter, the Pacific Tsunami Warning Center has warned.
The PTWC stressed that based on available data, there is no tsunami threat to Hawaii and only
"parts of the Pacific located closer to the earthquake"
are at risk.
Tsunami waves, according to the PTWC, are expected to reach Suva, the capital of the South Pacific island nation of Fiji at 10:45pm GMT. However, the first wave might not be the strongest one and the time between wave crests can vary from 5 minutes to an hour, while the
"hazard may persist for many hours or longer after the initial wave,"
the PTWC explained.
"

Persons caught in the water of a tsunami may drown... be crushed by debris in the water... or be swept out to sea,"
the centre warned.
The population of the Greater Suva urban area was 172,399 people according to the 2007 census.
Meanwhile, Fiji's southern neighbor New Zealand said there is no tsunami threat to their nation.