Soros hacked, thousands of Open Society Foundations files released online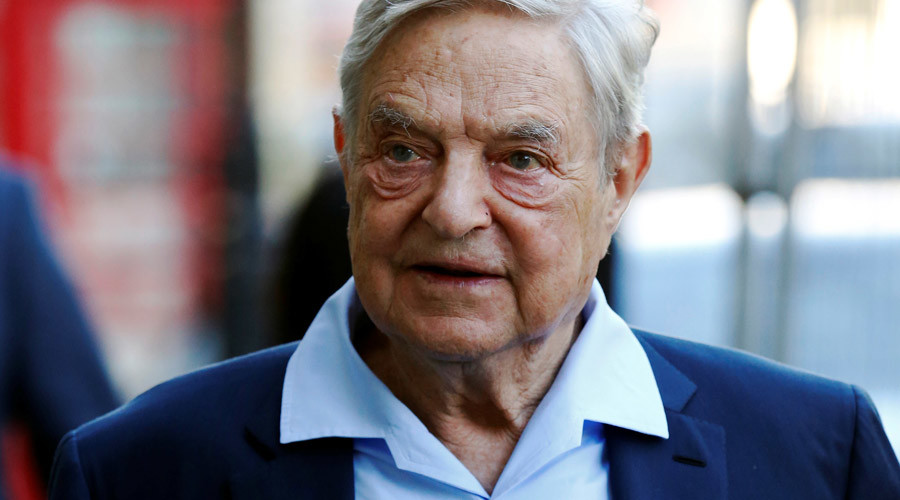 2,500 files from the raft of organizations run by billionaire George Soros have been leaked by hackers.
Saturday's leak, published by
DC leaks
, includes hundreds of internal documents from multiple departments of Soros' groups, predominantly the
Open Society Foundations.
Ignore the riots, Soros just got hacked and leaked!
#
SorosLeak
(I'd post the link but Twitter won't allow it - google it!)
The files are grouped into sections such as geographical region, the World Bank and the President's Office, and cover the period from 2008 up until 2016, according to
The Daily

Caller

.
They reveal work plans, strategies, priorities and other activities by Soros, and include reports on European elections, migration and asylum in Europe.
DC Leaks
claims to be the work of American activists who want to present the truth about the
"US decision-making process as well as about the key elements of American political life."
US security experts however are blaming the leak on Russian hackers, according to
Bloomberg
, in a similar reaction seen in the wake of the DNC leaks.
The DC Leaks hackers previously released data from the Open Society Foundations in June, a breach that was reported to the FBI, according to spokeswoman Laura Silber. She said an investigation by a security firm found the intrusion was limited to an intranet system used by board members, staff and foundation partners.
DC Leaks also revealed emails from former NATO general Philip Breedlove which showed he tried to provoke President Obama to start
US conflict
against Russia. Breedlove claimed to CNN in July that the emails were stolen as part of a state-sponsored intelligence operation.
An email leaked by WikiLeaks earlier this week showed Soros had advised Hillary Clinton during her tenure as Secretary of State on how to handle unrest in Albania – advice she acted on.
Soros' Open Society Foundations provides funding to the International Consortium for Investigative Journalists, which came under the spotlight earlier this year after the release of the Panama Papers, which included millions of records from law firm Mossack Fonseca showing how the wealthy are using tax havens.
The Panama Papers leak came under criticism from WikiLeaks, who claimed the US government and Soros funded the project to attack Russia and President Vladimir Putin.
From Bloomberg. "Russian" of course!






Weeks before the Democratic convention was upended by 20,000 leaked emails released through WikiLeaks, another little-known website began posting the secrets of a top NATO general, billionaire George Soros' philanthropy and a Chicago-based Clinton campaign volunteer.
Security experts now say that site, DCLeaks.com, with its spiffy capitol-dome logo, shows the marks of the same Russian intelligence outfit that targeted the Democratic political organizations.
The emails and documents posted to the DCLeaks site in early June suggest that the hackers may have a broader agenda than influencing the U.S. presidential election, one that ranges from the Obama administration's policy toward Russia to disclosures about the hidden levers of political power in Washington.
It also means the hackers may have much left in their grab bag to distribute at will. The subjects of the DCLeaks site include a former ranking intelligence official who now works for a major defense contractor and a retired Army officer whose wife serves on the USS Nimitz, the nuclear-powered aircraft carrier. Some of the emails go back years.
Open Society Foundations, the Soros group, reported the breach to the Federal Bureau of Investigation in June, said spokeswoman Laura Silber, who added that an investigation by a security firm found the intrusion was limited to an intranet system used by board members, staff and foundation partners.
NATO Commander
The biggest revelation on DCLeaks involves U.S. Gen. Philip Breedlove, who retired in May and was formerly the top military commander of the North Atlantic Treaty Organization. emails from Breedlove's personal account show him complaining that the Obama administration wasn't paying enough attention to European security. ("I do not see this WH really 'engaged'," he writes at one point, later wondering "how to work this personally with the POTUS.") The Intercept subsequently wrote a story about the emails, picked up by some cable news channels, inflaming tensions between the U.S. and its European allies.
Breedlove told CNN in July that the emails were stolen as part of a state-sponsored intelligence operation and didn't respond to a request for comment this week.
The leaks highlight the effectiveness of some of the hackers' tricks, including the targeting of private e-mail accounts to gather sensitive military and political intelligence. DCLeaks also offers some insight for investigators on what appears to be the hackers' early missteps and ad hoc approach.
Harried Schedule
A cache of hacked Google emails from a Clinton volunteer, for example, doesn't add up to much: They purport to be from the account of Sarah Hamilton, who works for a public relations firm in Chicago and volunteers for Hillary for America, and show little but the harried schedule of the campaign staff. Hamilton didn't respond to a request for comment.
Similarly, a trove of "redacted" documents from the William J. Clinton Library were declassified and have been publicly available on the library's website for several years, a spokeswoman for the library said.
"
It really looks like the hackers tried a couple of things that just weren't really working before they hit on using WikiLeaks," said John Hultquist, the manager of cyberespionage intelligence at FireEye Inc. "With this earlier stuff, it looks like they were experimenting."
Describing itself as the work of American hacktivists, DCLeaks.com was registered in April, and many of the documents were posted in early June. A DCLeaks administrator, who identified himself by e-mail as Steve Wanders, didn't respond to written questions, including why much of the material focuses on Russia or Russian foreign-policy interests.
The site seems designed to cater to the U.S. media's voracious appetites for leaks. It has related Twitter and Facebook accounts that push out nuggets from purloined documents and that suggest angles journalists might pursue.
The Russian government has dismissed the idea that it was involved in the hack of the Democratic National Committee, and WikiLeaks founder Julian Assange said there's "no proof whatsoever" that Moscow was involved.
Security experts see links to a larger Russian information operation. That's in part, according to two people familiar with the probe, because the e-mail addresses of Breedlove and Hamilton were among thousands targeted in a several-month campaign that began last fall by a Russian hacking group that cybersecurity firms have referred to by monikers including Fancy Bear, APT28 and the Sofacy Group.
Cyberintelligence firms have linked that hacking group to the GRU, Russia's military intelligence service, whose Moscow headquarters is nicknamed the Aquarium. Three private security groups have linked the DNC incursion to that group and another Russian hacking group associated with the FSB, the country's civilian intelligence agency. U.S. intelligence agencies have told officials they believe the DNC hack was orchestrated by the Russian government.
Guccifer 2.0
A hacker calling himself Guccifer 2.0 and purporting to be Romanian initially took credit for the DNC hack. That claim was viewed skeptically, in part because the hacker didn't appear to speak Romanian. Guccifer 2.0 provided the Smoking Gun with leaked emails from Sarah Hamilton's account, according to a story posted on that site on June 28. FireEye believes Guccifer 2.0 is a cover identity for APT28, Hultquist said.
In the case of Soros's Open Society, hackers stole a trove of documents after accessing the foundation's internal intranet, a system called Karl, according to a person familiar with its internal investigation. On August 3, the DCLeaks.com Twitter account tweeted "Check George Soros's OSF plans to counter Russian policy and traditional values," attaching a screenshot of a $500,000 budget request for an Open Society program designed to counter Russian influence among European democracies.
The hackers may have had access the foundations' network for nearly a year, according to another person familiar with the investigation. Although Open Society has about 800 full-time staff, as many as 7,000 people have access to Karl, which is used to circulate draft program proposals, budgets and other internal documents.
DCLeaks.com provides a possible outline of the successful tactics used by the suspected Russian hackers, like targeting personal e-mail accounts to scoop up sensitive information.
The hackers were apparently reading Breedlove's personal emails that went back to at least 2012, a period when he was among the highest-ranking U.S. military officers and was commander of the U.S. European Command and NATO Allied Command Operations.
Among Breedlove's correspondents, according to DCLeaks.com, were former Secretary of the Air Force James Roche, former presidential candidate Wesley Clark and former Secretary of State Colin Powell. Efforts to contact Clark and Powell weren't immediately successful.
Roche, in an e-mail, said Breedlove is a thoughtful officer who has worked hard for the betterment of the Air Force and his country. Of the Russians, Roche added: "I hope they learned that there are many dedicated officers who are thinking of the best ways to ensure that our country's leaders can't be bullied by Mr. Putin and his associates."