You can say goodbye to any 'balance'or 'objectivity' in the British media. The knives are out.
This is from the remain camp - the Independent
So much for 'taking back control' - it's clear now there was no plan and Boris Johnson has unleashed anarchy
If you sent Captain Baldrick on a four day crystal meth binge and asked him to come up with a plan for the country's future, this, real life, is a more excitable version than what he would have come up with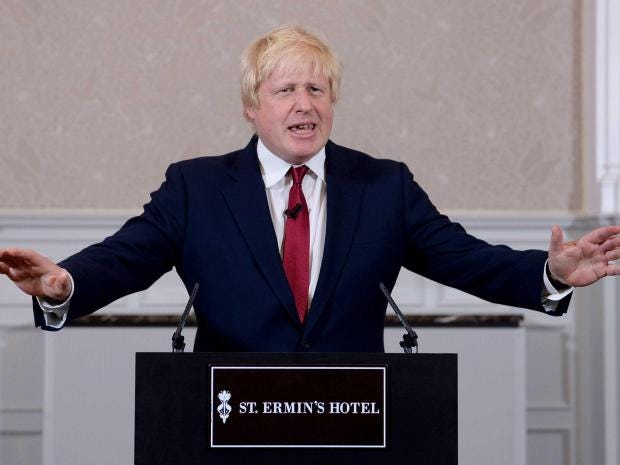 So there was a plan after all. Cameron would promise a referendum on the EU that would definitely happen because he'd definitely win an overall majority and wouldn't have to bin it to keep the Lib Dems happy.
Then his best friend would stab him in the back and join up with his arch rival and make sure he won but not by much but then actually he'd lose and they'd win and he'd resign and then his best friend's wife would accidentally leak an email about a 'Murdoch/Dacre' plot and his best friend would stab the other guy in the back and almost out of nowhere the woman who actually wanted to leave the European Union but said she didn't will actually get the job of taking the country out of the European Union even though the person who made it happen didn't want it to happen unless the person who either did or didn't want it to happen can get Murdoch/Dacre to make sure he makes sure it does or doesn't happen and then all we'll have to worry about is a self-inflicted recession, 800,000 job losses and the breakup of the United Kingdom which no one apart from 52 per cent of the population and Nigel Farage actually wanted
This was the plan. If you sent Captain Baldrick on a four day crystal meth binge and asked him to come up with a plan for the country's future, this, real life, is a more excitable version than what he would have come up with. It is as if three DVD players have all been attached to the same TV and we're all sitting down and simultaneously Macbeth, House of Cards and Brideshead Revisited in all its disjointed, cacaphonic horror. A bad trip from which, as surely as the pound dollar rate, we will all have to crash out of in the end.
Whether Gove's knifing turns out to be a Stop Boris Kamikaze mission cannot yet be known, and besides everything will have changed again in ten minutes, and in the meantime, Labour's slow motion hari kari rolls on, as Jeremy Corbyn takes a break from organising rallies in his own name to telling the party's own panel on anti-semitism that the state of Israel is just like Hamas, Hezbollah, the Islamic State and Al-Qaeda.
Things will have to settle down in the end, but when they do, this might - might - be where they are.
Theresa May will likely be the next Prime Minister. She 'campaigned' for Remain in the form of a single solitary speech, a course of action that is apparently unforgivable when Jeremy Corbyn does it but in this will probably propel her to 10 Downing Street. She says 'Brexit means Brexit' and there will be no general election, even though Article 50 can only be triggered via a parliamentary vote and only 150 Members of Parliament formally back leaving the EU. She will appoint a 'Brexit minister' to her cabinet, which could be anyone but it must be noted that Chris Grayling introduced her speech this morning. He is a man who has three equally bad after dinner anecdotes, one of which involves turning up to an EU meeting in Paris and being made to go in through the back door because no one knows who he was.
Whatever happens next, it's time to move on from the lie about the £350m for the NHS. The biggest lie was the shortest. Take Back Control? This is anarchy
REVEALED: The EU's £1TRILLION plans kept secret until AFTER the referendum
EUROPEAN Union leaders are preparing to unveil a raft of unpopular changes and power grabs in announcements
delayed until after Britain's EU referendum
As Britain voted to leave the EU, Brussels leaders begin plans to set out their new military strategy, believed to include plans for a controversial EU army.
And they will announce how they intend to spend their £1trillion budget for the next seven years this week after 'delaying' their proposals until after the referendum.
They will also present a raft of measures that cover everything from their plans to introduce EU border checks and the accession to the European Convention of Human Rights.
According to insiders, politicians from the 28 member states have been waiting for months as bureaucrats dragged their heels on settling their draft budget and tabling a number of key proposals.
The budget proposals, known as the multi-annual financial framework, were shelved at the last minute last month.
A source said: "Commission officials said there was 'no link' between the delay and the British referendum but parliamentarians see it as an effort to avoid a discussion of EU spending before the crucial vote.
"It had already delayed the presentation of its mid-stream review of the EU's seven-year budget plan until the autumn so as not to fuel British Eurosceptic arguments before the referendum.
"The fact that it's on the table just days after the vote says a lot."
Bulgarian economist and administrator Kristalina Georgieva, currently serving as European Commissioner for Budget and Human Resources, notified members of the European Parliament's budget committee that her team needed more time to complete their proposals blaming the issue on the migrant crisis.
At the time they denied there was any link to the British referendum insisting they had to look at migration-related expenses, including financial assistance to Turkey and Africa before settling on their proposals.
However the committee plans to hold the extraordinary meeting in Brussels just a week after the UK has cast its vote.
And part of that meeting will look at immigration proposals which will also go before the committee.
The EU is proposing to set up an "Entry/Exit System" to register entry and exit data and refusal of entry data of third country nationals crossing the external borders of the Member States to enable police checks.
But the whole delay sparked concerns amongst politicians from member states, including Italy.
"

There's a kind of a deflection of attention to some issues," said Mercedes Bresso, an Italian MEP from the Socialists and Democrats group.
He added the British vote had caused "delay in some debates and that now is not the moment to create more problems."
Also on the agenda post the crucial EU vote is a proposal for new EU guidelines on labour rules across the Union.
These were supposed to have been introduced by Employment Commissioner Marianne Thyssen in December 2015 but were stalled due to the referendum.
And Eurocrats have been also been stalling EU-Canada and EU-U.S. Transatlantic Trade and Investment Partnership trade agreements which could account for President Barack Obama's intervention in the debate.
While another topic that's set to come back on the agenda is the EU's accession to the European Convention of Human Rights, an international treaty on human rights that includes several European countries but not the EU as a whole.
Prime Minister David Cameron pledged to make sure the UK is exempt from the court's rulings and therefore the decision was knocked off the EU agenda.
A Commission spokesperson said the EU was currently in a "period of reflection" over how to proceed with the accession.
But some in the Parliament's committee on human rights are eager to see the issue debated.
"

The agreement has to be negotiated again," said Cristian Preda, a Romanian MEP on the committee.
"

The accession of the EU to the Convention was seen from the very beginning as a very long process."
EU foreign policy chief Federica Mogherini will present top-secret plans which would see new European military and operational structures, including a headquarters.
Ms Mogherini's proposals say "security and defence is where a step change is most urgent.
"

The EU can step up its contribution to Europe's security and defence.
"Our external action must become more joined up across policy areas, institutions and member states. Greater unity of purpose is needed across the policy areas making up our external action."
However three years ago David Cameron said he would resist such a plan.
He said: "It makes sense for nation states to co-operate over matters of defence to keep us safer.
"But it isn't right for the European Union to have capabilities, armies, air forces and all the rest of it.
"We need to get that demarcation right."
BACKTRACKING Theresa May has already ditched her plans to take Britain out of the European Convention of Human Rights after announcing she is running to become the next Prime Minister.
The Home Secretary's surprise statement comes just one month after she called for Britain to leave the controversial convention.
Last month she said: "The ECHR can bind the hands of Parliament, adds nothing to our prosperity, makes us less secure by preventing the deportation of dangerous foreign nationals, and does nothing to change the attitudes of governments like Russia's when it comes to human rights."
But during her speech yesterday, the MP abandoned her stance adding there was not parliamentary will for the move.
The Tory made two surprise moves during her speech to kick start her Number 10 campaign as she sought to unite the divided Tory party.
Flanked by cabinet colleagues Chris Grayling and Justine Greening, May said she would ditch George Osborne's austerity policies as well as revealing her human rights U-turn.
She said: "While it is absolutely vital that the Government continues with its intention to reduce public spending and cut the budget deficit we should no longer seek to reach a budget surplus by the end of the Parliament."
Mrs May also appeared to hint that the long-term future of EU citizens living in the UK could be in doubt.
She said: "Until a new legal agreement is reached with the EU, which will not happen for some time, the legal status of British nationals living or working in Europe will not change, and neither will the status of EU nationals in Britain."
It comes after the Tory leadership favourite took a swipe at previous Prime Minister hopeful Boris Johnson.
The Home Secretary said: "If you are from an ordinary working class family, life is just much harder than many people in politics realise.
"You have a job but you don't always have job security, you have your own home but you worry about mortgage rates going up, you can just about manage but you worry about the cost of living and the quality of the local school because there is no other choice for you.
"Frankly, not everybody in Westminster understands what it's like to live like this and some need to be told that it isn't a game.
"

It's a serious business that has real consequences for people's lives."