Poll: 29% of Germans Want To Leave EU, 64% Oppose Angela Merkel
Merkel's approval ratings are falling fast, and Germans are starting to doubt the usefulness of the EU
Merkel is paying the price for political weakness, bad decision making, and a complete subservience to the United States. With every payment to Greece and with every refugee crossing into Germany, her political future, along with the entire European Union, is falling into pieces.
Once the darling of Europe, Merkel has steered Germany towards an uncertain future.
Merkel's list of failures are epic:
Poor leadership and management of the Greek bailout

Unwavering support for an illegal, neo-nazi coup in Ukraine

Support for the dismantling of Libya

Pushing for EU sanctions against Russia

Supporting Al Qaeda (and indirectly ISIS) in the push to overthrow Assad in Syria

And her crowning achievement…admission of millions of refugees into Germany
Those refugees are weighing down the German economy with an state commitment to 1.5 million new inhabitants, forcing cuts to necessary social services for an equal amount of German citizens.
The poll was commissioned by German newspaper
Handelsblatt
, and the results for the Chancellor are dismal to say the least.
29% of Germans are in favor of leaving the EU if a referendum were to take place.

Only 54% of voters are in favor of remaining in the EU, with the remainder undecided.

German voters believe Merkel overcommitted national resources to the refugee crisis

Germans are increasingly frustrated with bailing out the continued economic struggles of other EU member-states.
The results come on the back of a separate survey conducted by polling firm Insa which showed 64% of those Germans participating in a survey opposing the once-popular Chancellor Angela Merkel. Discontent with the German leader spreads equally throughout the country, with 63.8% opposing Merkel in the west, and 64.8% in the east, illustrating widespread resentment likely to sabotage the chancellor's hopes for reelection in 2017.
The poll also indicates growing support for the anti-immigration Alternative for Germany (afD) party, a leading alternative to Merkel's conservative Christian Democratic Union of Germany (CDU) party.

A February poll identified the refugee crisis as the chancellor's biggest challenge, with 81% of respondents saying that they did not believe that Merkel's administration had the migrant situation under control.
The situation for Merkel's government looks to worsen in coming months, with the Federal Ministry of Finance (BMF) announcing plans in May to spend $105 billion (94 billion Euros) on incoming refugees over the next five years, an amount that rivals one year of the country's military budget.
The new state expenditures come at a time when record numbers of German children are experiencing poverty, with 1.5 million needing assistance from the government, or approximately 14% of the country's children. Figures from the Federal Employment Agency reflect that every third child living in Berlin is dependent on welfare.
Do you ever think the British would be able to vote to leave the EI in a FREE vote?
Angela Merkel's THREAT: Britain will NEVER get what it wants OUT of the EU if it leaves
ANGELA Merkel waded headfirst into the Brexit debate by warning Britain it "won't get a good deal" if people vote to leave the European Union on June 23.
The German Chancellor said her country "works well" with the UK in Europe, and warned that our influence will be diminished if we quit the 28-nation bloc.
But senior Eurosceptics said her comments betrayed the "panic" engulfing David Cameron's 'Project Fear' camp, adding that she should have stayed out of the democratic debate.
Mrs Merkel's bombshell intervention comes as the latest polls show the two sides neck and neck, with the Leave campaign building huge momentum over the last week.
Speaking to reporters in Berlin yesterday the beleaguered German leader - whose popularity has plummeted over her disastrous handling of the migrant crisis - said Britain staying in the EU would be "for the benefit of all of us".
But Boris Johnson said her remarks show 'panic' has set in among the Remain camp
And in a thinly veiled threat to voters she said that countries outside the Brussels club "never really get a good result in negotiations" - a proclamation that echoes Barack Obama's claims Britain would be "back of the queue" for a trade deal.
Mrs Merkel said: "Obviously, it is up to the citizens of the UK themselves how they wish to vote on the upcoming referendum. I've said repeatedly before that I personally would hope and wish for the UK to stay part and parcel of the EU.
"We work well together with the UK particularly when we talk about new rules for the EU.
"We have to develop those together with the UK and whenever we negotiate that, you can much better have an influence on the debate when you sit at the bargaining table and you can give input to those negotiations and the result will then invariably be better rather than being outside of the room.
"It would be not only be in our interest but it could also be in the interest of Britain when it can bring its whole political weight to the negotiating table as part and parcel of the EU."
But her comments were immediately leapt upon by Eurosceptics, who branded her the latest Euro elite stooge drafted in by Mr Cameron to try and scare British voters.
Boris Johnson said the 'Project Fear' doom mongers had "hit the panic button" and called in Mrs Merkel amid a groundswell of support towards voting for Brexit.
And Labour MP Kate Hoey, who is campaigning to leave, said the German leader would be "well advised to stay out of what is a very, very important vote for British democracy".
She blasted: "It is in Germany's interests for the UK to stay in. That doesn't mean that it is in the UK's interests.
"I really don't think that Angela Merkel telling the British people how they should vote in a democratic referendum in three weeks time will affect anyone's vote.
"We can do extremely well outside the European Union - we don't need to be in the single market, other countries trade with the European Union and are not in the single market. We are the fifth largest economy, we can look outwards."
Mrs Merkel's intervention comes just days after Bundestag sources indicated that the Chancellor was unlikely to stick her nose into the Brexit debate.
The German leader has become a figure of ridicule across the globe - and not least in her own country - for her disastrous handling of the EU migrant crisis.
Her comments are the latest doomsday message from EU leaders who are increasingly worried about losing the £350 milliongross figure that Brussels syphons off from British taxpayers every week.
On Wednesday, Dutch PM Mark Rutte warned Brussels would look to take revenge on Britain if we were to implement a points-based immigration system.
And Spanish PM Mariano Rajoy said that the consequences of an exit vote would be "very negative for British citizens", ludicrously claiming UK passport holders may no longer be allowed to travel to the continent.
An American-centric view of Europe
Europe Braces for More Jihadist Attacks: "Another Attempted Attack Is Almost Certain"
Sports stadiums and big music events are especially vulnerable:

"This is where you put a small town into a small area for a couple of hours." — Neil Basu, deputy assistant commissioner of the Metropolitan Police, London.

"We know that the Islamic State has the European Championship in its sights."

— Hans-Georg Maaßen, head of Germany's domestic intelligence agency

.

According to Patrick Calvar, head of the France's domestic intelligence agency, at least 645 French nationals or residents, including 245 women, are currently with the Islamic State in Syria and Iraq. Another 200 individuals are "in transit," either on their way to Syria or returning to France. Around 244 jihadists have already returned to France.

British police chiefs are struggling to recruit enough officers who are willing to carry a firearm, because many fear they will be treated as criminal suspects if they use their weapon in the line of duty.







"We risk being confronted with a new form of attack: a terrorist campaign characterized by placing explosive devices in places where large crowds are gathered, and repeating this type of action to create a climate of panic."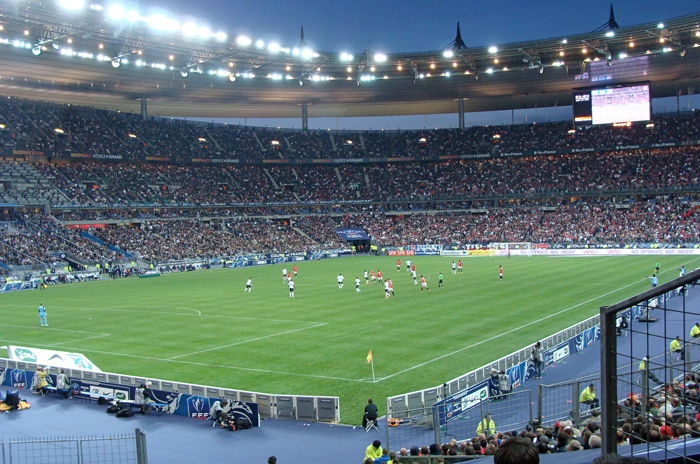 The Stade de France, located in a Paris suburb, was attacked by three Islamic State suicide bombers in November 2015. The stadium will be hosting games during the UEFA Euro 2016 football championships (June 10 - July 10, 2016), and French officials are preparing for possible jihadist attacks. (Image source: Wikimedia Commons/Liondartois)






"These people are perfectly happy to target civilians with the maximum terror impact. Crowded places were always a concern for us, but now they are right at the top of the agenda."
"Being realistic, if a firearms unit was coming from the middle of the county you are still talking about 30 miles away — you are not talking about a few minutes. There would be an understandable delay. If a firearms unit is the other side of the county they could be 70 miles away so you are talking a significant distance. So the only officers that you have available are unarmed and vulnerable officers and they are the officers that are saying to me that in a terrorist situation they would be sitting ducks."






"We have some information reported by the member states that terrorists groups are trying to establish large clandestine stockpiles of explosives in the European Union to be used eventually in large scale home attacks."









"This is the highest terrorist threat we have faced in Europe since the days of 9/11. We have 5,000 Europeans who have been radicalized by the Islamic State and have traveled to Syria and Iraq and engaged in conflict experience. We suspect that about one-third of them have come back: That is our best guess. We don't know for sure...
"Our real concern is that there are other networks, either in Europe already, or who are being trained in Syria for further action. We know that the Islamic State last year took a strategic decision to establish an external operations command, a division to plan exactly the kind of attacks we have now seen. We think that they are still active and planning to do that. The threat is alive and current. Another attempted attack is almost certain. Whether it gets through depends of course. I am concerned about the Islamic State's clearly expressed desire for the spectacular."





"We are alerting U.S. citizens to the risk of potential terrorist attacks throughout Europe, targeting major events, tourist sites, restaurants, commercial centers and transportation. The large number of tourists visiting Europe in the summer months will present greater targets for terrorists planning attacks in public locations, especially at large events."