I'm no great fan of football but what has happened reflects what is happening in Europe and geopolitically.
On the face of it everyone has behaved badly- all the mobs of football fans of whom the British have been the worst - and the Russians face punishment.
The Independent says "Russia fans are serial offenders when it comes to misconduct at games" but apparetnly their own hooligans are lilly white.
George Galloway (correctly) thinks otherwise.
Incident in Stade Velodrome follows worst days of football violence in decades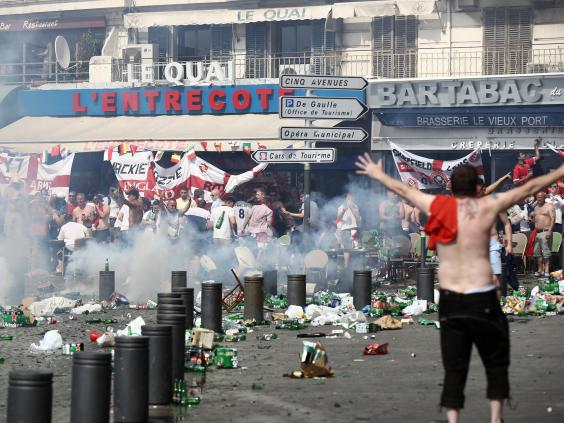 Russia face a Uefa investigation after England supporters fled the Stade Velodrome in Marseille, in fear of being physically attacked by opposition supporters after the worst days of football violence in decades. Women and children were thought to have been caught underfoot in a stampede out of the stadium at the end of England's 1-1 draw, when Russian fans broke from their area of seating and ran at the English supporters. Russia fans are serial offenders when it comes to misconduct at games and the national side have only just avoided an automatic six-point deduction that would have seen them effectively thrown out of European Championships.
Russian Fans Involved in Fight During Match With England to Be Punished
The Russian Football Union will identify and punish those Russian fans, who participated in disorders at the Velodrome stadium in Marseille during the Euro 2016 football match between Russia and England, Russian Sports Minister Vitaly Mutko said.
MOSCOW (Sputnik) — On Saturday, Russian national football team played in a draw with the team of England at the UEFA's Euro 2016 tournaments in France. The game ended with 1:1 score. England's quarterback Eric Dier scored the first goal at the 73th minute of the match. Russia's Vasili Berezutski tied the score in the added time.
​
Following the match, about 30 Russian fans entered the area with England's fans, having broken through a security cordon. The clashes began and the security forces had to separate the groups of fans.
"It is necessary to create hospitality zones for all fans… It is necessary to understand, who arrives [at the championship]. And how do you call the situation, when our fans are sitting and English fans are throwing something to them. Unfortunately, we have fans, who burn and blow up flares. It is not pleasant to pay fines for them. Now we will identify and punish all of them," Mutko told R-Sport agency after the Saturday's Russia-England football match.
UEFA Probably to Fine Russia for Fans' Behavior During Match With England
The Russian Football Union will be probably fined by the Union of European Football Associations (UEFA) over disorders, Mutko added.
"As far as I understand, the UEFA will fine us [Russia]… They [fans] behaved in an improper manner," Mutko told R-Sport agency after the Saturday's Russia-England football match.
Ge

or

ge Galloway has some very pertinent comments HERE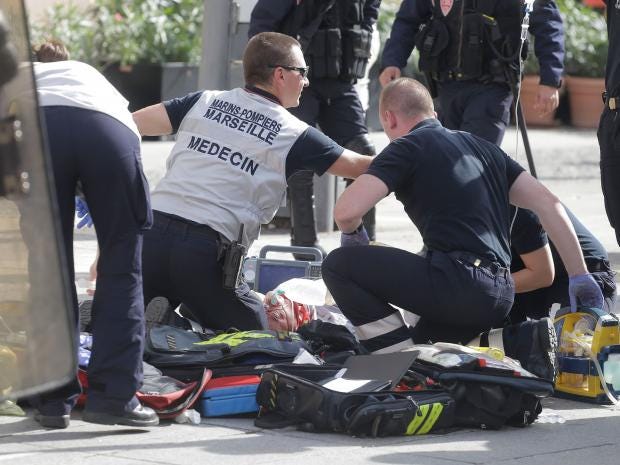 Conflicting reports claimed that English, French and Russian fans were responsible for clashes
The English are not lilly-white
Euro 2016 England Fans Chant About Brexit At Violent Clashes In Marseille
Fans also sang songs about the IRA and German bombers
England fans chanted "fuck off Europe, we're all voting out" between violent clashes with police as the European Championship got underway.
Bare-chested fans also sang songs about the IRA and German bombers being shot down as violence first broke out at around 6.20pm French time outside the Queen Victoria pub in the Old Port district of Marseille.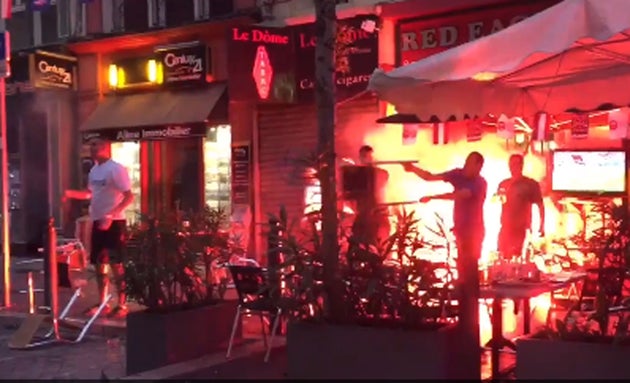 A flare burns and a man throws a chair at the Red Eagle Cafe in the Rue de la Republique, Marseille
Shortly after the final whistle of the France-Romania game, which France won 2-1, hundreds of England fans were surrounded by dozens of riot police in one of a series of tense standoffs, according to the Associated Press.
Fist fights broke out between English, French and Russian-speaking men, and one man was thrown into the harbour after he was beaten to the ground by local fans,the Press Association reported.
Disturbing footage of the ugly scenes showed English fans pelting objects into the street, showering the police with bottles and throwing chairs out of cafes.
Flares were also lit as officers deployed tear gas in an effort to disperse the troublemakers throughout the day.
Police later charged at fans as bottles were thrown.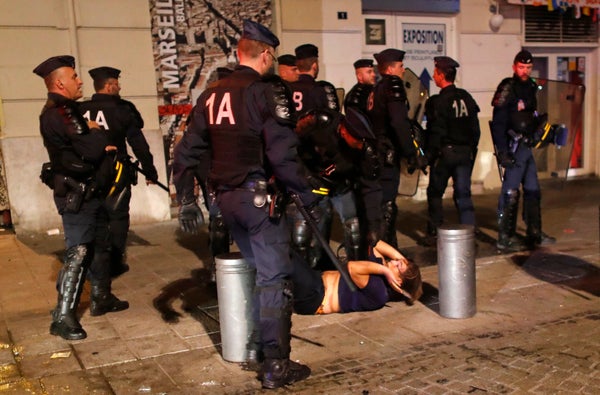 French riot police officers detain a person in downtown Marseille.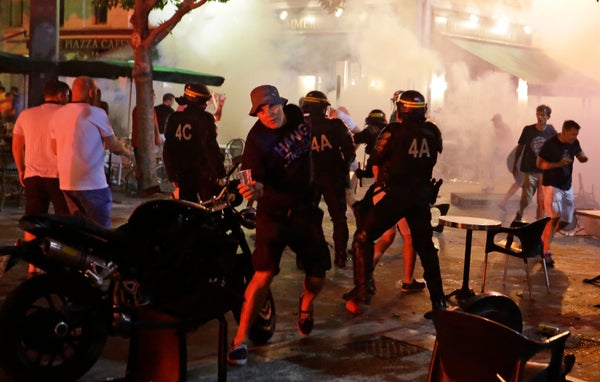 A man takes evasive action during clashes between police and England supporters.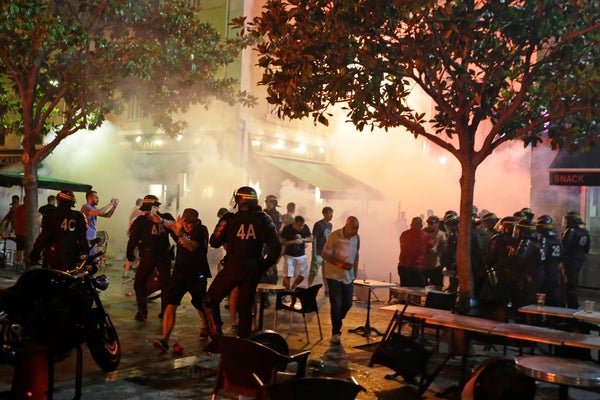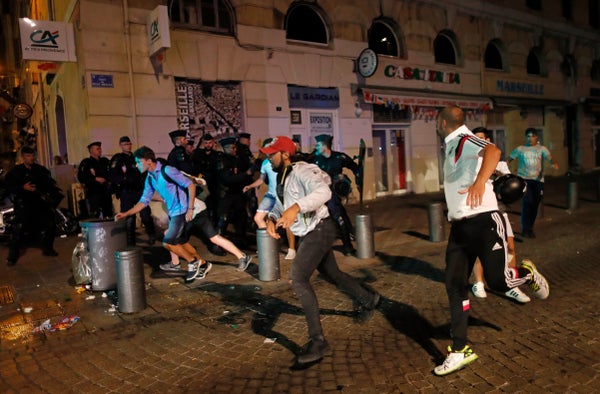 Local youths run after being chased by England supporters in downtown Marseille.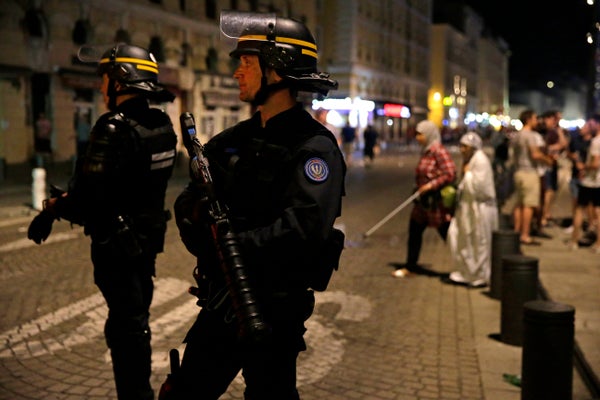 Police stand guard as they patrol the streets.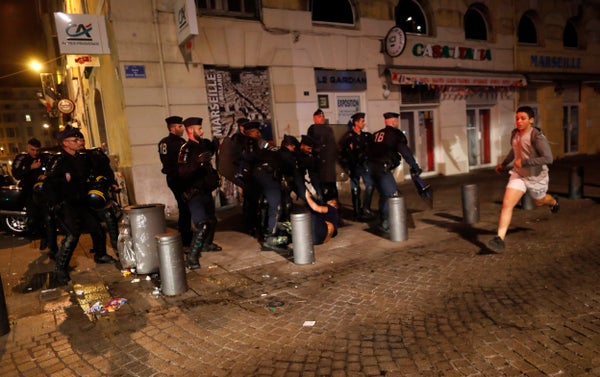 French riot police officers detain local youths.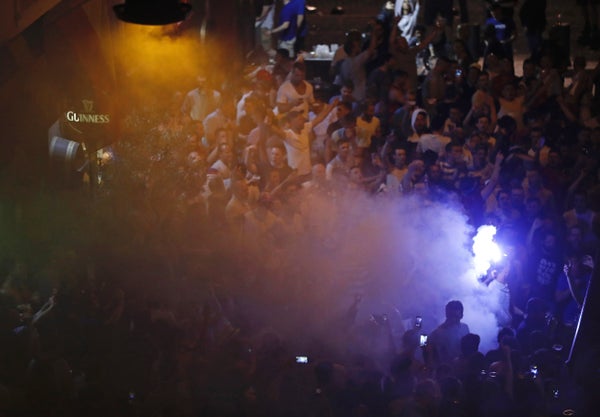 England supporters react as they gather outside a bar.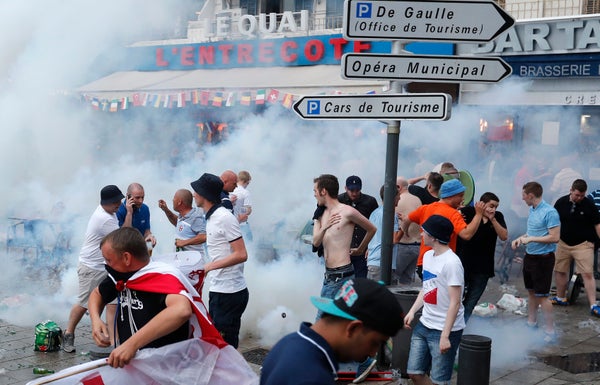 England supporters take evasive action after French police fired tear gas at them.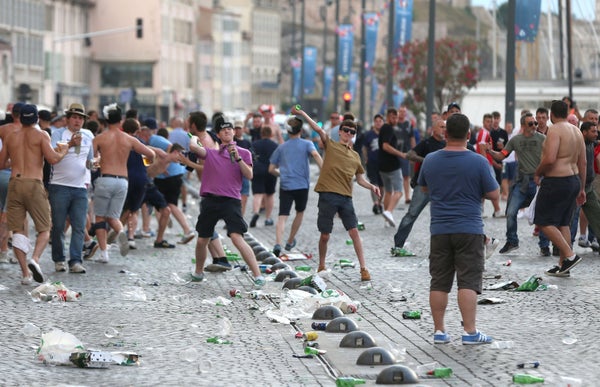 Hundreds of fans were photographed drinking outside pubs in Marseille on Friday before the situation escalated between football supporters and police.
Kevin Miles, the chief executive of the Football Supporters' Federation, said he England fans were drinking peaceably but a group turned out and tried to provoke them.
He told The Guardian: "It was all fine until, our understanding is, a group of around 30 to 40 locals turned up, I think with the intention of provoking the England fans to see if they could get a rise out of them.
"

In those circumstances, it's the police's job to prevent a confrontation and they used French methods to do so, which we're not particularly used to."
Ambulances were seen arriving after police carrying riot shields moved in to separate the two groups and tear gas was used to clear the area.
Bars and restaurants have been banned from showing the games on large TV screens in a bid to stop fans gathering and improve security.
England is set to play their first match against Russia on Saturday evening at 8pm BST.
Update:
BREAKING NEWS: Ukrainian Pravy Sektor Nazis attack England fans in
Marseille
BUSTED: 200 black-clad, knife-wielding Ukrainian thugs brought in aboard Cypriot sardine trawlers to cause mayhem-
This is happening almost as we speak. 200 men wearing black t-shirts, black balaclavas and wielding knives descended on the port area of Marseille where English and Russian football supporters had gathered to drink in the local atmosphere, soak up the local sun and imbibe the local beers.
French riot police fire tear gas at fans in Marseille's Old Port District
Everyone was having a good time, the atmosphere was very relaxed, the English and Russian fans mingling happily, taking photos of each other while exchanging bursts of bawdy singing.
Then, as if from out of nowhere, the horde of black-clad thugs arrived and began attacking English fans. The claim made immediately on the BBC is that these attackers are Russian hooligans. Of course, this is yet more of the sickening demonisation of Russia and all things Russian that we have seen unfold in recent months.
These men were not Russians at all, although they spoke Russian. They are hired thugs drawn from the same pool of neo-Nazi ultra-right thugs from Lvov, members of Pravy Sektor mostly, who were responsible for the Odessa Massacre.
Ukrainian Ultras, specially imported for the purpose
Cypriot-registered sardine trawler owned by a company with at least two former Mossad men amongst it's board members brought the rent-a-mob into the port of Marseille last night, they are probably already on their way back to the Black Sea.
We have been expecting a false flag terrorist attack at Euro 2016, but we were expecting it to take the more usual form of an 'Islamic' terrorist group shooting at people or blowing something up. This is a new play but it is all too clear from who's playbook it came.