The looney Right has dropped out of the race. That leaves the evil Hitlery Clinton (or Bernie as an unlikely longshot) vs. the Donald. .
Ted Cruz drops presidential bid
Ted Cruz bowed out of the Republican presidential race Tuesday following a crushing loss to Donald Trump in Indiana, clearing the path for the real estate mogul to clinch the GOP nomination.
John Kasich, last Republican Trump rival, quits race
Ohio Governor John Kasich has dropped out of the presidential race after struggling to gain traction against Republican front-runner Donald Trump.
"As I suspend my campaign today I have renewed faith, deeper faith that the Lord will show me the way forward," he told supporters in Columbus.
Mr Kasich only won his home state but had hoped to lobby for his candidacy at July's Republican convention.
Mr Trump holds a commanding lead and is closing in on the nomination.
His path to the nomination wide open, Donald Trump faces mutiny in the Republican ranks
Trump acknowledges he will need outside money to fight Clinton in general election
His swift march from fringe curiosity to presidential nominee all but over, Donald Trump was confronting dangerous new challenges as the Republican Party he aspires to lead teetered on civil war and questions emerged about how he will fund his campaign going forward.
Mr Trump's path to the Republican crown was abruptly cleared of all obstacles when, after being soundly defeated in the Indiana primary, Senator Ted Cruz abandoned his campaign late on Tuesday and Governor John Kasich of Ohio signaled his intention on Wednesday also to drop out.
While the hierarchy of the party called for a rallying of support behind Mr Trump, rebellion simmered both in the rank and file of the party and also among some of its more prominent figures. "If we nominate Trump, we will get destroyed.......and we will deserve it," Senator Lindsey Graham of South Carolina, who was among the original 17 Republicans runners.
Mark Salter, a strategist for John McCain on his 2008 White House run said he would vote for Hillary Clinton, the likely Democrat nominee, before Mr Trump calling him "unfit for office," and "temperamentally and morally, a narcissistic bigot". Social media was littered with once die-hard Republicans setting fire to their Republican voter registration cards protesting Mr Trump.
For many who belonged to the #NeverTrump movement, the day of reckoning is here. He has not been stopped. Can they, many of them lifelong Republican operatives or donors, swallow their distaste for him? Steve Schmidt, who was Mr McCain's manager, predicted that "a substantial amount of Republican officials who have worked in Republican administrations, especially on issues of defense and national security, will endorse Hillary Clinton."
It is the scenario that many had feared, a Trump candidacy threatening to tear the Republican Party, also known as the GOP, apart. "Dearly Beloved, we are gathered here today to mourn the GOP, a once-great political party killed by epidemic of Trump," said the Daily News front page in New York with a picture of an elephant, the GOP's mascot, climbing into a coffin.
It is unclear what influence party leaders can have. "Look, we're here. We're going to get behind the presumptive nominee," Reince Priebus, the chairman of the Republican National Committee, attempted before adding weakly: "Something new is probably good for our party."
Whilst he would benefit from party unity, Mr Trump will not beg for it. "I am confident I can unite much of the party," he told NBC, before adding: "Those people can go away and maybe come back in eight years after we served two terms. Honestly, there are some people I really don't want."
One possible golden straw was a statement from Mica Mosbacher, the widow of Howard Mosbacher, who was in the George H. W. Bush cabinet, calling "fellow conservatives to unite and support our new nominee Trump". Ms Mosbacher had previously been a key member of the Cruz campaign's finance team.
The Trump campaign will be looking for other endorsements in the coming days from Republican stalwarts. Although even that necessity was downplayed by Corey Lewandowski, the campaign manager, on Tuesday night. "Of course, we will welcome endorsements of Trump from anyone who wants to endorse Mr Trump," he told The Independent. "But we have been endorsed by 10 million voters and that's what matters."
Ed Rollins, an iconic figure in the party who was Ronald Reagan's 1984 campaign manager, declared he had joined a super PAC supporting Mr Trump, pledging to help raise money for the billionaire to counter the cash advantage he predicted Ms Clinton would have. "They're licking their chops," Mr Rollins says of Ms Clinton's team. "They think they're going to win this thing."
Mr Trump meanwhile acknowledged that he may be obliged to start taking more money from outside donors. He has spent about $44 million of his own fortune getting to this point, but a general election campaign could cost upwards of $1 billion. That risks damaging his carefully cultivated image of being a self-funded candidate, however.
"
I do love self-funding," he said yesterday, but acknowledged there are limits even to his wealth. "Do I want to sell a couple of buildings? I don't really want to do that," he added.
America braces for the ugliest, dirtiest presidential campaign in history
Trump nomination: Republicans burn their voter registration cards in protest
The rise of Mr Trump threatened also to scramble the Republican strategy for keeping control of the US Senate in November. The majority leader, Senator Mitch McConnell, had previously indicated that if Mr Trump were the nominee he would not object if senators running for re-election disowned him. Some Republicans seeking re-election to the House of Representatives may also be tempted to do the same.
There were also signs meanwhile of second thoughts among some senior Republicans about refusing to hold hearings to confirm President Barack Obama's choice for an empty seat on the US Supreme Court, Merrick Garland, for fear that Mr Trump may easily be defeated in November by Ms Clinton who may then nominate someone still further to the left.
Bernie says "don't rule me out"
Fresh off his
victory
in Indiana, Democratic presidential candidate
Bernie Sanders
expressed confidence that he can pull off "one of the great political upsets" in American history to defeat Democratic front-runner
Hillary Clinton
and presumptive GOP nominee
Donald Trump
.
At a Tuesday night press conference, the Vermont senator touted the momentum of his campaign while acknowledging that it's an uphill battle for him to clinch the nomination.
"We feel great about tonight, not only in winning here in Indiana ... but also gaining the momentum we need to take us to the finish line," Sanders said. "I sense some great deal of momentum.
"I sense some great victories coming, and I think while the path is narrow — and I do not deny that for a moment — I think we can pull off one of the great political upsets in the history of the United States and, in fact, become the nominee for the Democratic Party," he continued. "And once we secure that position, I have absolute confidence that we are gonna defeat Donald Trump in the general election."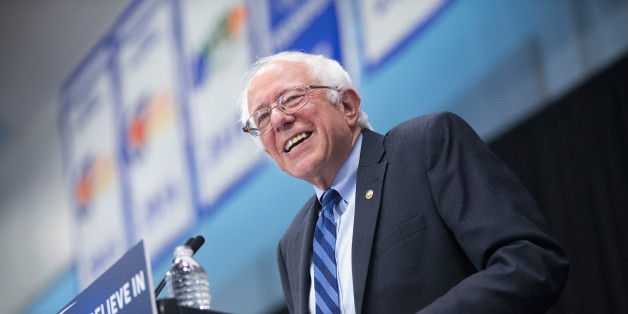 Given the fact that they're all either opportunists or deniers on this front I don't think it makes that much difference - even Bernie
Senator Ted Cruz dropped out of the presidential race on Tuesday, making it almost certain that Donald Trump will win the GOP nomination and face Hillary Clinton or Bernie Sanders in November. For those who've been in denial that this day could ever come, we figured a refresher course on the real estate developer's musings about climate and energy might be in order.
On the basic science: "I am not a great believer in man-made climate change," Trump told the Washington Post editorial board in March. "If you look, they had global cooling in the 1920s and now they have global warming, although now they don't know if they have global warming."
The concept of global warming was created by and for the Chinese in order to make U.S. manufacturing non-competitive.
A panel of scientists ranked all of the then-presidential candidates' public remarks on climate for the Associated Press last November. Trump got 15 points — out of 100.
On climate vs. weather: When it was "really cold outside" last October, Trump tweeted that we "could use a big fat dose of global warming!"
On the kind of climate change he is worried about: "I think our biggest form of climate change we should worry about is nuclear weapons." Interpretation: unclear.
On the Environmental Protection Agency: "We're going to get rid of so many different things," Trump said in a February debate. "Environmental protection — we waste all of this money. We're going to bring that back to the states." But only if he can figure out what the EPA is. Trump said he would eliminate some agency called "Department of Environmental. I mean, the DEP is killing us environmentally, it's just killing our businesses."
On clean energy when campaigning in clean energy-heavy states: Trump told an Iowa voter that he's OK with wind subsidies. "It's an amazing thing when you think — you know, where they can, out of nowhere, out of the wind, they make energy."
On the Paris climate accord signed by 175 countries: "One of the dumbest things I've ever heard in politics — in the history of politics as I know it."
On his hair: "You have showers where I can't wash my hair properly, it's a disaster!" Thanks to the EPA, Trump told a crowd in December, showerheads "have restrictors put in. The problem is you stay under the shower for five times as long."
And Killary (aka Hitlery Clinton)
Colin Powell's Fmr Chief of Staff warns Americans against voting for Hillary Clinton
RT
Hillary Clinton has extended her lead in the race for the White House, beating Bernie Sanders in the latest NBC/Wall Street Journal poll by 30 points in the battle for Democrat contender. But it's her email account that's making headlines here in the UK. Specifically, emails from George W. Bush's secretary of state Colin Powell ahead of Britain joining the American war on Iraq. Afshin Rattansi goes underground with his former chief of staff, retired United States Army Colonel Larry Wilkerson. And, the aunt of Londoner Mark Duggan killed by the police talks about surveillance and the fight against police brutality and corruption. Plus, we look at this week's headlines with a former Lib Dem MP and broadcaster, Lembit Opik.