EXCLUSIVE: Why US Spy Boss is really in NZ
The accusation is that the SIS helped the CIA find 'black sites' or secret prisons in the Pacific for terrorists taken by the CIA from South East Asia
Martyn Bradbury

The US director of national intelligence, James Clapper, is in New Zealand for farewell talks with the Government and spy chiefs.
It had been a secret visit until Mr Key was asked at his post cabinet press conference if he knew why a Globemaster C-17 was parked at Wellington airport.
Mr Key said "Yes, because Jim Clapper's in town."
Mr Clapper is the chief intelligence adviser to Mr Obama and oversees the 16 agencies within the US intelligence community including the CIA and National Security Agency.
Mr Key said Mr Clapper, who has been America's intelligence chief since 2010, was on his way to a Five Eyes meeting in Australia.
"

He is retiring before President [Barack] Obama effectively steps down in 2017 so I don't know if he'll be back in New Zealand again."US spy boss in NZ on secret visit
Sources have told TDB that the real reason Jim Clapper is in NZ is because of Cheryl Gywn's investigation into the SIS for aiding the CIA's kidnapping and torture programme 'extraordinary renditions'. The accusation is that the SIS helped the CIA find 'black sites' or secret prisons in the Pacific for terrorists taken by the CIA from South East Asia.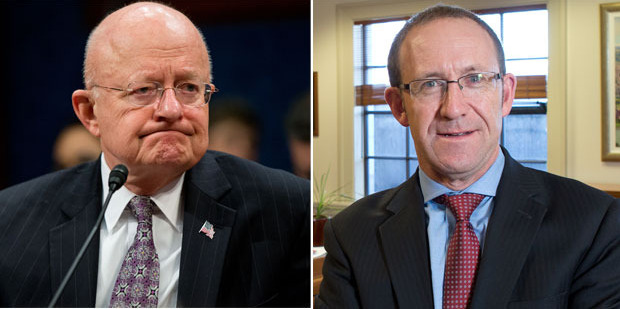 a) some of these would have occurred on Labour's watch
b) there needs to be secret bi-partisan agreement that Cheryl Gywn's investigation into the SIS is as minimal as possible.
Clapper is here to put pressure on Key to turn the inquiry off or bury it. That demands real questions from our mainstream media…
1: How involved were SIS in locating secret prisons in the Pacific?
2: What politicians knew about the SIS helping find these secret prisons ?
3: Were NZ agencies involved in what amounts to war crimes?
4: Did Clapper threaten the NSA software and hardware investment into the GCSB if the inquiry wasn't stymied?
I think another question that needs answering is whether or not the SIS helped target suspects for rendition as well.
Key is lying about the reasons Clapper is really here – it's now time for the media to do their job