Canada poised to pass anti-terror legislation despite widespread outrage
Criticism of anti-terror bill C-51 has united a diverse array of prominent opponents as many fear the legislation creates the potential for a police state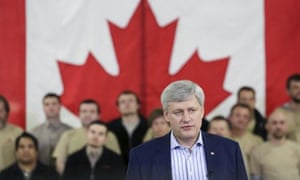 Widespread protest and souring public opinion has failed to prevent Canada's ruling Conservative Party from pushing forward with
sweeping anti-terror legislation
which a battery of legal scholars, civil liberties groups, opposition politicians and pundits of every persuasion say will replace the country's healthy democracy with a creeping police state.
Prime Minister
Stephen Harper
is looking forward to an easy victory on Tuesday when the House of Commons votes in its final debate on the bill, known as C-51. But lingering public anger over the legislation suggests that his success in dividing his parliamentary opposition may well work against him when Canadians go to the polls for a national election this
all
.
The campaign to stop Bill C-51 grew to include virtually every civil-rights group, law professor, retired judge, author, editorialist and public intellectual in
Canada
.
"

The scale of information sharing being proposed is unprecedented, the scope of the new powers conferred by the act is excessive, particularly as these powers affect ordinary Canadians, and the safeguards protecting against unreasonable loss of privacy are seriously deficient," declared Daniel Therrien, Privacy Commisioner of Canada, in a typical statement. "All Canadians would be caught in this web."
"

Stephen Harper is attacking our rights & freedoms," author Margaret Atwood tweeted, urging her local Member of Parliament to "do the right thing and #VoteAgainstC51".
Defending the bill, Public Safety Minister Steven Blaney lashed out against "key misconceptions" promoted by "so-called experts", especially what he called the "completely false, and frankly ridiculous" claim that legitimate protest could be targeted as terrorism.
Blaney and Justice Minister Peter MacKay have described the bill as a "reasonable and proportionate" response to the threat of "jihadi terrorism." The prime minister has derided its opponents as being out of touch with Canadian values.
Hundreds of thousands of ordinary Canadians signed petitions urging the bill be scrapped and took to the streets in a national day of protest last month.
Critics of the legislation say the imminent law gives Canadian spies sweeping new powers to investigate and disrupt broadly defined threats to public safety, with language that makes no distinction between terrorist plots and legitimate political protests and demonstrations. At the same time, it neglects to provide any increased oversight of the country's vastly empowered chief spy agency, the Canadian Security and Intelligence Service.
"

This is not an ordinary bill and this is not about politics anymore," Green Party leader Elizabeth May told the House of Commons last week. "This is about the soul of the country and a question of whether we understand what Canada stands for – for ourselves and what we represent around the world."
Thomas Mulcair, leader of the opposition New Democratic Party, denounced the bill as "sweeping, dangerous, vague and ineffective". But much the same could be said of parliamentary efforts to stop Harper. After promising to support the bill in deference to its apparent popularity, Liberal Party leader Justin Trudeau was easily rebuffed in his call for amendments.
Introduced in the wake of two lone-wolf terrorist attacks, one of which killed sentry Nathan Cirillo at the Canadian National War Memorial in Ottawa, the bill gained widespread initial support among ordinary Canadians. But in the weeks of criticism that followed, the polls turned and a majority began to express opposition.
It remains to be seen whether their anger will survive to make a difference in the general election this October.
France passes new surveillance law in wake of Charlie Hebdo attack
Controversial new bill that allows intelligence agencies to tap phones and emails without judicial permission sparks protests from civil liberties groups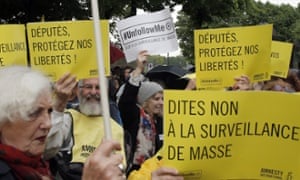 Demonstrators hold placards reading 'Stop to Mass Surveillance', and 'Members of Parliament Protect our Freedom', during a gathering at Invalides, Paris, to protest against the emergency government surveillance law Photograph: Francois Mori/AP
The French parliament has overwhelmingly approved sweeping new surveillance powers in the wake of the terrorist attacks in Paris in January that killed 17 people at the satirical magazine Charlie Hebdo and a kosher grocery in Paris.
The new bill, which allows intelligence agencies to tap phones and emails without seeking permission from a judge, sparked protests from rights groups who claimed it would legalise highly intrusive surveillance methods without guarantees for individual freedom and privacy.
Protesters for civil liberties groups launched a last-ditch campaign against the bill under the banner "24 hours before 1984" in reference to George Orwell's dystopian novel about life under an all-knowing dictatorship. Groups including Amnesty International warned of "extremely large and intrusive powers" without judicial controls.
But despite opposition from green and hard-left MPs, the bill won the overwhelming backing of the majority of MPs from the Socialist and rightwing UMP parties, which said it was necessary to tackle the terrorist risk. The bill was passed in the national assembly by 438 votes to 86, with a handful of no votes from Socialist MPs.
The new law will allow authorities to spy on the digital and mobile phone communications of anyone linked to a "terrorist" inquiry without prior authorisation from a judge. It forces internet service providers and phone companies to give up data upon request.
Intelligence services will have the right to place cameras and recording devices in private homes and install so-called keylogger devices that record every key stroke on a targeted computer in real time. The authorities will be able to keep recordings for a month and metadata for five years.
One of the most contentious elements of the bill is that it allows intelligence services to vacuum up metadata, which would then be subject to analysis for potentially suspicious behaviour. The metadata would be anonymous, but intelligence agents could follow up with a request to an independent panel for deeper surveillance that could yield the identity of users.
Another controversial element is the so-called "black boxes" – or complex algorithms – that internet providers will be forced to install to flag up a succession of suspect behavioural patterns online, such as keywords used, sites visited and contacts made
Surveillance agencies will also be able to bug suspects' homes with microphones and cameras and add keyloggers to their computers to track every keystroke.
The French prime minister, Manuel Valls, defended the bill as "necessary and proportionate", saying that to compare it to the mass surveillance Patriot Act introduced in the United States after the 9/11 attacks was a lie.
He said that the previous French law on wiretapping dated back to 1991, "when there were no mobile phones or internet," and the new bill was crucial in the face of extremist threats.
Pierre-Olivier Sur, chairman of the Paris bar lawyers' association, warned this week that the bill was "a serious threat to public liberties" and would put French people under "general surveillance".
France is monitoring an estimated 1,200 Islamists and about 200 people who have returned from fighting with militant groups in Syria and Iraq. It has earmarked about €425m (£300m) to recruit thousands of extra police, spies and investigators to beef up surveillance and boost national security and intelligence.
The interior minister, Bernard Cazeneuve, told Libération last month: "The measures proposed are not aimed at installing generalised surveillance. On the contrary, it aims to target people who we need to monitor to protect the French people."
The president, François Hollande, has taken the rare step of promising to refer the law to the constitutional council, the country's highest authority on the constitution, to ensure its principles are lawful.
The law will now be examined by the senate.