This is from yesterday's actions.
The people around the world are waking up to climate change – too late, I fear.
How long before we get the civil unrest on the streets that will cause the powers-that-be to roll out their plans to suppress the population?



I don't know whether to be inspired or saddened.


Voices from the People's Climate March: Indigenous Groups Lead Historic 400,000-Strong NYC Protest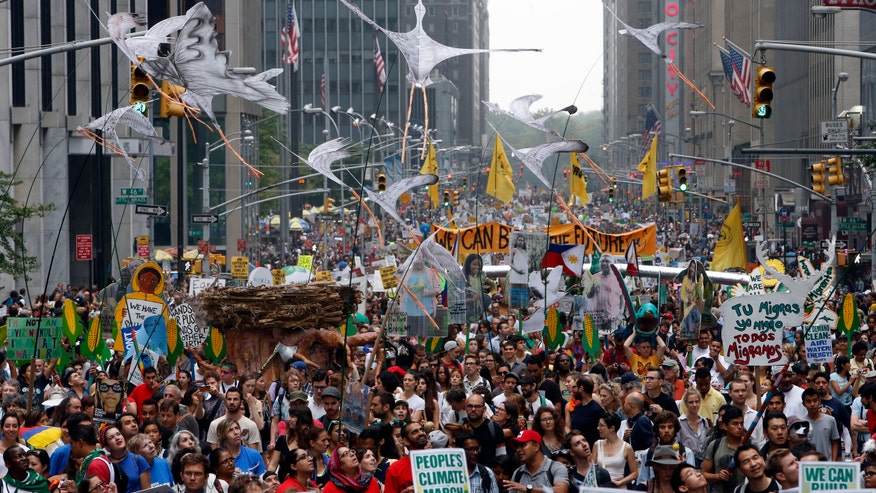 As many as 400,000 people turned out in New York City on Sunday for the People's Climate March, the largest environmental protest in history.
With a turnout far exceeding expectations, the streets of midtown Manhattan were filled with environmentalists, politicians, musicians, students, farmers, celebrities, nurses and labor activists — all united in their demand for urgent action on climate change.
Organizers arranged the People's Climate March into different contingents reflecting the movement's diversity, with indigenous groups in the lead.
Democracy Now! producers Aaron Maté and Elizabeth Press were in the streets to hear from some of the demonstrators taking part in the historic protest.
Singer Angélique Kidjo: The Women of Africa Are Paying the Price of Climate Change
As up to 400,000 filled the streets, Democracy Now! did an exclusive three-hour global broadcast from the heart of the People's Climate March in New York City. We air highlights of the special, beginning with the Grammy Award–winning Béninoise musician and activist Angélique Kidjo.
Anti-Coal Climate Activists March with Massachusetts

District Attorney Who Almost Prosecuted Them
Massachusetts for blocking the shipment of 40,000 tons of coal to the Brayton Point power plant, a 51-year-old facility that is one of the region's largest contributors to greenhouse gases.
But in a surprise move, local prosecutor Sam Sutter dropped the criminal charges and reduced three other charges to civil offenses, calling climate change one of the gravest crises our planet has ever faced.
On Sunday, the activists, Jay O'Hara and Ken Ward, marched with Sutter at the People's Climate March in New York City.
And finally Bill McKibben of 350.org who excells at actions like this one but not at recognising the truth of runaway climate change being a reality
"This is History": People's Climate March Organizer Bill McKibben on 400,000-Strong Turnout
Bill McKibben, co-founder of 350.org and a lead organizer behind Sunday's People's Climate March and global day of action, joins us to reflect on the historic protest. "There hasn't been a political gathering about anything this large in this country for many years," McKibben says. "And I think what it demonstrates is that climate change is at the absolute tip now of people's consciousness."