Hong Kong protests: Chief executive Leung Chun-ying denies Chinese troops will help to quell demonstrations
Tens of thousands of pro-democracy protesters remained on the streets of Hong Kong for a fourth night on Monday, defying calls for them to disperse as the biggest challenge to Beijing's authority in 25 years continued to swell.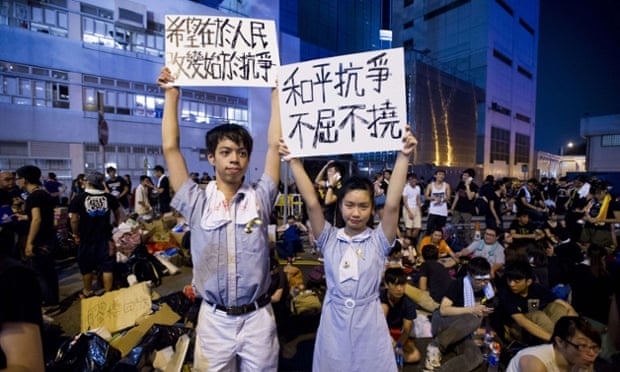 High-school demonstrators protest in Hong Kong. Photograph: Xaume Ollers/AFP/Getty Imag
Pro-democracy campaigners say this will ensure that only those who support the government in Beijing will be allowed to stand. They are demanding a free choice of candidates for the role of chief executive.
Last night the protests had spilt out of the central financial district on Hong Kong island, one of the world's biggest business hubs, and into other key areas. Some banks have suspended trading, shops closed early and some schools will remain closed today.
Police said they used 87 rounds of tear gas on Sunday night in what they said was a necessary but restrained response to protesters' efforts to push through cordons and barricades. They said 41 people were injured, including 12 police officers. Pepper spray was also used and protesters were baton charged.
Last night, however, the riot police were stood down as the use of tear gas appeared to have backfired. The crowds grew as people finished work and joined weary-looking students camped on major roads near the city's government headquarters and in several other parts of Hong Kong.
"

The students are protecting the right to vote, for Hong Kong's future. We are not scared, we are not frightened, we just fight for it," said Carol Chan, a 55-year-old civil service employee who took two days off to join the protests after being angered by the police use of tear gas.
China has called the protests illegal and endorsed the Hong Kong government's efforts to quell them, saying they are undermining the city's image as a safe financial haven. Beijing has taken a hard line against perceived threats to the Communist Party's monopoly on power. This is the biggest challenge since Tiananmen Square in 1989, which ended in a massacre. A similar outcome this time would be a disaster for Hong Kong's reputation and for Beijing. But if the protesters succeed, democracy activists on the mainland will be emboldened.
Hong Kong's chief executive, Leung Chun-ying, was forced to deny rumours on Monday that the Chinese army might intervene. "I hope the public will keep calm. Don't be misled by the rumours," he said.
China has also warned other countries not to interfere, after the UK Foreign Office said it was "concerned" about the violence in its former colony. It called on the authorities to preserve long standing freedoms by a move to "universal suffrage".
Instead of candlelight on Monday night, protesters staged "mobile light" protests, holding up their mobile phones with their screens glowing.
Protest leader Benny Tai, a founder of the Occupy Central campaign, also called on Mr Leung to step down. Addressing crowds on Monday night, he also condemned the use of force on Sunday. "People use peace and hope, while the government used tear gas and pepper spray," he said.
On Sunday night protesters wore rain capes, surgical masks and swimming goggles and used umbrellas to shield themselves from the tear gas and pepper spray.
While many residents support the calls for greater democracy – dubbed the "umbrella revolution" although the crowds' demands fall far short of revolution – not everyone supports the protests.
In an email to the BBC a resident called Cyrus Chiu said: "I am one of the silent majority who would not take part in the riot because Beijing has already made one major concession by allowing the people to vote in choosing our next chief executive.
"

You may argue that only two or three nominees are allowed for us to choose, thus virtually barring any chance for a pro-democracy candidate to be considered.
Live coverage from the South China Morning Post
9.55am: Twitter has put together a graphic showing how the Hong Kong protests have sparked worldwide debate over the last few days. At the peak of the conversation Twitter says there were 12 tweets a second being sent on the Hong Kong protests, as the world watched the territory's civil disobedience movement clash with police.
9.35am: Here are the aircraft flying in formation over Victoria Harbour this morning. They have been identified as Government Service Aircraft, which routinely patrol the area.
9.13am: In Causeway Bay the streets have been cleaned by protesters keen not to leave the site dirty.
A lone protester sitting outside a barricade at the junction of Yee Wo Street and Sugar Street, who gave his name as TK So, 33, said he had remained there all night by himself during the protest so he could alert others if police arrived.
"I want to be here in case the police come, so I can tell everyone else," he said. "Plus I want to let newcomers know - they can sit here too."
So said he had been following the debate on constitutional reform and believed Beijing and the Hong Kong government were deceiving the public.
The Academy for Performing Arts Alumni Association calls for Wan Chai campus to re-open. Association said school premises should be open during class boycott to provide shelter for students but the academy's decision to keep campus locked from Sunday at 5pm till October 2, barring students, teachers and alumni from entering, was unreasonable.
9.01am: At the chief executive's office at Tamar, police officers are guarding the building while journalists are preparing for Leung Chun-ying's weekly briefing before the Executive Council.
Classes in all Wan Chai, Central and Western District schools and kindergartens are cancelled again today. The government has said in other districts schools should "exercise flexibility" for pupils who are late or absent due to traffic problems.
The transport department has said more than 20 minibus routes have been altered or suspended.
8.52am: This is the dramatic moment last night that a car was driven at a group of protesters in Mong Kok. those gathered were forced to scatter as the car sped through the crowd without slowing.
8am: Planes and helicopters spotted flying low over Victoria Harbour. Two helicopters and two planes have been reported. More on this when we have further information.
Meanwhile there are just a few police officers guarding the entrance to Tim Mei Avenue near government headquarters. Metal barricades have been removed and protesters can enter the avenue without police interference - something that wasn't allowed yesterday.
7.45am: Hong Kong is once again waking up to commuter disruption, extended journeys and blocked roads. Many of the overnight protesters have headed home, although organisers are urging them to stay in place until reinforcements arrive.
In Mong Kok hundreds of people remain at the junction of Nathan Road and Argyle Street, with many sitting reading the paper to each other over breakfast.
In Admiralty the crowd is thinning out as many leave for work or school. Organisers are attempting to rally protestersto stay and man the barricades.
The Hong Kong Protest:
What It's All About
Considering that as recently as 3 weeks ago the leader of the Occupy Central movement in Hong Kong decided to throw in the towel, after admitting that his civil disobedience movement's pursuit of democracy had "failed" as a result of waning public support, many are shocked by how aggressively Hong Kong's students took up the baton: almost as if the mystery sponsor behind the ISIS blitz-ascent from obscurity had decided to "destabilize" yet another region. Tongue-in-cheek kidding aside, for everyone confused about the context of this weekend's at time very violent student protests, here is Evergreen GaveKal with its wrap up of the "
Hong Kong Democracy Protests
."
By Tom Holland, of Evergreen GaveKal
The inhabitants of Hong Kong were treated over the weekend to the unusual spectacle of police battling political protesters in the city's streets. Baton charges and volleys of tear gas might be common enough tactics in New York or London, but not in Asia's leading international financial center. The rapid escalation of the protests over the weekend and the police's strong-arm response shocked locals, and triggered a -2% fall in the city's benchmark Hang Seng stock index on Monday morning as investors worried about the impact of continued unrest on Hong Kong's markets, its economy and its future as Beijing's laboratory of choice for China's financial liberalization.
Only a few weeks ago it seemed that Hong Kong's pro-democracy movement was a spent force. After Beijing ruled out open elections for the chief executive of the territory's government, the leader of Occupy Central admitted that his civil disobedience movement's pursuit of democracy had "failed". However, Hong Kong's students and high school pupils failed to take heed. Last Friday a group of around 200 stormed security fences blocking off the 'Civic Square' outside the government's headquarters to stage a sit-down protest against official obduracy.
The heavy-handed police response prompted thousands more protesters to descend on the site over the weekend and on Monday morning the city woke up to find a civil disobedience campaign dismissed as irrelevant just weeks before had paralyzed the area surrounding Hong Kong's government headquarters. With the mood highly febrile ahead of a public holiday on Wednesday to mark the Communist Party's assumption of power in China, the fear is that the crowds of protesters could swell further over the course of the week, prompting an even more uncompromising response from the city's Beijing-backed government.
The worst case scenario—that the Beijing government will deploy the People's Liberation Army to restore order at the barrel of a gun—is extremely improbable.
It would be a public relations disaster for China's leaders. However, it is equally hard to envisage any lasting rapprochement between Hong Kong's pro-democracy movement and the city's government. Indeed, although the protesters' overt cause may be their campaign for free and open elections, many are motivated by underlying grievances both towards the mainland, which they fear is swamping Hong Kong's unique identity and culture, and towards the city's own administration, which they believe to favor the interests of property and business tycoons over the aspirations of local people.
As a result, even if this week's protests end peacefully, the discontent will rumble on. And if slowing Chinese growth and rising US interest rates inflict economic hardship on the city, the dissatisfaction is only likely to mount. In recent years the combination of mainland money flows and rock-bottom mortgage rates—Hong Kong's currency is pegged to the US dollar, so local borrowing costs follow US rates—have propelled the city's property prices to record highs, up 300% from their 2003 low. While any slump would make property more affordable, it would also hammer the balance sheets of the city's middle class property-owners, many of whom are inclined to sympathize with the weekend's demonstrators.
Against that backdrop, an extended campaign of civil disobedience is likely to weigh further on Hong Kong's stock market, already down -8.3% since early September. A new equity trading link between the Hong Kong and Shanghai market, which is due to go live towards the end of October, may not help much. With the valuations on Hong Kong listed-stocks bang in line with their mainland peers, there are currently few arbitrage opportunities to be exploited. And with Beijing's 'mini-stimulus' to support the mainland economy running out of steam and the People's Bank of China resisting pressure for a full-scale monetary easing, the chances that a continued rally in mainland stock prices will support the Hong Kong market look slim.
Finally, some critics have suggested that the weekend's pro-democracy demonstrations could prompt Beijing to choose Shanghai's Free Trade Zone over Hong Kong as the favored venue for its financial liberalization program. Possibly, but one year after it was opened with great fanfare, progress at drawing up rules to govern capital flows in and out of Shanghai's new zone is glacially slow and almost entirely opaque.
The mainland city still looks decades away from mounting a credible challenge to Hong Kong.
Even so, hopes that Hong Kong investors will benefit from a new spate of mainland liberalization measures look exaggerated. With China's growth rate now slowing towards 7%, exposing the vulnerabilities of China's financial system, complete interest rate liberalization and a full opening of the capital account are receding further into the future. That may preserve Hong Kong's pole position. But along with the gathering momentum of pro-democracy protests, it will also limit future opportunities for growth.